Shane Warne, the former Aussie spinner is one of the best leg-spinners in cricket history. But, his carrier was also marred with controversies whether be his on-field fight or due to his addiction to liquor. The Aussie spinner. In a podcast, Michael Clarke revealed that there were lots of things happening with him off the field. But, he never let those things affect his game and this was his best quality.
Advertisement

Shane Warne was nicknamed the "Spin King". The best batsmen at that time used to find difficulty in playing their preferred strokes against the leg-spinner. On numerous occasions, he used to leave batters clueless with his leg-spin.
Shane Warne Used To Smoke Ahead Of The Game: Michael Clarke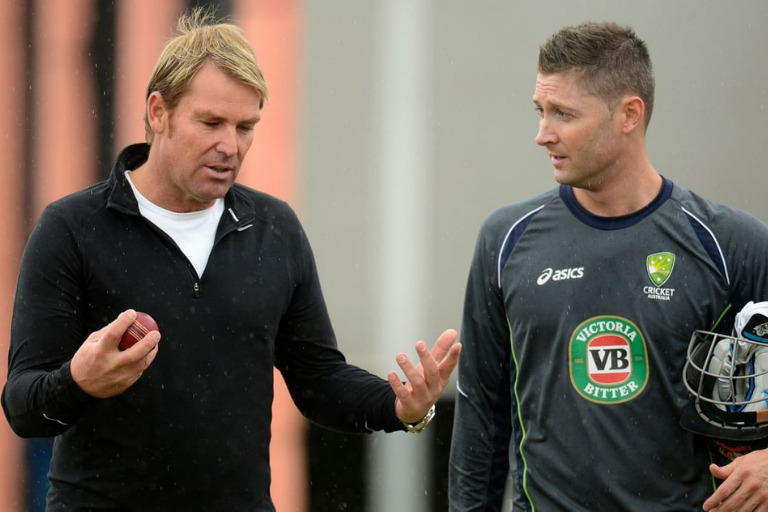 During a match in 1993, he clean bowled Mike Gatting with one of the best delivery that fans had ever witnessed in cricket history. The chubby spinner ended up taking 708 wickets in Test cricket. He could have done better in ODIs but his career saw a disheartening end after he failed in a drug test conducted by Cricket Australia.
In an interview, Michael Clarke shed light on Shane Warne's career and the hardships he used to face. The former skipper said that Warne never let outside happenings affect his game. As per him, Shane Warne used to smoke before the game. But when he used to take the field, Shane Warne used to be fully focused on the game.
"He would always leave the things happening off the field, off the field. Generally, Warnie would have a smoke as he was walking onto the ground. He will try to hide it somewhere. And when he finished his smoke and put it out, he knew that it was game time," Clarke said.
"He crossed that line and whatever he had going off the field, he would leave it there, go and do his stuff on the field and when he came back, he knew it was still going to be there," he added. Warne's