Former Indian skipper MS Dhoni is enjoying post-retirement life to the fullest with his family. He recently traveled to Shimla along with 11 other members after lockdown restrictions were eased down in Himachal Pradesh. Recently, Dhoni's wife Sakshi shared a series of snaps on social media that got viral in no time. Now, BCCI has come with one adorable picture from their gallery on social media that has gathered attention from every nook and corner.
MS Dhoni announced his retirement from all forms of cricket back in 2020 and he now only plays in the Indian Premier League. He impressively led Chennai Super Kings in the first half of the tournament and they are currently leading the Indian Premier League 2021.
BCCI Shares Adorable Picture Of MS Dhoni And Ziva Together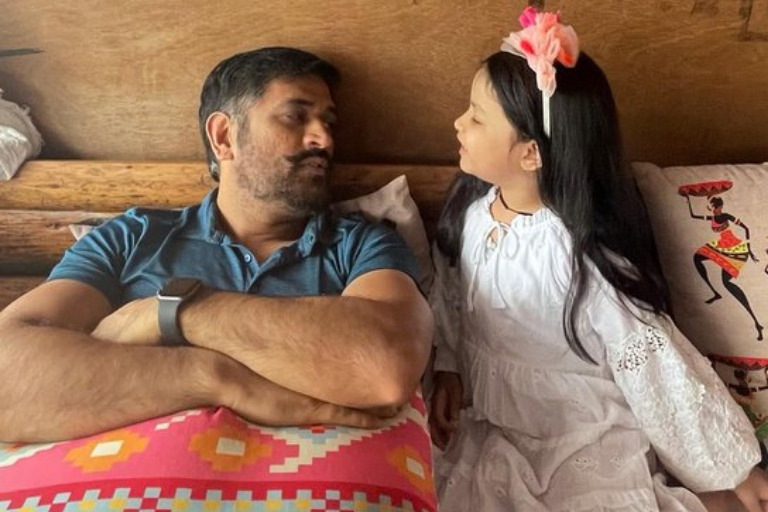 On May 4, BCCI postponed the tournament for an indefinite period after COVID-19 entered into the camps of the teams. A few players were also tested COVID-19 positive. And, all the players traveled back to their places. Even, MS Dhoni also went back to his home in Ranchi. And, during a one-month-long lockdown, he was spotted spending family time with his daughter Ziva Dhoni and Sakshi Dhoni.
As soon as the lockdown restrictions were eased down, he didn't miss out on an opportunity and traveled to Shimla along with the other 11 members. Apart from playing cricket, MS Dhoni is also known to have an incline towards farming and traveling. Interestingly, the former Indian skipper also used his hands in farming.
MS Dhoni is well playing his fatherly role by spending time with his daughter Ziva in Shimla. And, BCCI had a close eye on the former Indian skipper's recent activities. And, the Indian cricket board shared an adorable still on the social media of MS Dhoni and Ziva staring at each other. And, BCCI also gave a caption to their post that read, "Adorable, MS Dhoni with his daughter Ziva."
Here is the post
MS Dhoni was last seen in action during the first half of the Indian Premier League. Now, he is expected to travel to UAE with Chennai Super Kings for playing the second half of the tournament that is expected to begin from the second week or third week of September.