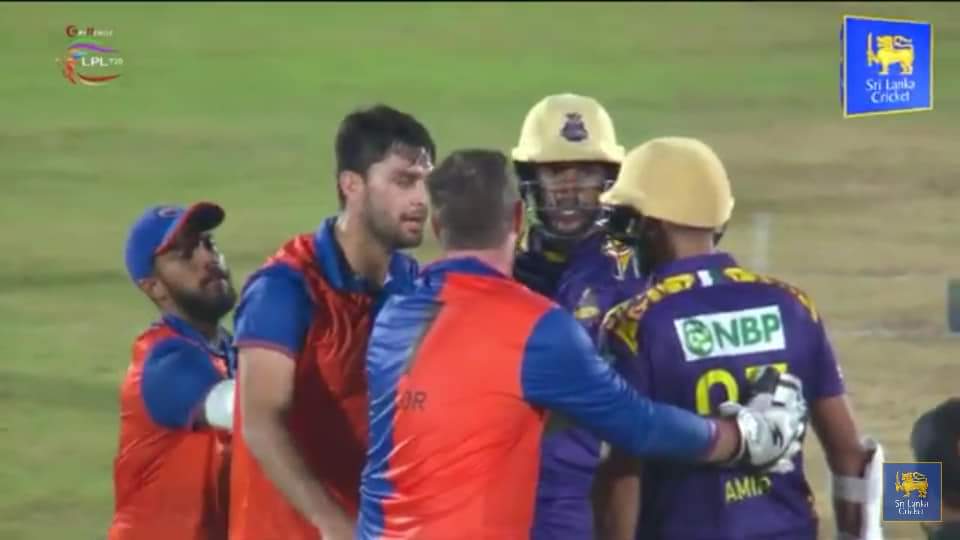 Afghanistan pacer Naveen-ul-Haq hits back at Shahid Afridi after the latter shared a post regarding the recent altercation that took place between the former and Mohammad Amir during a match of Lanka Premier League 2020. The aforementioned duo was involved in a heated argument on the field before former Pakistan all-rounder Shahid Afridi intervene between the two players.
The instance happened in the 18th over when Tuskers bowler Naveen-ul-Haq and Gladiator player Mohammad Amir were involved in a heated exchange of words. It all started after Amir scored a brilliant boundary against Tusker's bowler.
Naveen-ul-Haq Hits Out At Shahid Afridi And Mohammad Amir
The altercation continued in the final over of the innings as well. Amir smashed a big six off Naveen-ul-Haq but it was not enough to make his side win the game. After the game concluded, they came face to face and were separated by the players on the field.
Afterward, while every player was greeting each other, Shahid Afridi was seen having a talk with Naveen-ul-Haq. Soon after that, the video of the instance went viral on social media. And, the former Pakistan all-rounder had to come forward in order to give a clarification to the fans. He took to his official Twitter handle and shared a post that read," My advise to the young player was simple, play the game and don't indulge in abusive talk. I have friends in Afghanistan team and we have very cordial relations. Respect for teammates and opponents is the basic spirit of the game."
Naveen-ul-Haq hits back in a fashion that the majority of fans had not expected. He responded by saying that cricket is a gentlemen's game. But, no one can go and say anything to a player below the belt. He wrote," Always ready to take advice and give respect, Cricket is a gentleman's game but if someone says you all are under our feet and will stay their then he is not only talking about me but also talking abt my ppl."
Here is the post: