New Zealand defeated India in the World Test Championship final by a hefty margin of eight wickets. It was a memorable day for the Kiwi side and a bad one for Indian skipper Virat Kohli. It turned out to be a competitive affair between the two good sides with the player giving their best on the field.
The cricket fans witnessed several memorable moments during the game. But, one instance that might have etched in the heart of every cricket follower, who watched the game, was Kohli's shushing celebration after a wicket of New Zealand. Now, pacer Niel Wagner has shed light on the whole story of what exactly happened on the field during the game.
Neil Wagner Reveals The Full Backstory Behind Virat Kohli's Shushing Celebration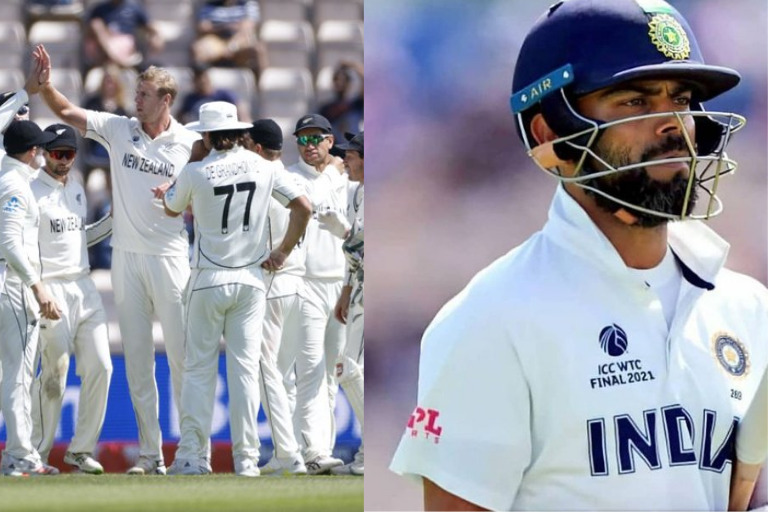 Neil Wagner said that the England crowd always wanted to get under the skin of Indian skipper Virat Kohli. Virat Kohli is one of the best batsman in the world and English crowd wanted him to get out early in the World Test Championship final. The star pacer asserted that English crowd was singing a song during the game when Virat Kohli was batting in order to distract him.
"Yes, the crowd started singing Zombie… They were singing, 'In your head Kohli, in your head Kohli, Kohli.' So they were trying to get under Kohli's skin a little bit and Kohli kept giving it around, giving them the shush fingers. Then there's a song going to Devon Conway sort of as a way of support, they started singing to him," as quoted by Hindustan Times.
Wagner also asserted that the song was quite good and even their side also started singing the same inside the dressing room. He also revealed an instance when the same song was played on Tim Southee's mobile and everyone inside the changing room started laughing.
"And in the changing room, and even on the plane, we suddenly started singing… I think Tim Southee had his phone out and Zombie started playing on his phone and everyone sort of laughed and started singing along the song a little bit," he further added.