India poses thret to the teams in international cricket on the back of their strong batting line-up. The presence of players like Virat Kohli, Rishabh Pant, Ajinkya Rahane, Cheteshwar Pujara, and Rohit Sharma always gives Team India an edge over their opponent. The same batting line-up will take the field against New Zealand in the World Test Championship final starting on 18th June.
Advertisement

The Kiwi bowling unit will have a difficult task in their hands to restrict such a strong batting unit. Tim Southee, who will be leading the attack for New Zealand in the much-awaited final, said that Team India has a sorted batting line-up and Rohit Sharma is one of the batsmen, who can single-handedly take the game away from the opponent.
Tim Southee Says Rohit Sharma Can Take The Game Away From The Opponent On Any Given Day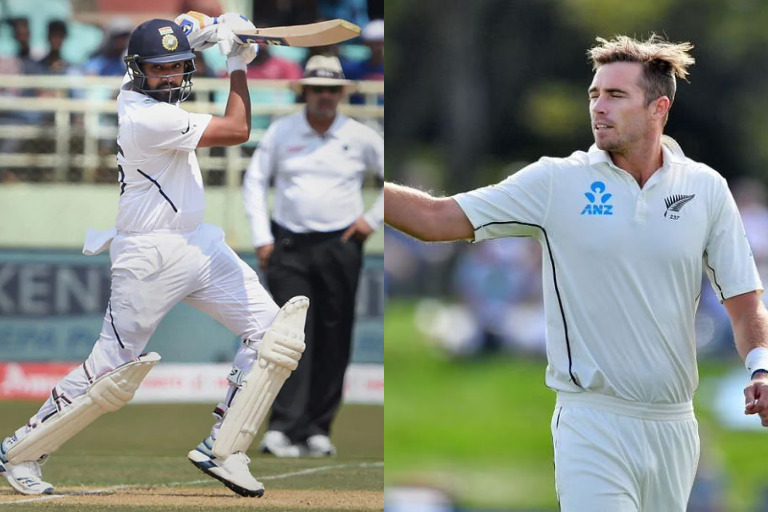 India and New Zealand are set to take the field against each other in the WTC final. The former boasts a strong batting line-up whereas the latter has a strong and fierce bowling unit that can dismantle any batting line-up. From Team India, Rohit Sharma's name is in the spotlight, and questions are being raised on his weakness against swing bowling. A major group of people thinks that the Indian opener will fail in the final due to his weakness and Team India might have to face the repercussions.
One thing that cannot be taken away from Rohit Sharma is that he is an exceptional player, who has proved his worth on several occasions. And, Kiwi pacer Tim Southee has also shed light on the importance of Rohit Sharma in Team India's batting line-up
In the pre-match conference, Tim Southee said that Rohit Sharma is a big match-winner and he is a big fan of Rohit's batting. As per him, the Indian opener poses threat to any bowling line-up. But they are ready with a bowling plan against Rohit Sharma. He added that they will have to be at their best in order to dominate India's strong batting line-up.
"Rohit is a tremendous player in all three formats. He's personally a guy I like watching bat. He can take the game away from the opposition. But I know as a bowling group that it's a dangerous batting line-up throughout. For he's only one of many, many very good batters in this line-up and we know we're going to have to be on top of our game," Southee said in a virtual press conference.
"It's an exciting batting line-up, a mix of experienced guys and a couple of young guys who are coming to play with that freedom and the excitement that they have. Nowadays, there's plenty of footage out. So, we will discuss footage and then come up with plans which will hopefully work," he said.