Rashid Khan, the Afghanistan spinner praises Babar Azam, Virat Kohli, and Kane Williamson for performing with consistency at the highest level. It is known that the Afghan spinner always comes up with his heart out. And, this time he has kept the aforementioned batsmen in the category of world-class players, who are best in the business.
Advertisement

Virat Kohli, Kane Williamson, and Babar Azam have a big fanbase across the globe. They are the batting superstars of modern-day cricket. All three can be spotted very high in the latest ICC rankings. Although, they play for different counties. Still, their batting style is very similar to each other.
Rashid Khan Praises Virat Kohli, Kane Williamson, And Babar Azam For Their Utmost Consistency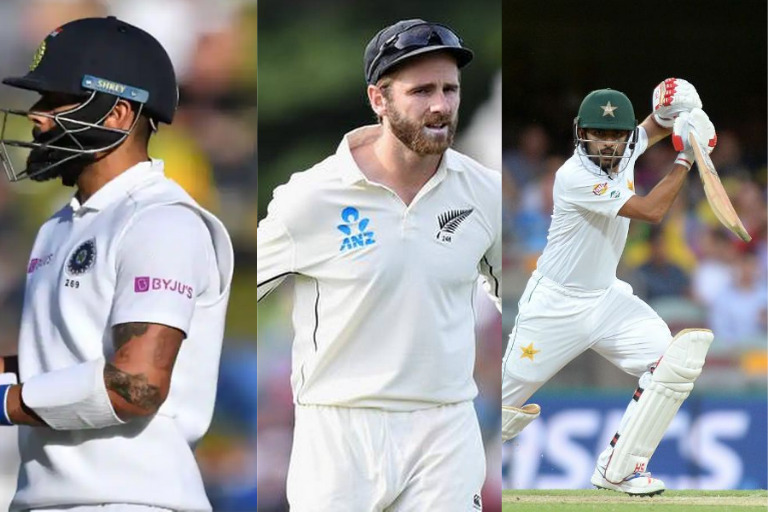 After the introduction of the T20 format, every player tries to take the charge against the bowler from the word go. On the other hand, Kohli, Williamson, and Babar bat according to the conditions and situation of the match. They back their traditional game and try to play down the ground. They don't believe in taking much risk while batting as it can put their side in danger.
Praising the quality of the incredible trio, Rashid Khan said that it is quite difficult for any batsmen to maintain their consistency. He said that Virat Kohli is one of the best in the world. Also, Babar Azam and Kane Williamson are also rated among the best.
"It is quite difficult (to compare the three batsmen) but no doubt Virat is a world-class player. Even Kane Williamson and Babar Azam are right up there. They know their limits and the shots they can play. The process with which they start and end their innings is very clear," Rashid Khan opined.
Rashid Khan asserted that he tries to back his bowling strength like Virat Kohli, Babar Azam and Kane Williamson do while batting. He added that he always manages to reap good results when bowling with focus and he also monitors player's strengths as well weaknesses while preparing for the match.
"No doubt Babar is a world-class batsman. But as a bowler, my focus is always on back my strengths. As a bowler, you do study the strong and weak points of the batsman you are bowling too. But at the same time, backing your my is important and that is bowling good line and length. If I do that then whoever the batsman is, I will get good results. I do watch their videos for planning but I believe in backing my own ability," Rashid Khan signed off.