David Warner has begun with the preparations for the Ashes slated to begin from December 8 in Australia. The southpaw had a horrendous stint in previous Ashes and was under immense pressure. The England pacer Stuart Broad made Warner his bunny as he dismissed Aussie opener seven times.
Advertisement

Warner is very well known for having weakness while facing English pacer Stuart Broad. And, he wants to get well prepared for the upcoming prestigious Ashes series. Overall, Warner has given his wicket to Broad 12 times out of 23 occasions.
David Warner Monitoring Stuart Broad Bowling As He Prepares For Ashes 2021-22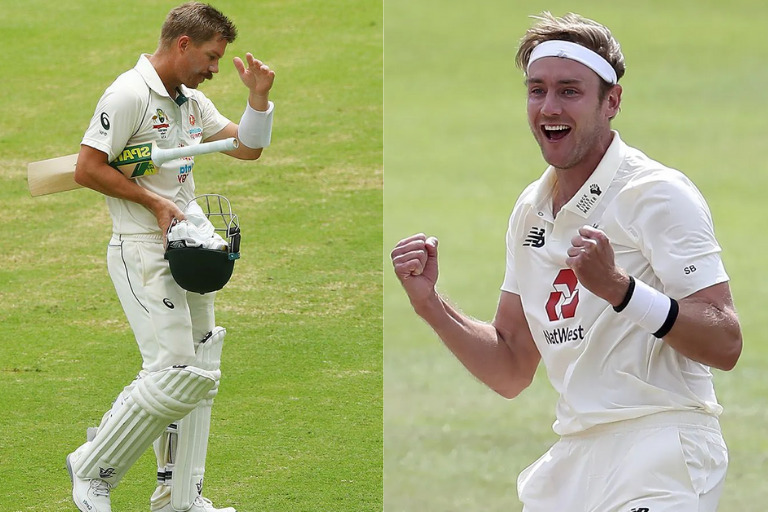 The Aussie opener has still not forgotten the bad memories of his previous Test series against England. He managed only 75 runs off 7 innings. Currently, the England pacer is playing for England in the series opener of the two-match Test series against New Zealand. On Day-1, Broad bowled brilliantly but went wicketless by the end of the day.
Interestingly, David Warner is also following the 1st Test between New Zealand and England. He also took to his official Twitter handle and shared a post with a still of Broad bowling at the iconic ground of Lords Cricket Ground, He also gave a caption that read, "Trying to get some sleep here in AUS but this bloke pops up on my tv screen!! Few months to get some sleep before the Ashes down under."
Australia will host England for the prestigious Ashes Test series that will begin on 8th December at The Gabba Cricket Ground followed by the next games in Adelaide, Melbourne, Sydney, and Perth
David Warner was last seen in action for Sunrisers Hyderabad in Indian Premier League 2021. He looked a bit pale with the bat and he also had a tough time being the skipper of the former champion. The southpaw was also dropped from the side and captaincy.
Now, he is expected to play in the T20I series against West Indies starting on 10th July. There is bad news for the cricket fans as he is expected not to play in the IPL 2021 Phase-2 slated to take place in UAE starting in September.