Indian cricketer Virat Kohli's wife Anushka Sharma shared the very first glimpse of their first daughter. The Bollywood diva also revealed the name of the daughter. The 32-year-old actress gave birth to her first child on January 11 this year. And, she got a pleasant response from her fans from across the globe.
Advertisement

Virat Kohli, the Indian skipper returned from Australia after playing ODI, T20I, and a Test match. He had got paternal leave by BCCI. On January 11, when Team India played a resilient draw against Australia in Sydney, Anushka Sharma gave birth to their first daughter. And, the Indian skipper informed fans about the same through a social media post.
Virat Kohli-Anushka Sharma Revealed The Name Of Their Daughter, Indian Actress Shares Adorable Still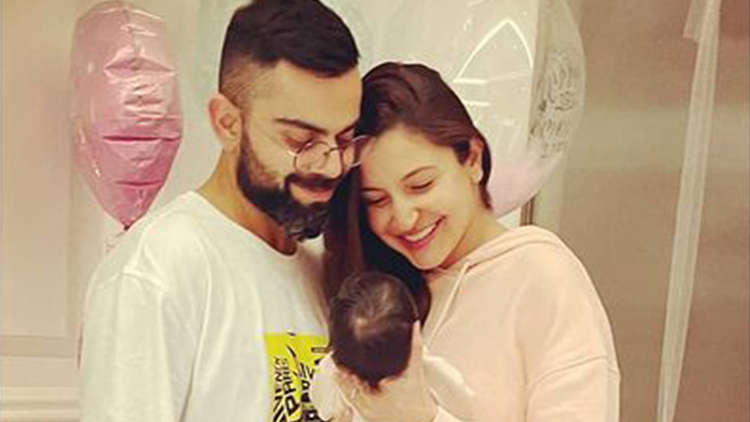 Virat and Anushka increased security after giving birth to the first child. The adorable couple made it very clear that they don't want their daughter to be in the limelight. The fans were eagerly waiting for the first glimpse of Virat-Anushka's daughter. Finally, the moment arrived as Anushka Sharma herself shared a glimpse of her daughter on social media.
She took to her Instagram handle and shared a cherishing post revealing the name of the daughter. Her long caption read, "We have lived together with love, presence, and gratitude as a way of life but this little one, Vamika has taken it to a whole new level! Tears, laughter, worry, bliss – emotions that have been experienced in a span of minutes sometimes! Sleep is elusive but our hearts are SO full. Thanking you all for your wishes, prayers, and good energy."
The actress cum producer revealed that the name of the daughter is Vamika. The best part is that in India Vamika generally means Goddess Durga which is mostly used in the Hindu religion.
Virat Kohli's next assignment is to lead Team India in Test, T20I, and ODI series against England. The Indian cricket team will be first seen in action in the Test series that will begin from February 5. It is going to be the very first occasion when India will host any country in international cricket.
Here is the post: