India's top boxing star MC Mary Kom managed an easy win over Miguelina Hernandez Garcia of the Dominican Republic quite comfortably. Indian star took the ring in the 51 Kg category on Sunday. She defeated her opponent in straight sets by 4-1.
Mary Kom cautiously started against her opponent in the first round. She precisely judged the movement of Miguelina Hernandez Garcia before going all-out in the very next round. The 2012 medalist Mary Kom acquired an aggressive approach in the second round and used her strong jabs in order to take advantage of Garcia's lethargic approach.
Mary Kom Qualifies For Round Of 16 In Tokyo Olympics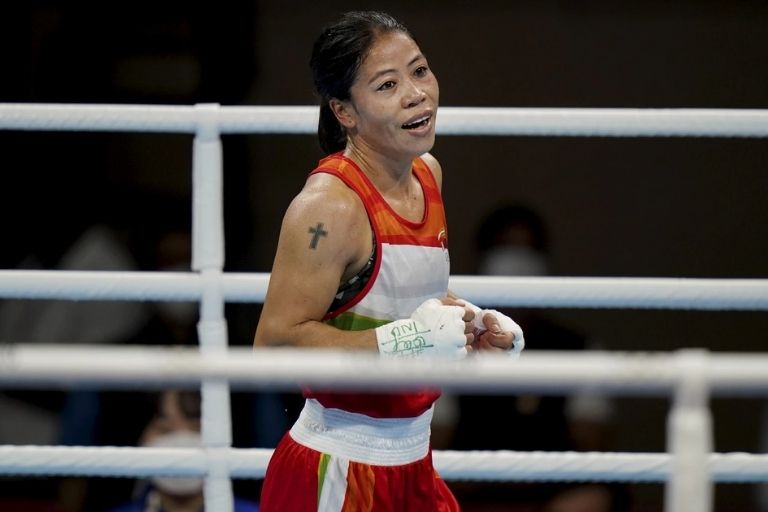 The six-time world champion didn't leave any stone unturned in grabbing an easy win in her 51-kg category. The Dominican Republic flyweight boxer tried her best and upped her game in the final round of the match. But, till then it was too late for the boxer in order to turn her fortunes in the Tokyo Olympics in her respective category.
The good news for Indian fans is that MC Mary Kom has qualified for the Round of 16 in the Olympics. Now, she will face the Rio 2016 bronze medallist, and the Colombian third seed Ingrit Valencia on Thursday.
On the other hand, Manish Kaushik did not have a good debut game in Olympics. He lost to Luke McCormack by 4-1. Great Britain-born boxer pounced on Indian from the very first second of the match. Before Kaushik could respond things slipped out from his hand in the first round.
However, he made a strong comeback in the second round by connecting few good punches. Brit was quick to learn from his mistakes in the second round and outclassed Manish Kaushik in back-to-back rounds. Luke McCormack in the end finished Kaushik's hope of winning a medal in the Tokyo Olympics.
So far Indian athletes have failed in living up to the expectations of their fans. Only Mirabai Chanu has got a hands-on medal (silver) in the ongoing Olympics. Rest others have failed in winning a medal.