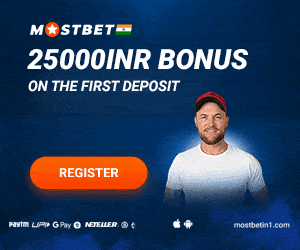 Jalen Ramsey is a 27-year-old professional American football player of the National Football League (NFL). He is currently associated with Los Angeles Rams playing as a cornerback for them.

Born in Smyrna, Tennessee he attended Ensworth High School in Nashville during his freshman year. He later joined Brentwood Academy in Brentwood, Tennessee where he was rated as a five-star recruit and was one of the best football players in his class.
He originally joined the University of Southern California (USC) to play college football but was later transferred to Florida State University. Jalen started his professional career journey playing college football at Florida State University wherein 2016 he was drafted by the Jacksonville Jaguars as number five in the NFL Draft.

Jalen Ramsey Net Worth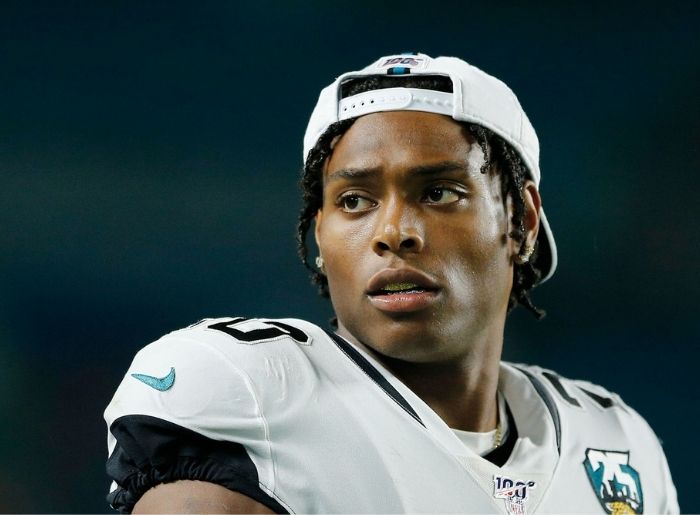 Ramsey is a part of the Top 15 Richest NFL Players List. As of 2021, he has an estimated Net worth of $50 million.

| | |
| --- | --- |
| Net Worth | $50 million |
| Age | 27 |
| Born | October 24, 1994 |
| Country of Origin | United States of America |
| Source of Wealth | Professional American Football |
| Last Updated | November 2021 |
Ramsey signed a five-year extension with his current team LA Rams on September 9, 2020, which is worth $105 million over five years.
Jalen Ramsey Salary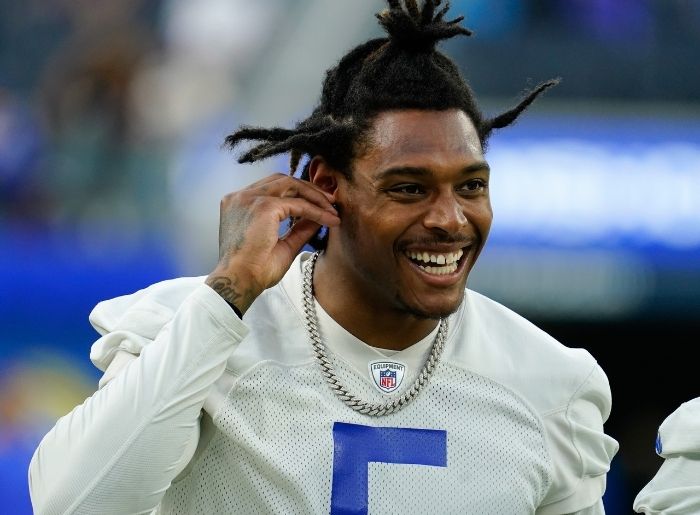 His current average salary stands at $15 million per year.
In 2016 Ramsey signed a four-year contract with Jacksonville Jaguars for $23.35 million. The deal included $22.9 million guaranteed and a $15.18 million Signing bonus.
In 2020 he signed the largest contract ever signed by a cornerback position at a whopping $105 million and this made Jalen the highest-paid defensive back in NFL history.

Current Contract- $105 million/ 5 years
Average Salary – $20 million/ year
Jalen Ramsey Career Earnings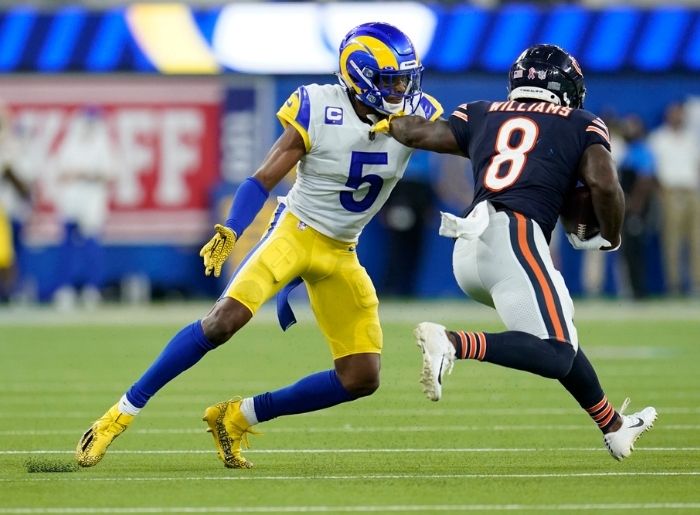 | | | | |
| --- | --- | --- | --- |
| Year | Team | Salary | Earnings |
| 2016 | Jacksonville Jaguars | $450,000 | $15,632,546 |
| 2017 | Jacksonville Jaguars | $1,511,409 | $1,511,409 |
| 2018 | Jacksonville Jaguars | $2,572,818 | $2,572,818 |
| 2019 | LA Rams | $2,351,559 | $2,351,558 |
| 2019 | Jacksonville Jaguars | $1,282,668 | $1,282,668 |
| 2020 | LA Rams | $1,203,000 | $26,290,079 |
| 2021 | LA Rams | $1,500,000 | $17,500,000 |
Total Salary (6 seasons)- $10,871,454
Total Gross Earnings- $67,141,078
Jalen Ramsey Endorsements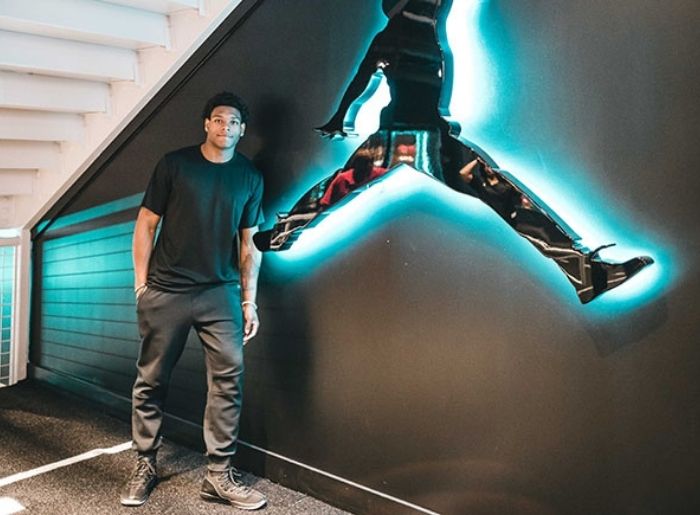 Being one of the highest-paid cornerbacks in NFL history has led to many brands approaching Ramsey. He is one of the top players in the game and features in the list of Most Popular Football Players. He holds equity deals with the following firms:
Biosteel Sports Nutrition
Rally (an Investment platform)
Brand Inc ($13 million)
In 2016 Jalen Ramsey signed an endorsement deal with the brand "Jordan" which he announced via his Instagram handle.
Apart from his endorsement deals with big firms he also enjoys sponsorship from brands like Activision Blizzard, Rally Rd., Raising Cane's Chicken Fingers, Grubhub, Biosteel.
Jalen Ramsey Career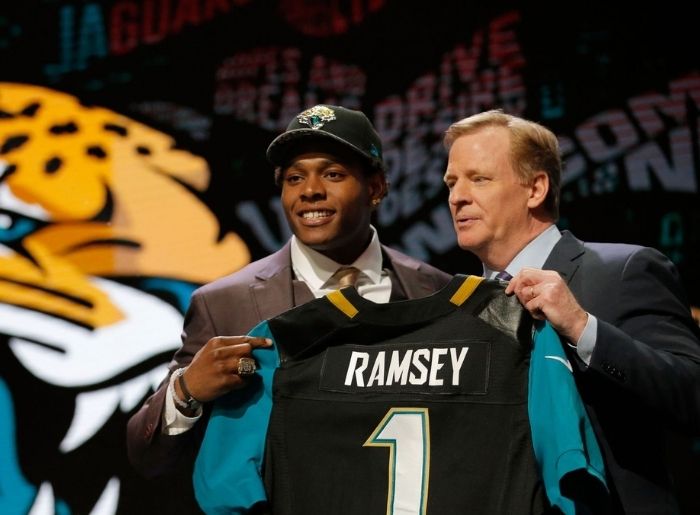 2013
Ransey started as a true freshman playing 14 games for Florida State University. The same year Florida State won the National Championship beating Auburn.
2015
He also competed in the track and field as a relay sprinter and long jumper. In May 2015 Ramsey won the ACC Long JumpChampionship just short of 3 inches for qualifying in the US Olympics Team Trials.
2016
He was selected by the Jacksonville Jaguars in the first round of the 2016 NFL Draft as the number five pick overall. Ramsey was the highest cornerback selected in the Jaguars' history.
2017
During Ramsey's time at the Jaguars,' the franchise finished on top in the AFC South and 3rd in the AFC. He was ranked 17th by his fellow players on the NFL Top 100 Players of 2018.
2018
In the 2018 season for Jaguars, he played a total of 16 games making 65 tackles, 13 passes defensed, and 3 interceptions.
2019
After a verbal altercation with the Jaguars head coach Doug Marrone, he was placed on the inactive list after a victory over the Tennessee titans. In Oct 2019 Ramsey was traded to Los Angeles Rams in exchange for a 2020 first-round pick.
He finished his 2019 season with a total of 50 Tackles, 5 passes defensed, 2 forced fumbles and 1 Interception.
2020
In Sep 2020, Ramsey Signed a five-year contract of a whopping $105 million with the LA Rams which included $71.25 million guaranteed at signing.
Also Read: LaMelo Ball Net Worth 2021
Jalen Ramsey NFL Career Stats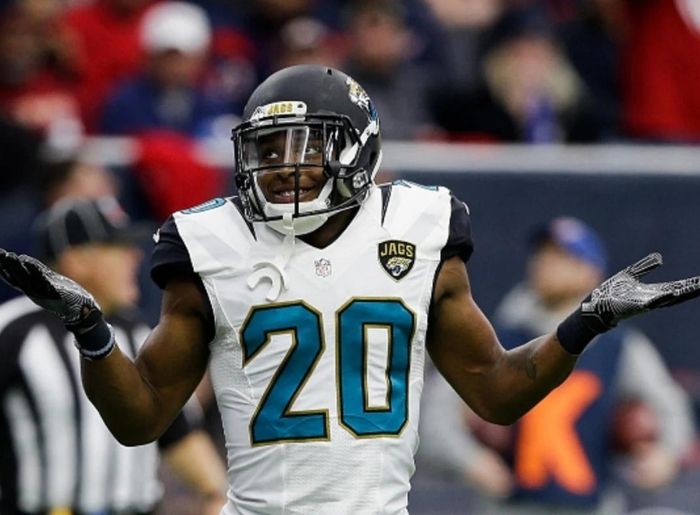 | | | | | | | | |
| --- | --- | --- | --- | --- | --- | --- | --- |
| Year | Team | GP | Snaps | Solo Tackles | Ast Tackles | FF | INT |
| 2016 | JAX | 16 | 1059 | 55 | 10 | 1 | 2 |
| 2017 | JAX | 16 | 998 | 52 | 11 | | 4 |
| 2018 | JAX | 16 | 1016 | 62 | 3 | 2 | 3 |
| 2019 | LAR | 12 | 791 | 45 | 6 | | 1 |
| 2020 | LAR | 15 | 953 | 36 | 8 | | 1 |
| 2021 | LAR | 9 | 578 | 36 | 10 | 1 | 3 |
| TOTAL | | 84 | 5,395 | 286 | 48 | 4 | 14 |
Jalen ramsey Social Profiles
Jalen Ramsey Cars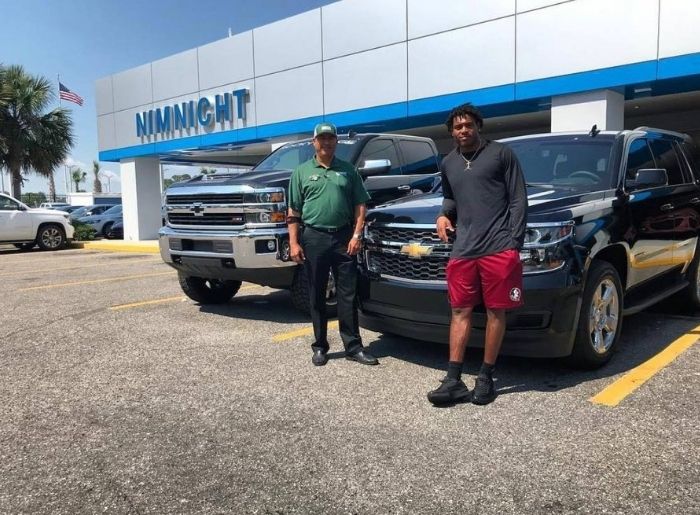 While there is little information regarding the collection of cars he owns Ramsey always had the admiration for American muscle. The only known car he owns is a Chevrolet pickup truck.
Recently in September, a video of him posted on Instagram by the LA Rams shows Ramsey arriving in a Porche Taycan before a game.
Jalen Ramsey House
Ramsey used up his five-year extension earnings to buy a $9.5 million home in Hidden Hills, California. The slick new home was made by Howie Mandel but never occupied.
The lavish house is a 10,000 ft colossal structure designed in a modern farmhouse style. Equipped with top-notch Wolf and SubZero appliances the structure is evenly distributed in a massive 1.3-acre area.
Jalen Ramsey Personal Info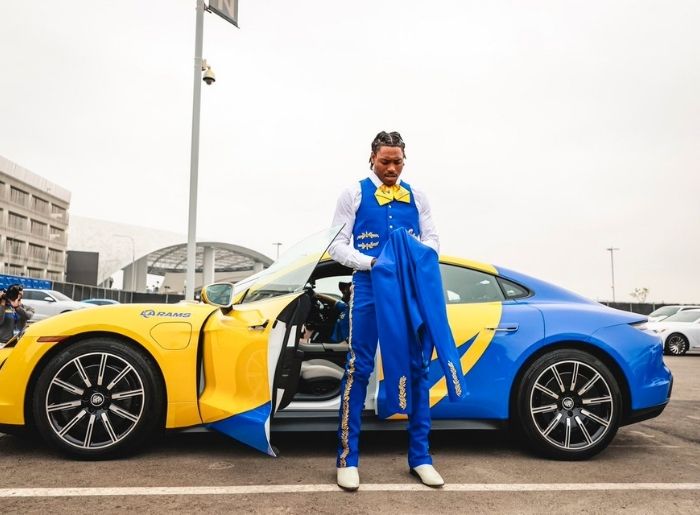 Full Name
Jalen Lattrel Ramsey
Known As
Jalen Ramsey
Birth Date
October 24, 1994
Age
27 years
Birth Place
Smyrna, Tennessee, U.S.
Nationality
American
Religion
Christianity
Profession
Football Player
Jersey Number
#5 (Los Angeles Rams)
Height
6ft 1in
Weight
97kg
Parents
Father- Lamont Ramsey
Mother- Margie Ramsey
Siblings
Jamal Ramsay(brother)
High School
Ensworth High School, Tennessee
College
Florida State University
Awards
ACC Champion (2013, 2014)
PFWA All-Rookie Team (2016)
First-team All-Pro (2017)
Pro-Bowl (2017,2018)
Jalen Ramsey Family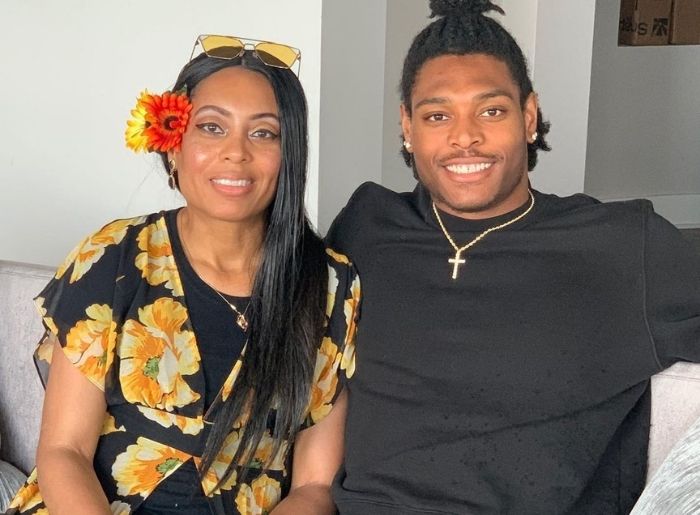 Jalen was born to Lamont and Margie Ramsey in Smyrna, Tennessee. He grew up in a sports household where his father used to play football in his early days. He always had his ways indifferent with that of his family as he was the sole supporter of Miami Hurricanes while his family supported Florida Gators.
His elder brother Jalal Ramsey was also involved in football and played for school and college teams. This kept Jalen competitive and progress gradually while playing football with older guys in the local fields.
Jalen Ramsey Affairs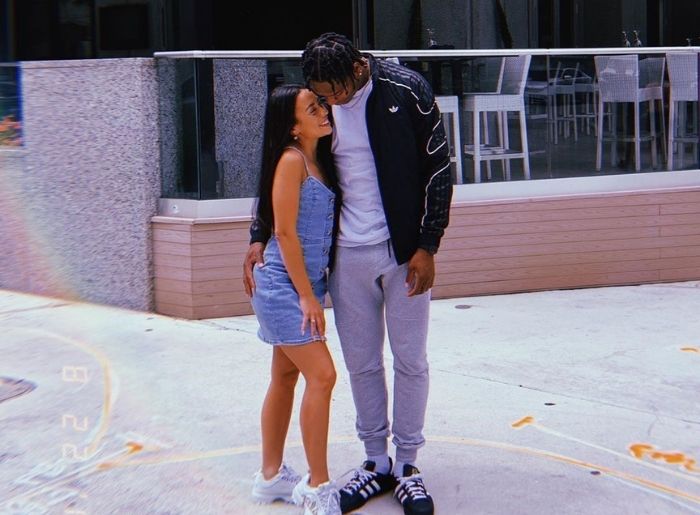 There has always been an on-and-off relationship between Jalen and Breanna. Jalen Ramsey was in a long-term relationship with her girlfriend Breanna Tate before the couple split recently in October 2020. While the couple was not married officially, Breanna is the mother of Jalen's two daughters Breelyn and Brooklyn.
Breanna Tate herself was a sprinter at Brentwood Academy where she met Ramsey. The couple started dating in 2015 and made their relationship official in 2018.
Their love story took a different path in 2019 as the NBA player was rumored to be cheating on Breanna with a Las Vegas dancer, Monica Giavanna. Ramsey dumped Breanna while she was pregnant with their second child.
Jalen Ramsey Controversy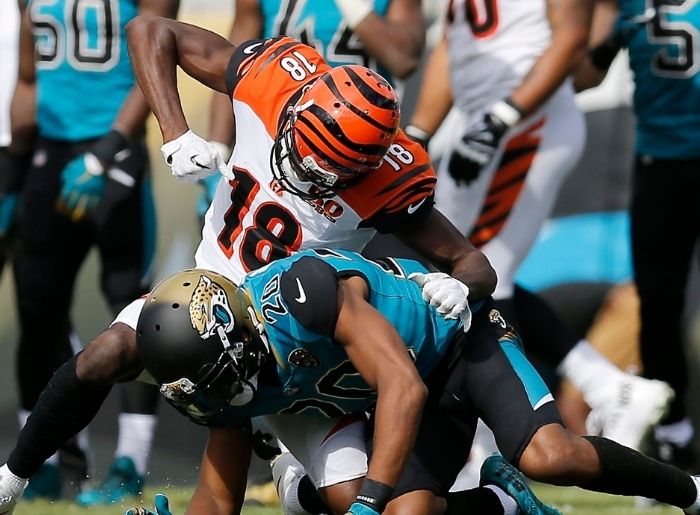 As Ramsey's ex-girlfriend, Breanna happens to be the sister of the New York Giants, wide receiver Golden Herman Tate. Furious over Jalen for leaving his sister, Tate and Ramsey aggressively confronted each other in the Los Angeles Rams' 17-9 victory against the New York Giants. A fight broke between the two and both the NBA players had to be separated by their teammates.
Ramsey has a history of trash talk on and off the field which has led to many feuds of the NBA footballer. One being with Cincinnati Bengals wide receiver A.J Green in 2017 which ultimately led to Green choke slamming Ramsey to the ground and throwing a punch at him.
One notable incident was Ramsy getting involved in a verbal altercation with Jacksonville Jaguars coach Doug Marrone during a game with Houston Texans where the two had to be physically restrained from each other.
Jalen Ramsey Unknown facts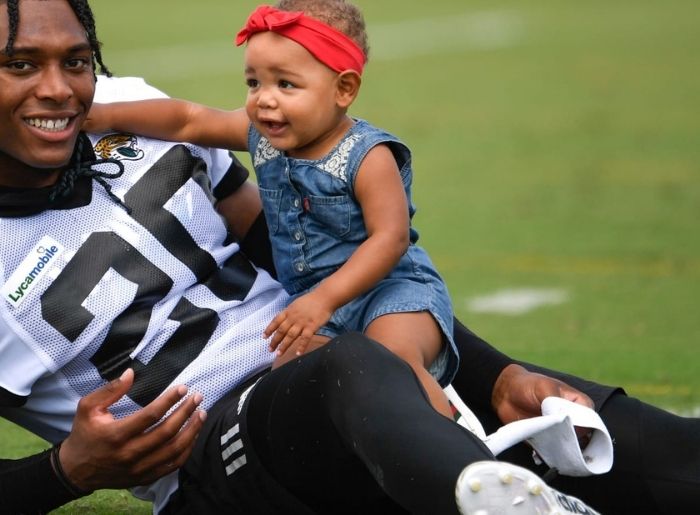 Ramsey likes to spend his offseason in his hometown of Smyrna, training with his father.
He has played on the No.1 passing defense both in college and NFL level.
Ramsey became the highest paid defensive back in Florida history after his five year extension with Los Angeles Rams
Ramsey chose #17 as his jersey during his junior year, while #17 was a jersey number that had been retired in honor of former NFL Superstar Charlie Ward, who later granted Ramsey the permission to wear that number again.
FAQs about Jalen Ramsey
Q. What is Jalen Ramsey's height?
A. 6ft 1in
Q. Which college did Jalen Ramsey study in?
A.Florida State University
Q. Who is the wife of Jalen Ramsey?
A. Breanna Tate was the ex-girlfriend of Jalen Ramsey. The couple split in October 2020
Q. What is Jalen Ramsey's age?
A. He is 27 years old as of 2021
Q. Who is Jalen Ramsey's current girlfriend?
A. Monica Giavanna
Q. Which team does Jalen Ramsey play for?
A. Los Angeles Rams