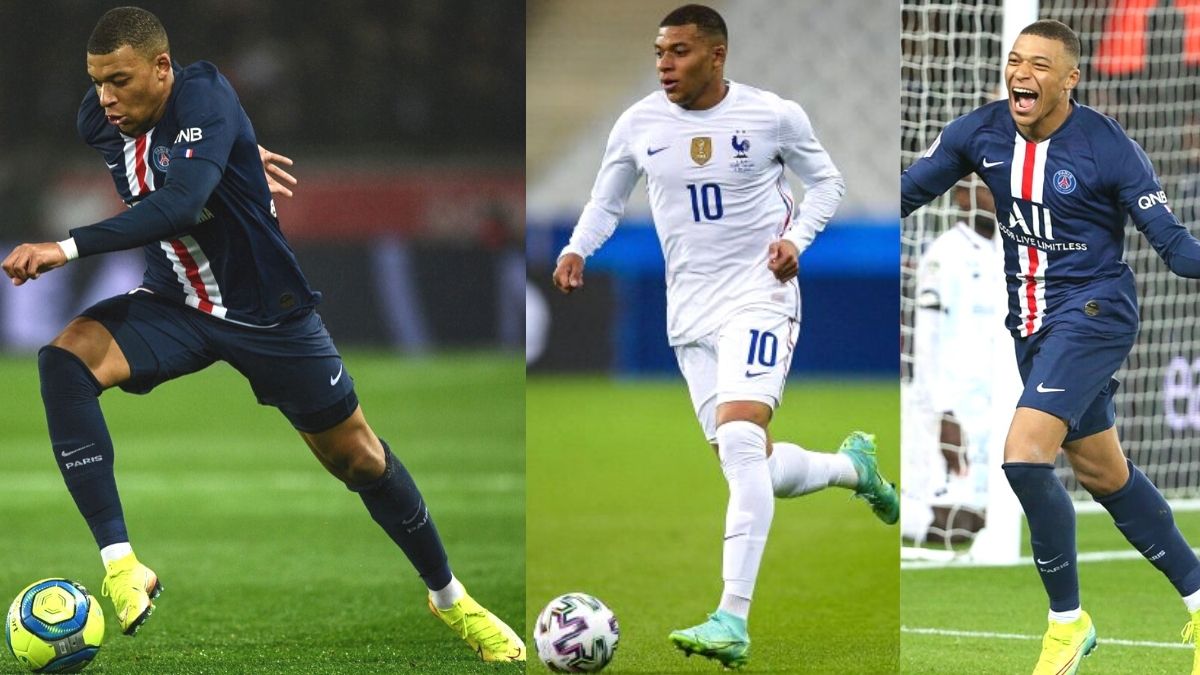 Kylian Mbappe Lottin is a French professional football player currently playing for Ligue 1 club Paris Saint – Germain and the French national team. He was born on 20th December 1998, months after the victory of France winning the world cup, captained by the legendary Zinedine Zidane.
Well known for his explosive pace, dribbling, and clinical finishing, he is already considered one of the best in the game of football at such a young age. Because of his stellar achievements in his career at such a young age, he became one of the most expensive players in football history with a net worth of approximately 110 million dollars. 
Kylian Mbappe's net worth salary & market value
Kylian Mbappe is one of the best young players in football and earns a salary worthy of his status. His net worth is reported to be approximately 110 million dollars, but it's difficult to arrive at a constant estimate, given that his values continue to grow at a very high rate, because of his performance and impact on the pitch for Paris Saint Germain as well as the France national football team.
According to the statistics provided by Forbes, Mbappe earned over 30 million dollars in 2019, making him one of the highest-earning athletes in the world.
Read More: Arsenal Transfer News, Lautaro Martinez bid, James Maddison announcement imminent, Joe Willock to Newcastle United
Mbappe Wages/earnings from PSG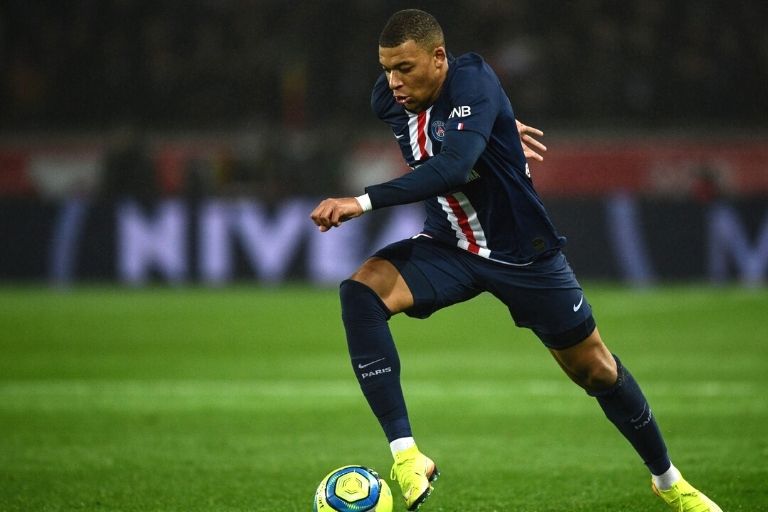 Paris Saint Germain is paying Kylian Mbappe 23.2 million dollars per year before tax. He earns under 12 million dollars after tax as of the 2018-19 season and by the time his contract ends om 2022, it is believed that he will earn over 21 million dollars per annum from his salary alone.
It is a huge leap in salary earnings as compared to the earning he received in AS Monaco, which was around 1 million dollars per year. These are solely his earnings based on the salary he receives from the clubs he plays in and we will look at the earnings he receives from sponsorships deals and endorsements later.
He is easily the 2nd best player in the league behind clubmate Neymar, and he will have made around 105 million dollars by the time his contract ends in 2021. Following is the table of his salary he earns in a different time frame, given below:-
| | |
| --- | --- |
| Time-Frame | Earnings |
| Per second | $0.77 |
| Per-minute | $47 |
| Per hour | $2813 |
| Per day | $66502 |
| Per week | $472644 |
| Per month | $2.04m |
| Per year | $25m |
Kylian Mbappe Endorsements Brands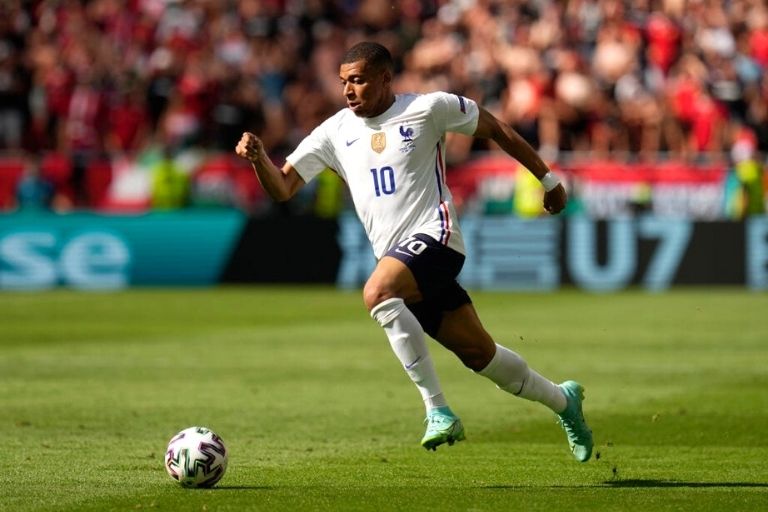 Because of Mbappe's Massive stardom, he has attracted a hefty number of sponsors towards him, thus making a good amount from off-pitch resources. He has a major sponsorship with Nike, which he extended in the summer of 2017, before departing for Paris Saint Germain.
His Nike deal is worth between 2-3 million dollars, but this value is not constant. His sponsorship value can either or decrease based on the performance he exhibits on the pitch with both his club and the national team.
He has also recently become the brand ambassador of Hublot, a Swiss-based watch company, renowned all over the world. He is the first current footballer to represent this brand and he will earn an amount of 1.13 million dollars from this deal. He is a world star and he is on the front cover of the Famous football game, FIFA 22.
Read More: Pep Guardiola Snubs Lionel Messi and picks Jack Grealish for Manchester City
Mbappe's Lifestyle & Luxury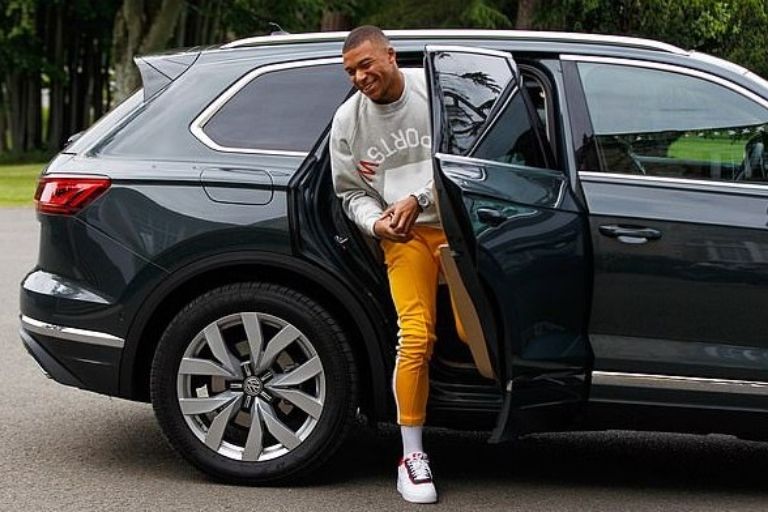 Mbappe is a big fan of supercars and reportedly has a collection of five worth around 9260000 dollars. He has a Ferrari, Mercedes Benz, Audi, BMW, and a Range Rover.
| | |
| --- | --- |
| Cars Owned | Earnings |
| BMW | $14,0467 |
| Audi | $44,000 |
| Mercedes Benz | $40,495 |
| Ferrari | $56,0000 |
| Range Rover | $8475038 |
Kylian Mbappe (Quick Facts)
| | |
| --- | --- |
| Full Name | Kylian Mbappé Lottin |
| Birth Date | December 20, 1998 |
| Birth Place | Paris, France |
| Religion | Christian |
| Nationality | French |
| Sexuality | Straight |
| Ethnicity | Cameroonian (Father), Algerian(Mother) |
| Education | School in Claire Fontaine |
| Horoscope | Sagittarius |
| Father's Name | Wilfried Mbappe |
| Mother's Name | Fayza Lamari |
| Siblings | Brothers- Jires Kembo Ekoko and Ethan Mbappe |
| Age | 22 years old |
| Height | 1.78 m (5'10") |
| Weight | 73 kg |
| Hair Color | Black |
| Eye Color | Black |
| Marital status | Unmarried |
| Girlfriend | Alicia Aylies |
| Profession | Professional footballer |
| Net Worth | $110 million (estimated) |
| Car collections | Ferarri, Audi, Mercedes Benz, BMW, and Rangerover |
| Followers | Instagram: 49.5 million, Twitter: 5.9 million |
| Career History | A.S Monaco, PSG, and France International Football team |
| Current club | Paris Saint-Germain(PSG) |
| Position | Forward |
| Dominant Foot | Right |
| Outfitter | Nike |
| Current Market Value | $213.79 million |
| Social Media | Twitter, Instagram, Facebook |
| Merch | Soccer Card, Funko Pop, Kylian Mbappe: The Ultimate Fan Book |
Mbappe Girlfriend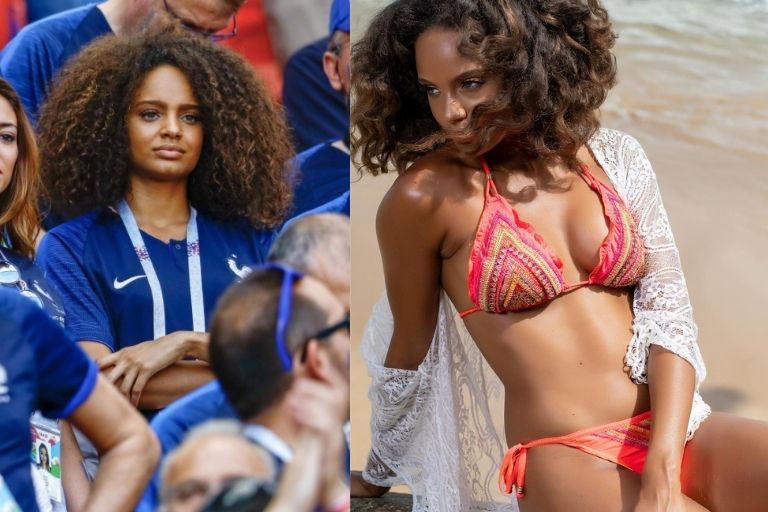 Mbappe is an extremely talented footballer who sacrificed a lot to be where he is today. Because of his sacrifices, he is now currently living the life he dreamed about.
According to numerous online articles and sources, Mbappe is rumored to be dating Miss France 2017, Alicia Allies. However, this is not confirmed as both have not revealed it yet and chose to keep it a secret. Alicia, a former Miss France rose to prominence in 2018 when she was seen cheering for the French squad in the 2018 world cup, Russia. Because of her beauty, she became an instant sensation and a star in her homeland.
| | |
| --- | --- |
| Name | Dating Years |
| Alicia Allies | 2019-Present |
Kylian Mbappe Career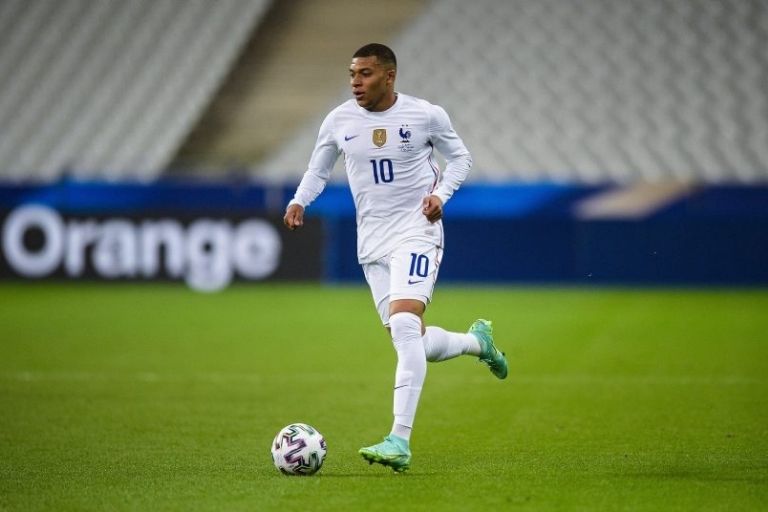 Kylian Mbappe started his journey of becoming one of the best players in football, by joining AS Bondy, a successful football club in the districts of Paris. He was coached by his father, and his performance for AS Bondy has been excellent. Due to his inborn explosive raw pace and insane ability on the ball, he moved to Claire Fontaine academy later, where only the best footballers in the country of France are selected and trained to be professional football players. Even in this academy, he was the standout performer, because of which many high-tier European clubs became interested in signing him. So, he joined the Chelsea football club, at the young age of 11 and trained there for some time.
Monaco Career
After his brief stint with Chelsea football club, he joined A.S Monaco football club. He was too good for the A.S Monaco, C team, and the B team, thus he joined Monaco's first team, being the youngest player to do so at the young age of 16 years.
On February 20th, 2016, he scored his first professional goal for Monaco against Troyes in stoppage time. With his first professional goal, he became the first youngest player for Monaco to achieve this goal in just a young age of 17 years.
He scored his first professional hattrick against Stade Rennais in the Coupe de la Ligue round of 16 at Stade Louis II stadium. A.S Monaco destroyed Stade Rennais in that game, with a scoreline of 7-0. With this achievement, he became the 2nd Monaco player to score a Hattrick in this competition since Sonny Anderson in 1997.
Mbappe was heroic in Monaco's excellent UEFA champions league campaign, where they reached the semifinals in the 2016-17 season. With the help of Mbappe's goals, A.S Monaco defeated Manchester city with a scoreline of 3-1. This aggregated the scoreline of 6-6, which helped A.S Monaco advance to the quarterfinal round with the away goals rule.
In the quarter-finals, Mbappe won a penalty and scored two goals as Monaco won the away leg 3-2 against Borussia Dortmund in the quarterfinals. In the return leg at home, Monaco won 3-1 against Dortmund, thanks to Kylian Mbappe's goal, and progressed to the semi-finals of the Champions League. But in the semi-finals of the champions league. Monaco lost with an aggregate of 4-1 against a tough and well-organized Juventus side.
With his goal contributions for Monaco in the league and the UEFA champions league, he ended the season leading Monaco to the Ligue 1 championship trophy in the 2016-17 campaign, scoring 26 goals in 44 games across all competitions.

Paris Saint-Germain
Due to his heroics with AS Monaco, Paris Saint-German, one of the best football clubs in France, signed Mbappe on a loan on August 31st, 2017. He became the second most expensive player in the world, after his teammate Neymar, after a full transfer fee of 145 million euros plus 35 million Euros in add-ons.
On September 8th, Mbappe made his Ligue 1 debut For Paris St German, scoring in a 5-1 rout over Metz football club.
He also scored his 10th champions league goal in a 3-1 loss to Bayern Munich on December 6th, making him the youngest player at 18 years and 11 months to do so. He also scored 4 goals in one game in Ligue 1 in a 5-0 Home rout of Lyon on October 8th.
During this season, he became the youngest player to win a Kopa Trophy on December 3rd. This award is given by France Football to the best player in the world under the age of 21 years old
He also scored a hattrick against Barcelona in the UEFA champions league round of 16 matches on February 16th, 2021, in which Paris ST Germain won 4-1, ending Barcelona's UEFA champions league run and enabled them to qualify for the quarterfinals.
International Career
Mbappe was part of the historic France squad in 2018 which won the FIFA world cup held in Russia, 2018.
He was instrumental in France defeating Argentina, by scoring twice and being fouled in the box, which allowed Antoine Griezmann to open his goal-scoring account in the world cup with a penalty kick. France ended up winning the game 4-3.
In the world cup final(2018) against Luka Modric's Croatia, Mbappe scored a 25-yard screamer, which propelled France in a 4-2 victory over Croatia and thus claimed the prestigious world cup trophy. Due to his efforts in the world cup, he won the FIFA Best Young Player Award with 4 goals in the tournament.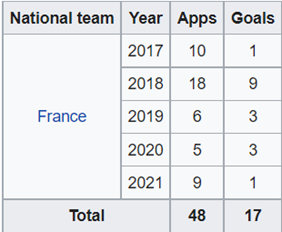 Mbappe Social Media Appearences
| | | |
| --- | --- | --- |
| Social Media | Followers | Profile Link |
| Instagram(Kylian Mbappé (@k.mbappe) • Instagram photos and videos) | 54.8 million followers | Click Here |
| Facebook(Kylian Mbappé | Facebook) | 12451894 followers | Click Here |
| Twitter(Kylian Mbappé (@KMbappe) /Twitter) | 6.2 million followers | Click Here |
As per the data shown above, it is evident that Mbappe has a large number of followers in all three social media platforms on the internet. It is all because of his humbleness, despite possessing massive amounts of wealth and talent that he has gained so many followers.
Kylian Mbappe Situation at PSG
Kylian Mbappe situation at PSG is not very good. As a player, he is getting enough minutes to play for the club across the games. But, he is most likely to depart and join Real Madrid, who are behind him for the past couple of transfer windows. With Messi arriving, now PSG is in a position to let go of Mbappe in order to make room for Cristiano Ronaldo. If everything falls in the right place PSG can manage to pull off the dream attack of Neymar, Ronaldo & Messi going ahead in the future. Let's see if Mbappe will move to Real Madrid or not going ahead in the transfer windows.
Unknown & Interesting facts about Kylian Mbappe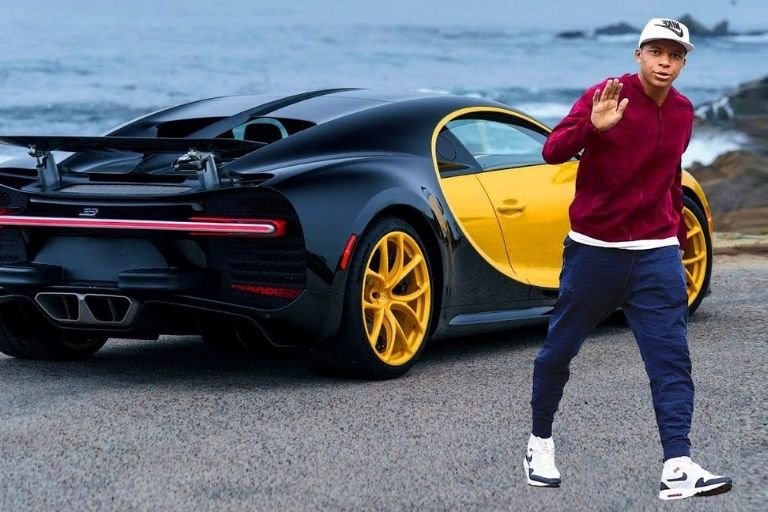 As Mbappe was born on December 20th, 1998, he is currently 22 years of age. His horoscope is Sagittarius, according to his zodiac sign. People who have the zodiac sign as Sagittarius is said to be independent and have a sense of uniqueness in their artistic nature and ability.
Mbappe has a very fit athletic body, which is required in the professional footballing world. He has a height and weight of 1.78 m and 73 kg respectively. Meanwhile, as he was born in Paris, France, his nationality is considered French, although his origin is from Cameroon.
His idol is Cristiano Ronaldo, who is one of the greatest players to have ever graced this sport. He is inspired by him daily and emulates his skills and techniques in the game, which makes him a terror among the opponent's defense. His dream is to become a legend like Cristiano and he strives to work hard for it every day
Because of his efforts, sacrifices, and passion for this beautiful game, he is considered by many football pundits as one of the best players in the world. He is considered to be placed among the top elites of the game, solely because of his explosive pace, unbelievable technique, and control on the ball which left many defenses left in its wake. He will be a ballon d 'or winner for sure in the future, once the era of Messi and Ronaldo's dominance in the game ends.
Check Here:-