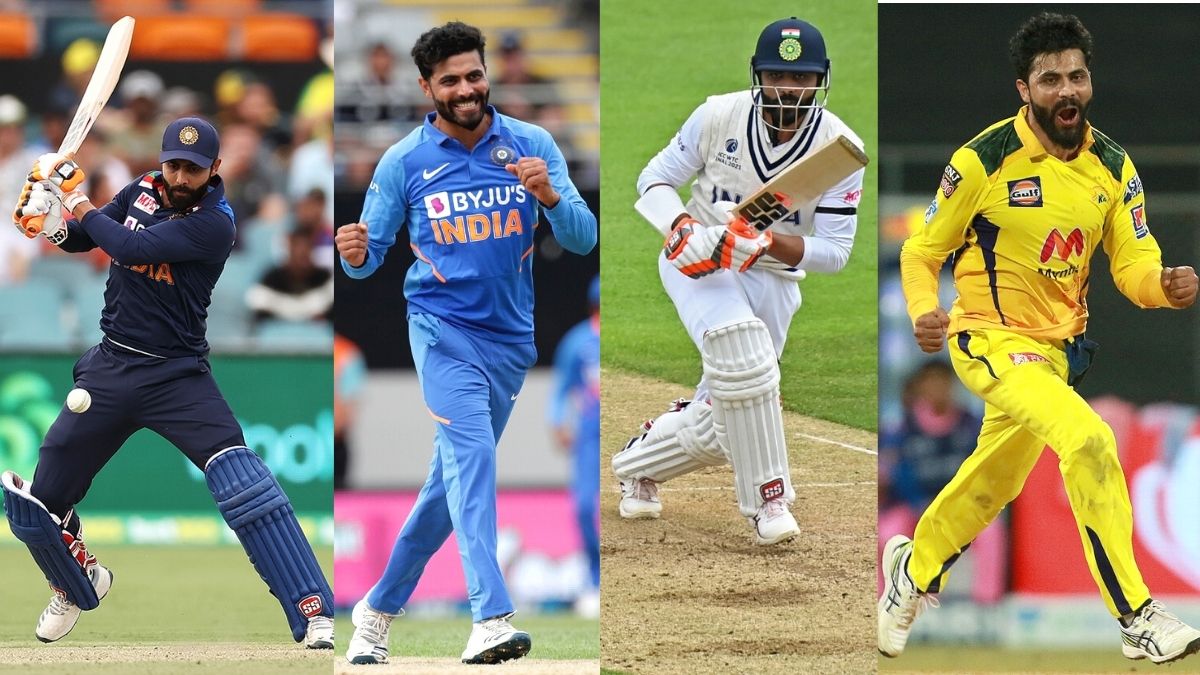 Team India has a great asset in Ravindra Jadeja. The spin all-rounder from the Rajput family in Gujarat is not only the best muddle order batsman and a good spin bowler. But Jaddu also contributes heavily by saving runs. He took some great acrobatic catches and effected some brilliant run-outs as well. Jadeja is complete which everyone wants him to be a part of their team. However, he is a luxury to have like the Indian Cricket team. Jaddu also plays the cash-rich league tournament Indian Premier League where he has impressed one and all because of his all-rounder skills.
In 2008 Jadeja was part of India's Under 19 team, which won in Malaysia under the current Indian team Virat Kohli. Then Jaddu made his international debut in the One Day International format against Sri Lanka, and four years later, in 2012, Jadeja played his maiden test match against England at Nagpur. In the same year, he was brought by the Chennai Super Kings franchise for two million dollars, and in 2016, Jaddu was plated 9.5 Cores by the Gujarat Lions. So now Jadeja is an integral part of CSK and Team India.
Jadeja had scaled many heights in the ODI format. He is the first spinner to play 150 matches in the fifty-over format, and now he is a top-ranked bowler in International cricket. Jadeja is also a vital member of India's chances against England in the five-match Test series, which will start from 4th August 2021, and the ICC World T20 tournament in the United Arab Emirates. The ICC mega event in the shortest format will be played from October to November 2021. Jadeja's all-rounder form might be the deciding factor for India in those two important events.
Ravindra Jadeja's Net Worth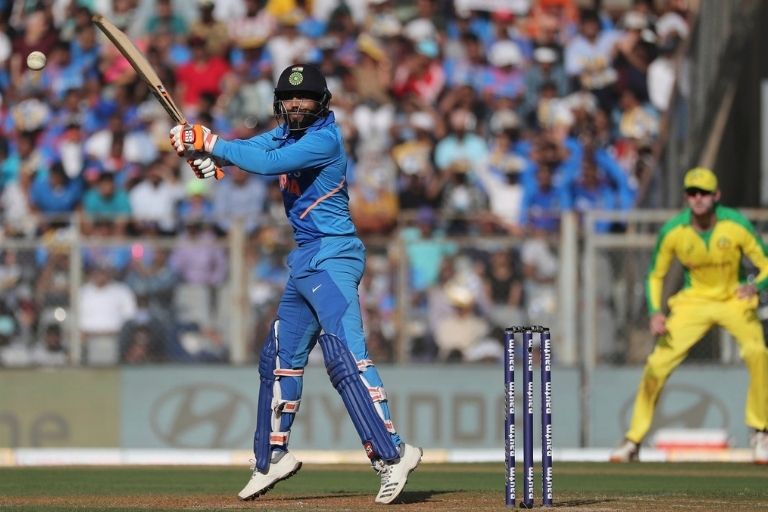 Jadeja has put back his struggling days because of his shire hard work, practice, and patience. Now Jaddu has become the wealthiest cricketer of India because of his endorsement, BCCI Contract, and IPL salary. In 2021, Jadeja's net worth is eight million US Dollars which means 58 cores in Indian Rupees. Most of the income comes from the brand endorsements for Jadeja. The Board of Cricket Control in India also pays Jadeja five crores' rupees as per the annual contract. Ravindra has been listed as A grade player on the BCCI contract list.
In the early days of Ravindra Jadeja, he didn't have enough money to buy new clothes. But now, the tides have changed for the Rajput Man because of his fighting spirit. Today southpaw endorses many brands which have the worth of millions of rupees. The cricketer has turned celebrity now, and he also brought a dream house through his earnings from the CSK franchise in the Indian Premier League. The house which Jaddu has brought has an estimated price of eight crores. In the last six to seven years, the net worth of Jadeja has grown up to eight hundred percent because of his salary given from the BCCI and the contract of the Indian Premier League. The financial experts estimate that the net worth of Jaddu might go up to sixty crores.
Ravindra Jadeja's Net Worth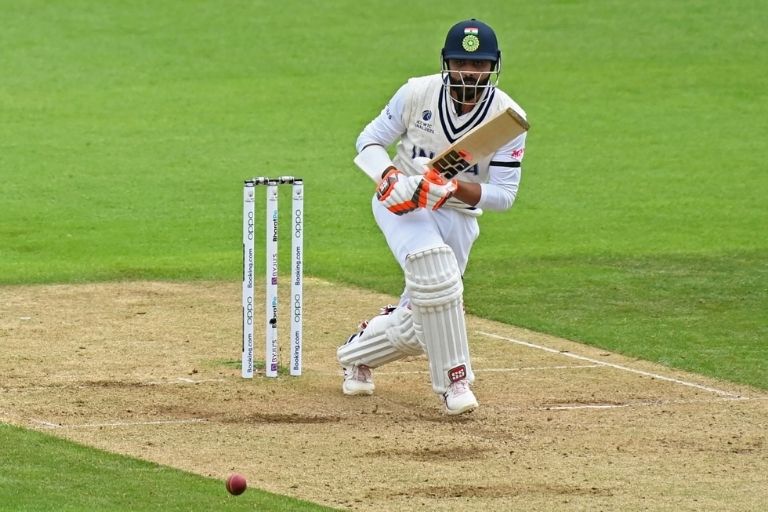 | | |
| --- | --- |
| Networth in 2016 – | Two Million Dollars – 14,87,90,000 Indian Rupees |
| Net Worth in 2017 – | 2.8 Million Dollars – 20,83,27000 Indian Rupees |
| Net Worth in 2018 – | Four Million Dollars – 29,76,10000 Indian Rupees |
| Net Worth in 2019 – | Six Million Dollars – 44,66,25000 Indian Rupess |
| Net Worth in 2020 – | Seven Million Dollars – 52,7,47500 Indian Rupees |
| Net Worth in 2021 – | Eight Million Dollars – 59,52,28000 Indian Rupees. |
Ravindra Jadeja's Source of Income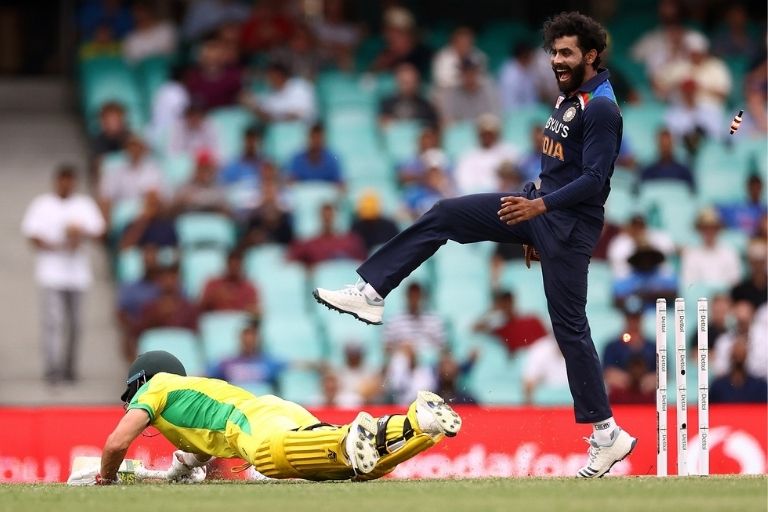 Sir Ravindra Jadeja's income is sourced through the match fess of the BCCI. Sir Jaddu is the A-grade player of the Indian Cricket team, where he earns a salary of five cores per year. Jadeja also earns through the cash-rich tournament named the Indian Premier League. Overall, Jaddu has earned 770,100,000 rupees from the IPL, and in the first half of the IPL 2021 season, his salary was 700,000,000. Apart from Cricket, Jaddu's major earning is from brand endorsements. Sir Jadeja charges twenty to thirty lakhs rupees per advertisement.
Ravindra Jadeja Income from IPL
The Indian Premier League has a potential platform for the younger players to showcase their talent to the world. But it also has changed many lives. Many players are now earning well and look after their families excellently because of the IPL. For example, Ravindra Jadeja started playing ODI cricket for India in 2009. He was brought by the Yellow franchise Chennai Super Kings in 2012. His first IPL salary was two million dollars, and now he also earns a handsome amount through this cash-rich league tournament. Overall, Jaddu has earned a whopping salary of seven cores so far.
Ravindra Jadeja IPL Salary/Wages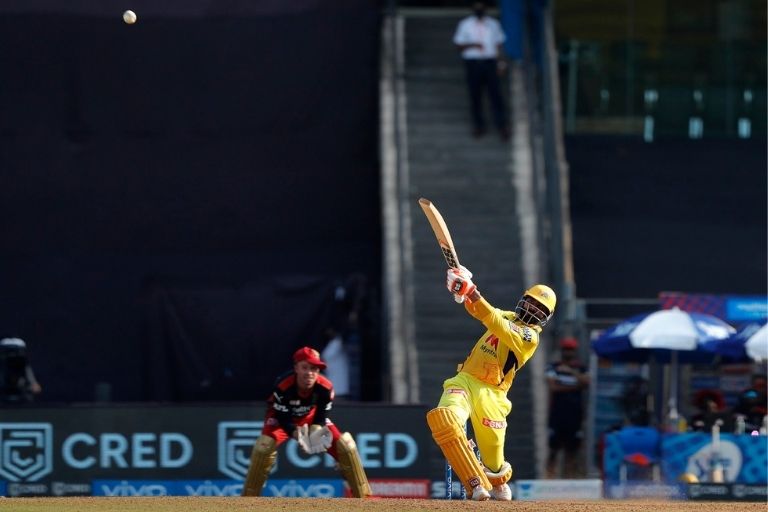 | | |
| --- | --- |
| IPL 2016 | 55,000,000 |
| IPL 2017 | 95,000,000 |
| IPL 2018 | 70,000,000 |
| IPL 2019 | 70,000,000 |
| IPL 2020 | 70,000,000 |
| IPL 2021 | 70,000,000 |
| IPL 2022 | 1,60,000,000 |
Ravindra Jadeja Contract fees/Income
In the contract listed by the Indian Cricket Board, Ravindra Jadeja is placed in the A grade, and he earns give cores per year, including all three formats. So here is the division of how Jaddu earns from the three international formats of cricket –
| | |
| --- | --- |
| Test Format – | 15 Lakhs |
| One Day International Format – | Six Lakhs |
| T20 International Format – | Two Lakhs |
Players who are not part of the playing eleven earn fifty of the match fee.
Ravindra Jadeja's Brand Endorsements
Ravindra Jadeja's magical on-field performances have made him a celebrity, and his image is like a superstar in front of the media and fans. Now Jaddu is the brand ambassador of many big companies, which he didn't think of when he started playing cricket for India. Jadeja endorses the brands like Gujarat Tourism, Incredible India, ASICS, and Life OK.
Ravindra Jadeja Social Media Appearence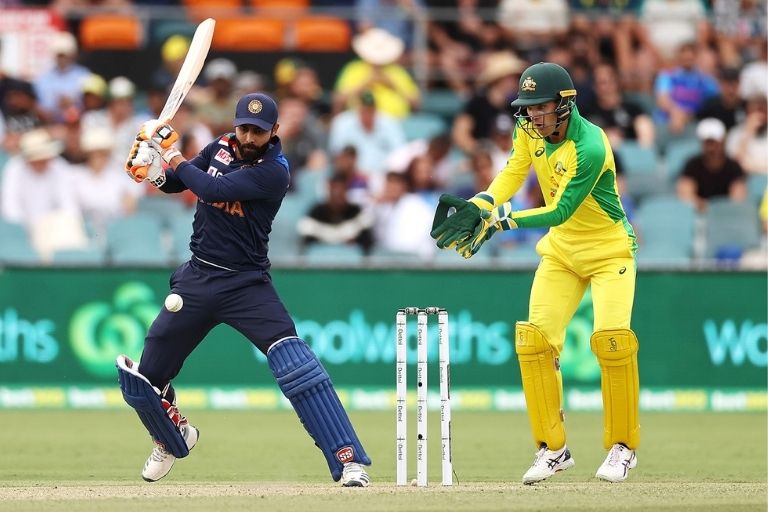 Social Media has become an important tool be amongst fans and followers. Now every cricketer is being seen on the platforms like Facebook, Instagram, and Twitter. The spin all-rounder, Sir Ravindra Jadeja, is also followed on these above channels. Jaddu fans are from all over the world. For those who do not follow Jadeja on social media, here are the details –
Ravindra Jadeja Cars
The cars, which Ravindra Jadeja owns, are about five cores' rupees. He has cars like BMW five series, Audi Q seven, and jaguar. Jaddu also owns two bikes, he has a Hayabusa bike, a racing bike, and the minimum speed is 320 kilometers per hour.
| | |
| --- | --- |
| Black Hyundai Xcent – Car | Rupees Eight Lakhs |
| Hyabusa – Bike | Rupees Sixteen Lakhs |
| White Audi a4 – Car | Rupees Forty-seven Lakhs |
Ravindra Jadeja's Property
Jaddu owns a luxury-designed house in a royal Navaghan in Jamnagar in Gujarat, and he also has real estate properties all over the country. The bungalow in Jamnagar is a four storage, which has a worth of forty cores. Jaddu also has a property in Mumbai and a farmhouse is attached to the bungalow, which has a price of 20 cores.
The four-storage bungalow seems like a palace for the common man. But Jadeja has reached to this position after he had faced a lot of hardships and struggles in his earlier days. The bungalow's entrance door has a vintage design which gives a royal look. The bungalow also has a farmhouse attached to it where there are two horses of Jadeja. On his social media channel, Jaddu is seen posing with his horse.
The bungalow also has some vintage design furniture and chandlers. The interiors and exteriors of Jaddu's bungalow have a design of the king's palace. The atmosphere which is in the bungalow is classic and spectacular. The bungalow has wooden doors and sprawling green lawns which are made for Jaddu's workouts. With stunning furniture, the bungalow inside also has elegant sofas and chairs inside.
The bungalow is located some 25 kilometers away from Jamnagar, a plot which was brought by Jadeja some years ago. The plot has seen a huge and compact development all over with red and blue lights. The four bungalows have a compound, and a swimming pool has also been made to enjoy the off time.
Personal life and Family life of Ravindra Jadeja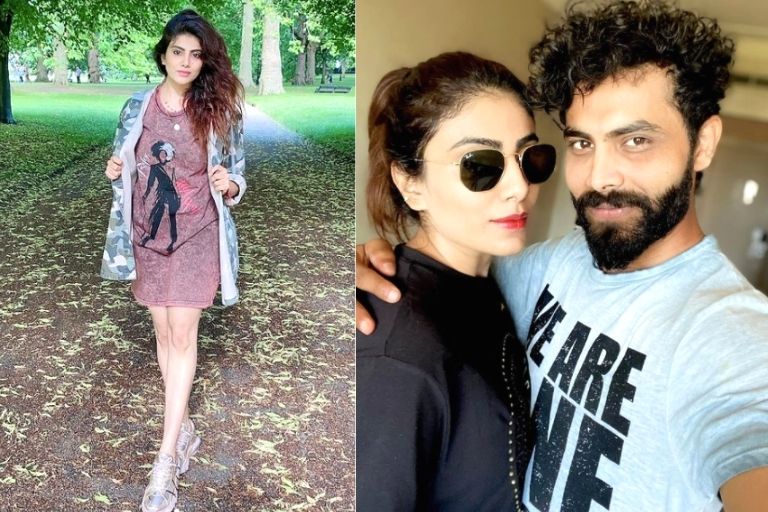 Jadeja was born on 6th December 1988. Jadeja's father was a watchman in a private security agency, and his father wanted his son to join the Indian army. But Jadeja's father was scared because Ravindra had an interest to play cricket. Jaddu's mother passed away in 2005 due to an accident. His mother's passing away was a big shock, and he was about to quit playing cricket for that reason. Now Jadeja is a married man and father of a daughter.
Ravindra Jadeja (Quick Facts)
| | |
| --- | --- |
| Full Name – | Ravindrasinh Anirudhasinh Jadeja |
| Birth Date – | 6th December 1988 |
| Father's Name – | Anirudhasinh Jadeja |
| Mother's Name – | Late Lata Jadeja |
| Domestic Career – | Under 19 appearance for India in 2005. |
| IPL Debut – | 2008 RR – Rajasthan Royals |
| ODI Debut – | 8th February 2009 against Sri Lanka |
| Test Debut – | 13th December 2009 against England |
| T20I Debut – | 10th February 2009 against Sri Lanka |
| Wife name – | Riva Solanki Jadeja |
| Sister's name – | Naina Jadeja |
Ravindra Jadeja (Hobbies, Best Friend, Favorite Actor)
| | |
| --- | --- |
| Best Friend | Suresh Raina |
| Favorite Actor | Akshay Kumar |
| Favorite Actress | Anushka Sharma Kohli |
| Favorite Singer | Arijit Singh |
| Favorite Social media platform | Instagram |
| Favorite cuisine | Punjabi |
| Idol | Yuvraj Singh |
| Favorite Cricketer | MS Dhoni |
| Favorite Footballer | Neymar |
| Favorite English Movie | Avengers Endgame |
| Favorite TV Show | The Kapil Sharma Show |
| Favorite Hindi Movie | Dilwale Dulhaniya le Jayenge Gaming and traveling. |
| | |
Unknown Facts about Ravindra Jadeja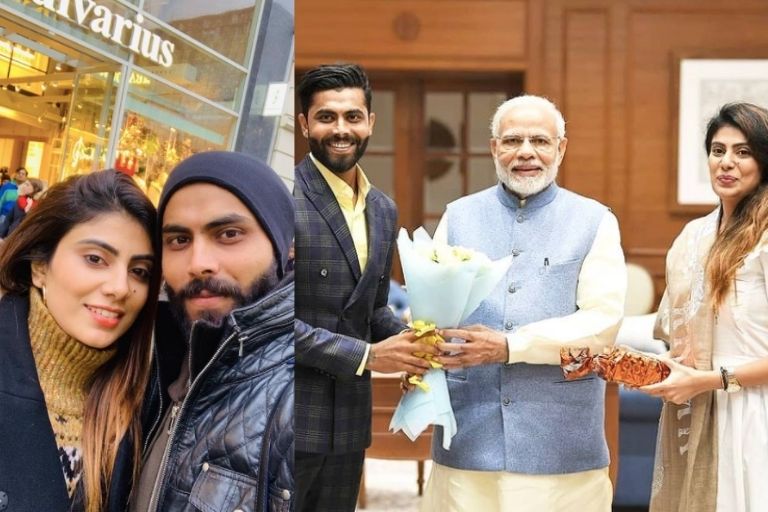 Nicknames – Ravindra Jadeja has a nickname called Jaddu which every one of us is aware of. But what we don't know is that this nickname was given to him by the Aussie spin legend Shane Warne. Jadeja is called SIR. This nickname was given to him on all social media platforms. The nickname of Sir suits Jaddu the most as he has given match-winning performances for India, and he will continue to do so.
Two Horses – Jadeja also owns two horses, and he has named them Ganga and Kesar. These two horses are in his farmhouse at Jamnagar.
A Resturant in Rajkot – Jadeja also owns a Restaurant in Rajkot. The restaurant is known as Jaddu's Food Field. Jaddu is fond of the city of Rajkot that why he started this restaurant, and he also said that the people of Rajkot are fond of various foods and delicacies.
Number 12 – Jadeja's jersey number is twelve because he believes that the number 12 is lucky. He even inaugurated his restaurant on 12th December at 12 o clock. The same date where he made his test debut for India in 2012.
Two controversies in Jaddu's life – Jadeja had two main controversies which came out of the field. First, on his wedding night, one of his relatives fired two gunshots from Jadeja's gun. As a result, a police complaint was also registered. Then Jaddu's pose with the lions of Gujarat's Gir Forest also sparked a controversy. the action was taken against all-rounder, and he had to twenty thousand rupees as a fine.
FAQ About Ravindra Jadeja
Is Ravindra Jadeja from Gujarat?
Yes, he is from Gujarat, Jamnagar.
Is MS Dhoni Ravindra Jadeja's Idol?
No. Ravindra Jadeja idolizes the former spin all-rounder Yuvraj Singh.
Does Ravindra Jadeja have an affair?
NO. Ravindra Jadeja is a married man now. He has married Riva Solanki, who is an engineer by qualification.
No. Cricketers generally do not have bad habits like smoking, and Ravindra Jadeja is the fittest player, so he stays away from smoking and other bad, dangerous habits.
What is the height of Ravidra Jadeja?
The height of Ravindra Jadeja is five feet seven inches.
Does Ravindra Jadeja have tattoos on his body?
Yes, Ravindra Jadeja has a dragon tattoo on his back and another one is on his left biceps.
What is the weight of Ravindra Jadeja?
Ravindra Jadeja has a weight of sixty kilograms.
What are the main records of Ravindra Jadeja in International Cricket?
Jaddu has made many records. But the main record of the spin all-rounder is that he is the only spin bowler after Anil Kumble to top the ICC ODI rankings as a bowler and he has scored three triple tons in first-class cricket, which no one has achieved this mammoth record till now.
What was the turning point of Ravindra Jadeja's career?
In the Ranji Trophy season of 2008 and 2009, Jaddu showed his all-around talent. He scored 739 runs and also picked up 42 wickets.
Where is Ravindra Jadeja currently?
Ravindra Jadeja is currently with Team India in England for playing five-match Test series. And, he has managed a brilliant fifty with the bat in the first innings of the 1st Test.