In ordinary life, many would advise you to ' Be a Sport ' or ' Show Sportsman Spirit ' etc. These advices are general in life as every sportsman or woman is expected to abide by the decisions that the referee or Umpires make in the heat of the moment. Some may work in your favor, and the rest may not.
In Cricket, the world has seen players protesting against decisions made by umpires, and a few of them have even been labeled as ' Bad Boys.' Others keep a tight lip but burst like a volcano.
The game is nearly 125 years old, but very few have earned the tag ' Mr. Cool ' or Captain Cool as MS. Dhoni did.
Even the commentating experts could not ' face – read ' him. So expressionless, but the computer within running in full speed inside on weighing the situation was always there.
But, even MS Dhoni could not control his emotions in certain circumstances in his long and illustrious career. Even though such situations were too far and in-between, they did happen, and it did kick up a storm.
Here are those five instances when Captain Cool burst out!
1. No ball or Yes Ball?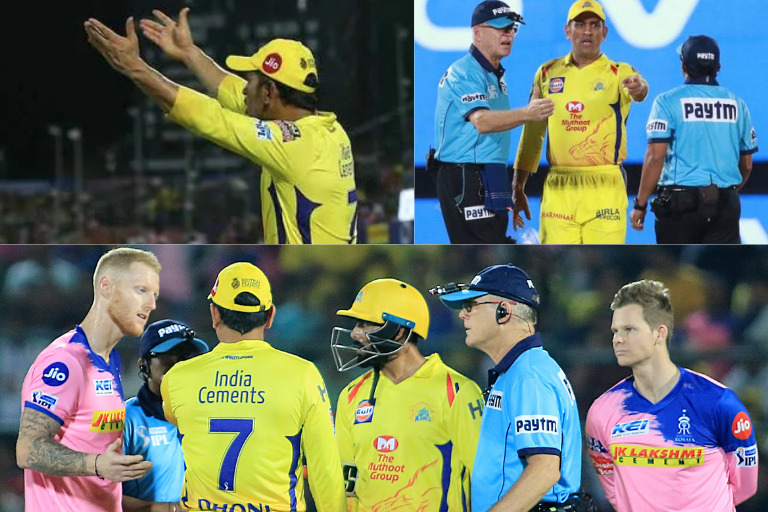 With two batsmen battling it out in an IPL match between RR and CSK, the result lay in the final over. Ben Stokes was bowling it, and he had to defend 18 runs for a win. Jadeja and Dhoni were at the crease, with the first Ball going for a six from Jadeja. The second delivery leaked a three, with the third scalping Dhoni.
CSK needed eight runs from three deliveries, and Stokes bowled a full toss which was obviously above the waist. The Square leg Umpire also thought so and raised his hand halfway. He thought better of it and lowered his hand to CSK's dismay. The next few minutes saw unexpected action. MS bolted into the field and started questioning the umpires on the No – Ball. The umpires stood by their decision, and Dhoni apologized. However, CSK won in the final delivery.
2. Ball Watching Manish Pandey!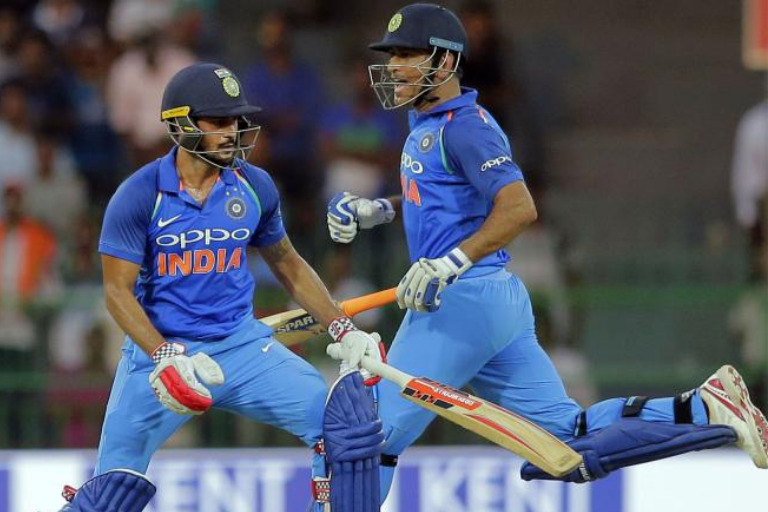 Dhoni may look heavier in appearance, but his cheetah-like running between wickets is known to all.
On one such occasion in the 2018 T20 series against South Africa, Manish Pandey learned a lesson. Both of them were striking well, and their partnership stood at 98. Dhoni pushed the Ball and wanted two and turned around for it. He was shocked to see Manish Pandey staring at the Ball and not bothered to look for the extra run.
The Mic near the stumps broadcasted Dhoni's anger to the world as he pulled up Manish Pandey for not hearing the call.
3. In or Out! Billy gets pulled up.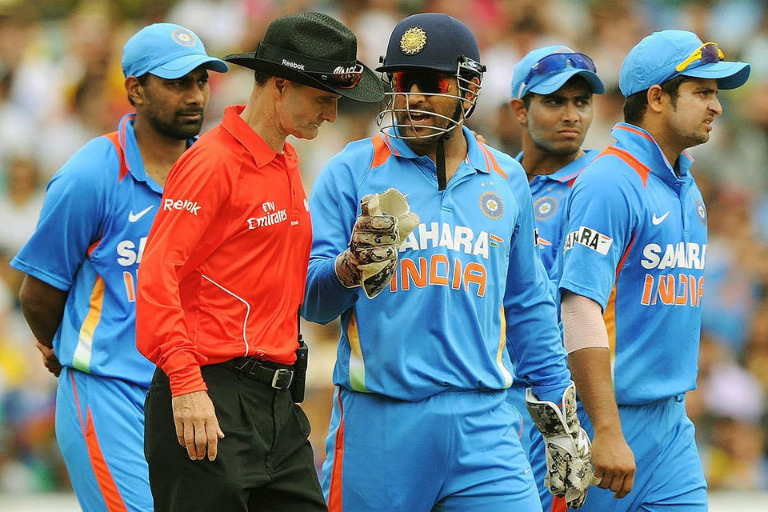 Way back in 2012, India was up against Australia in an ODI. With Suresh Raina bowling his off-breaks, Dhoni managed to break the stumps of Michael Hussy and appealed.
The on-field umpire Billy Bowden referred it to the third umpire, and the replays were on display. It clearly showed Hussey recovering ground. The third umpire chose to flash 'out' instead.
Billy intervened and signaled to Hussey not to go back but continue playing.
Hussey dutifully did so, but MS was boiling over by this time and lashed out at Billy for his decision. Even though there was an argument, Billy stuck to his guns, and Dhoni had to accept the decision.
4. Lying is a bad policy!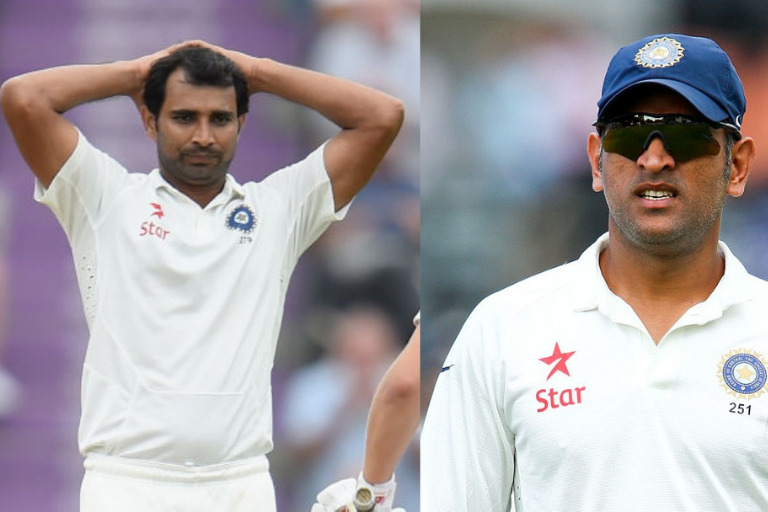 Mohammad Shami was with the Indian test team and was bowling to McCullum in Wellington, New Zealand. The Indian team had their collars up till McCullum struck form and scored a quick but brilliant triple hundred. In between, he was dropped twice to Shami's frustration.
Shami let go a lethal bouncer at McCullum, and Dhoni approached him and warned him against bowling such bouncers. Shami immediately defended himself by saying that the Ball had slipped and it was unintended.
Dhoni lashed out at Shami, saying, ' I have seen many come and go. Never lie to me '!
Shami revealed this to his teammate Manoj Tiwary on Instagram.
5. Daryl Harper did not like Dhoni harping!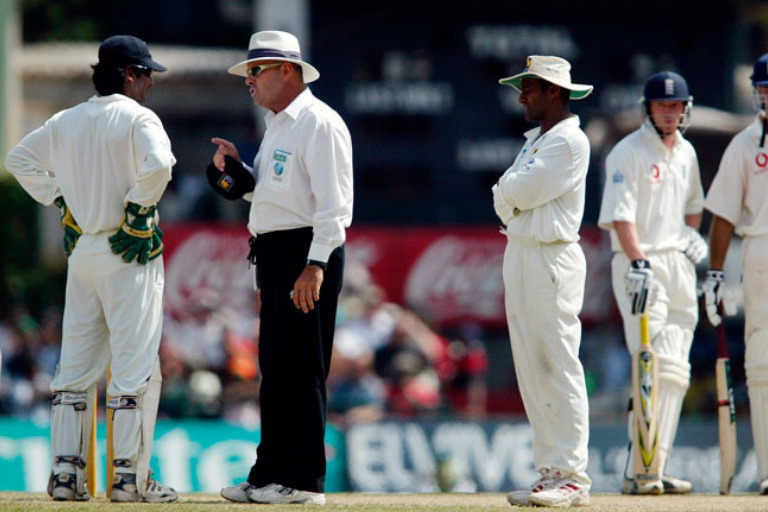 It was in 2011, and the Indians were playing the West Indies. Praveen Kumar was warned on running on the pitch after delivery, and Dhoni intervened. He was not happy with Daryl Harper's decision and warning and said, ' We have had problems with you, Darryl'!
India, however, won the test, but Dhoni had more to say! In the post-presentation, he said,' this game would have finished earlier, and I would be in the Hotel by now if the correct decisions had been made!
Daryl Harper did press charges stating that Dhoni was attempting to intimidate him on and off the field. To date, no action has been taken on Captain Cool, who can also explode. !