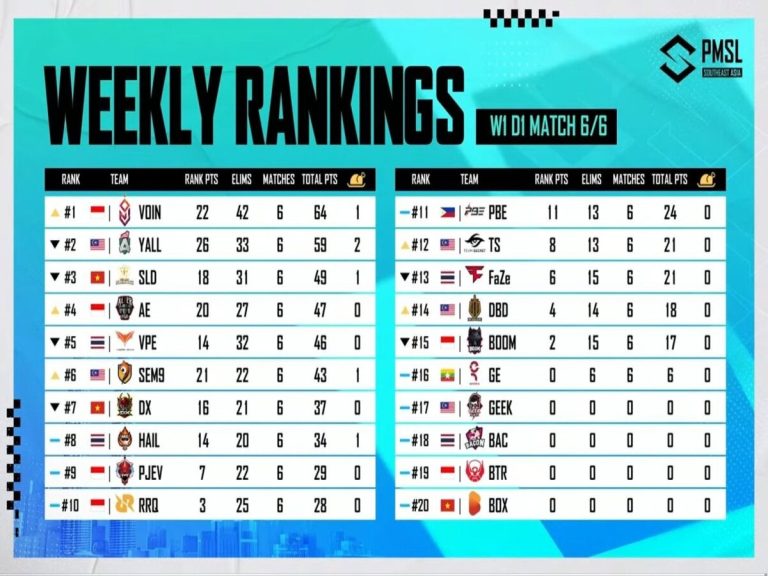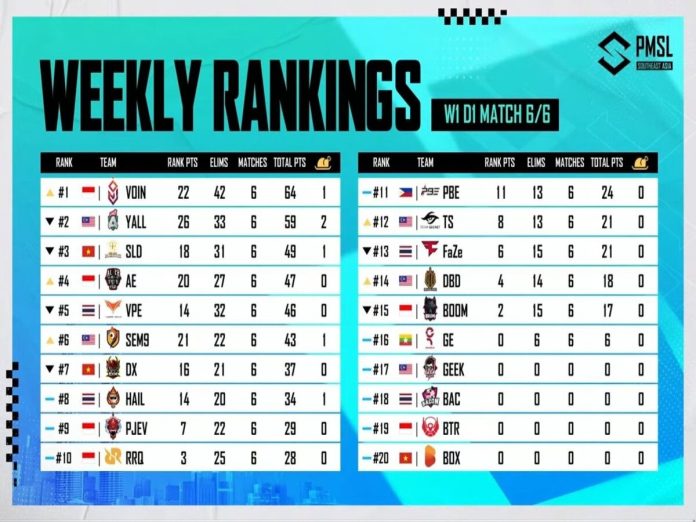 PUBG Mobile is known for its highly-competitive and popular tournaments. March 22 marked the start of the PUBG Mobile Super League's first season.
Following six games, the Indonesian team VOIN Esports was in top position with 64 points. 16 teams from four groups – A, C, D, and E competed on Day 1. Group B did not compete on Day 1.
With 59 points and two Chicken Dinners, Yoodo Alliance was in second position behind them in the PUBG Mobile PMSL 2023 Spring Week 1 Day 1.
Although not winning a single Chicken Dinner, Alter Ego and Vampire Esports finished fourth and fifth, respectively. 
Overall Standings
PUBG Mobile: PMSL 2023 Spring Week 1 Day 1 Highlights
The winning team of the PMPL Thailand Spring, HAIL Esports, kicked off their campaign by securing an 11-kill Chicken Dinner on the Sanhok Map.
To secure the victory, the Thai team grabbed total possession of the last zone.
While Faze had a dismal start, Playbook Esports and Vampire also got off to a strong start, scoring 12 and 11 points respectively.
The Yoodo Alliance from Malaysia won the second game with 11 eliminations. The team won their first Chicken Dinner after outplaying SEM9 and Shine Like Diamond.
Although having been eliminated earlier in the game, Persija Evos battled well, picking up 10 kills.Faze scored 10 points while displaying some impressive skills.
Amassing seven frags, Shine Like Diamond prevailed in the third match. Alter Ego had a successful match, scoring 12 points. With their strong approach, RRQ managed to eliminate 11 opponents.
Yoodo Alliance scored seven kills in the fourth game to win their second Chicken Dinner of the Super League.
In the PUBG Mobile Pro League Indonesia, VOIN finished in second place with 16 points, followed by D'Xavier and Team Secret with 13 and 10 points, respectively.
Vampire Esports fought valiantly to collect 20 points, including 14 eliminations, while SEM9 battled well to win in the fifth round with six finishes.
In the match, VOIN, Team Secret, GE, and Boom failed to score a single point.
In the sixth round of the PUBG Mobile Super League, VOIN defeated Alter Ego in their last match to record a significant 15-kill Chicken Dinner.
SEM9 played another excellent game, earning 11 points for the Malaysian team. GE and Persija Evos did not receive any points.
Also Read: Counter Strike 2 Beta Limited Test Details, How To Download