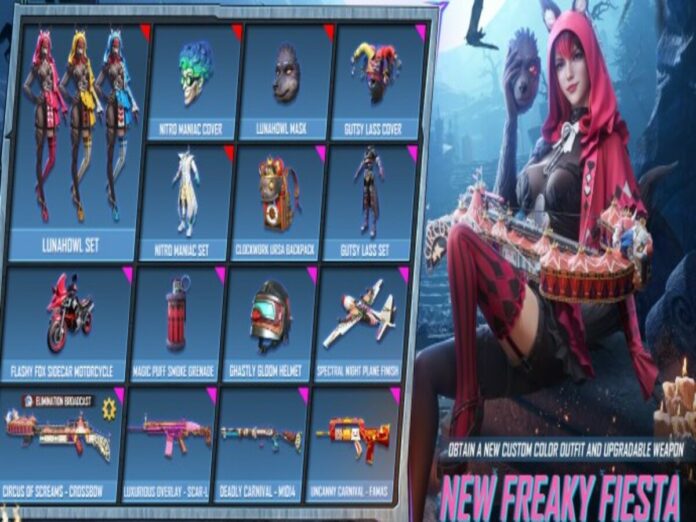 The well-known battle royale game BGMI is scheduled to launch A3 Royale Pass, which will include brand-new, intriguing weapon skins, character costumes, and more.
In the game right now, BGMI A2 Royale Pass is operational, and online rumors concerning the A3 Royale Pass have been circulating. 
Players are curious about Krafton's plans for the A3 Royale Pass, the follow-up to the Royale Pass, which left them in awe of the perks that it gave.
In-game prizes are mostly obtained by gamers through the Royale Pass.
To improve the rank, you can get Royale Pass Points in the following ways: Finish the Daily and Challenge Missions for Royale Pass.
Elite Pass holders can access Elite Missions to advance through the ranks more quickly.
BGMI A3 Royal Pass leaks
The BGMI A3 Royale Pass is expected to be available in the game on November 21st and is centered around the Freaky Fiesta theme, according to leaks from Classified YT on YouTube.
Starting on November 21, 2023, those who choose to acquire the Royale Pass in Battlegrounds Mobile India have the opportunity to do so. 
Numerous weapon skins, vehicle skins, and character outfits will be available with the Royale Pass. These include:
Circus of Screams – Crossbow Upgrade Skin – Level 50
Wing It – Free Emote
Deadly Carnival – M1014 Gun Skin
ClockWork – Backpack Skin
Disco Ball Ornament
Brawler Master Free Set
Flashy Fox Sidecar Motorcycle Skin
Magic Puff Smoke Grenade Skin
Lunahowl Mythic Emote
Luxurious Overlay SCAR-L Skin
Lunahowl Mask
Lunahowl Set -Level 100
Gutsy Lass Set
Gutsy Lass Cover
Uncanny Carnival – Famas Skin -Level 10
Ashamed – Free Emote -Level 15
Spectral Night Plane Skin -Level 15
Ghastly Gloom Helmet Skin -Level 20
Steampunk Raider Parachute Skin
Ghastly Gloom – Mini14 Gun Skin
Nitro Maniac – Mythic Set -Level 40
Nitro Maniac Cover – Level 40
Gamers may use their UC to acquire the A3 Royale Pass in the game.
The price of the Elite Pass is 720 UC, whilst an Elite Pass Plus is 1920 UC.
Players may access all rank rewards, receive a fifty percent weekly challenge point boost, receive a unique avatar frame, exclusive goodies, and much more with either of the passes.
The BGMI community has high expectations for the BGMI A3 Royale Pass.