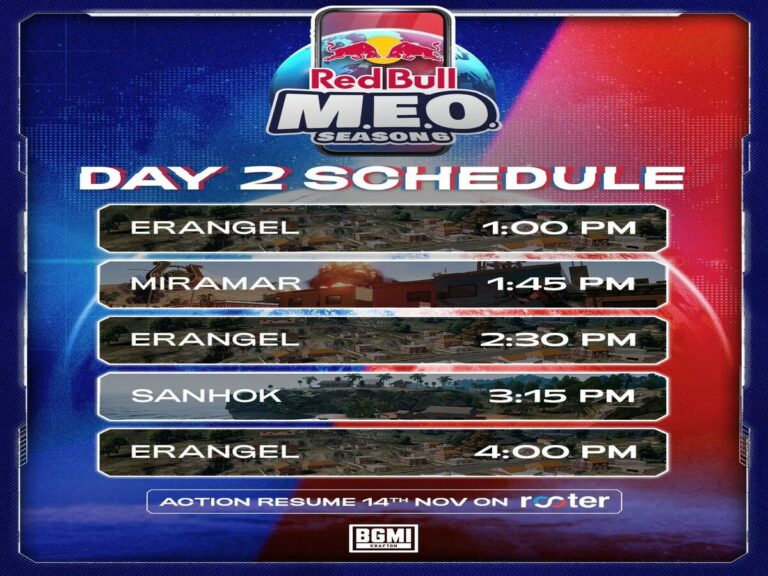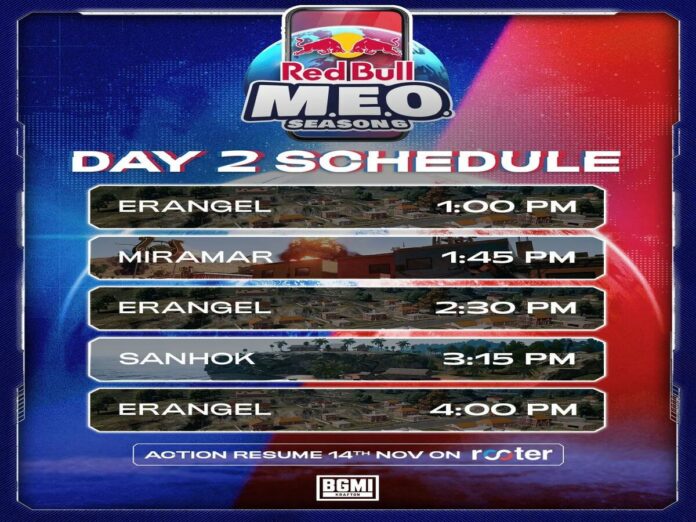 November 14 is the scheduled date for Day 2 of the BGMI Red Bull M.E.O Season 6 National Finals.
On November 10, 16 teams faced off against one another in five bouts in Battle Royale mode.
After Day 1, Orangutan Gaming, under Ash's leadership, came to the forefront. Second and third place went to Celsius and Enigma Gaming, respectively.
The three-day Finals are scheduled to include fifteen matches in all. Like the first day, the second day will also be played online.
The third and final day will take place in Delhi on November 18.
Participating Teams
The teams competing in the Season 6 Finals are as follows:
Team Soul
Team GodLike
Team XSpark
Orangutan
Gladiators Esports
Medal Esports
Gods Reign
Big Brother Esports
Global Esports
Revenant Esports
Enigma Gaming
Loose Ends
Celsius Esports
Team Tactical
Aslaaa Esports
Team Infinity
BGMI Red Bull M.E.O Season 6 Grand Finals Day 2 Schedule
The schedule for Day 2 of the BGMI Red Bull M.E.O Season 6 Grand Finals is as follows:
Match 1 – Erangel – 1 pm
Match 2 – Miramar – 1:45 pm
Match 3 – Erangel – 2:30 pm
Match 4 – Sanhok – 3:15 pm
Match 5 – Erangel – 4 pm
On Rooter, you can watch the Day 2 action starting at 1:00 PM in Hindi.
Day 1 Results
Orangutan Gaming showed a steady run in their first five games, scoring 88 points at a rate higher than 17. Celsius Esports finished second overall with sixty-five points.
With 55 points, Engima Gaming—who just signed former Oneblade players—also put up a strong showing to take third place.
With 41 points, Revenant Esports is in fourth place. Although not having any chicken dinner on Day 1, Medal Esports, captained by Paradox, finished sixth.
With 37 points, Team Soul, the fan favourite, finished sixth, having also earned one Chicken Dinner.
Also Read: Free Fire Booyah For Scythe Event Details, Rewards