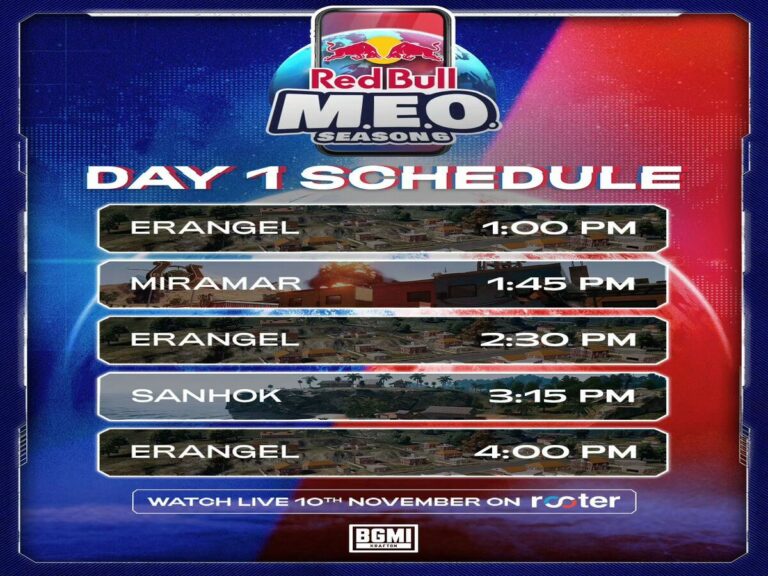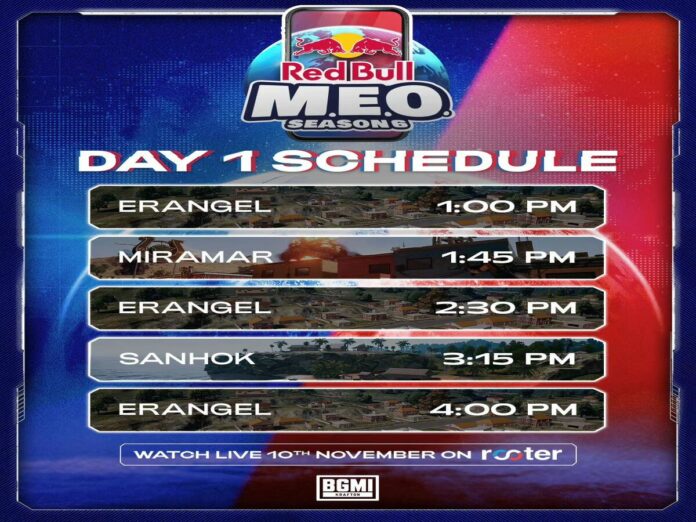 On November 10, 14, and 18, India will host the BGMI Red Bull M.E.O. Season 6 Grand Finals.
The event's third and last day will take place at DLF Avenue in Saket, New Delhi. There will be three maps and a total of five matches every day.
Three stages comprise the tournament: the National Finals, Playoffs, and Qualifiers.
Two rounds of the qualifiers were held between September 26 and October 10. On October 21 and 22, the top eight teams from each round moved on to the Playoffs.
BGMI Red Bull M.E.O Season India National Finals Schedule
The top four Playoff teams as well as twelve teams who were directly invited will compete in the BGMI Red Bull M.E.O Season India National Finals.
At 1:00 PM IST, the Red Bull Season 6 Finals' first match will take place on the Erangel map. Fans have access to the Rooter OTT platform to watch it live.
This is the schedule for the first day:
Match 1 – Erangel – 1:00 PM
Match 2 – Miramar – 1:45 PM
Match 3 – Erangel – 2:30 PM
Match 4 – Sanhok – 3:15 PM
Match 5 – Erangel – 4:00 PM
Finalists
The BGMI Red Bull M.E.O. Season 6 finalists are as follows:
Team Soul
Team GodLike
Team XSpark
Orangutan
Gladiators Esports
Medal Esports
Gods Reign
Big Brother Esports
Global Esports
Revenant Esports
Enigma Gaming
Loose Ends
Celsius Esports
Team Tactical
Aslaaa Esports
Team Infinity
Prior to this competition, Team Soul seemed to have settled into a groove.
The Omega-led lineup placed fourth in the most recent Skyesports Championship 5.0 and the Upthrust BGMI Diwali Battle.
Goblin and Neyo, two of its members, also had impressive achievements in such competitions.
Over the last two weeks, Gods Reign and Revenant have performed exceptionally well.
Recent performances by both of the well-known squads in the India versus. Korea Invitational 2023 were impressive.
Gladiator Esports won the BGIS 2023 championship. These teams will be ones to watch out for in this tournament.
Also Read: Top 5 Tips For Long Range Accuracy In PUBG Mobile