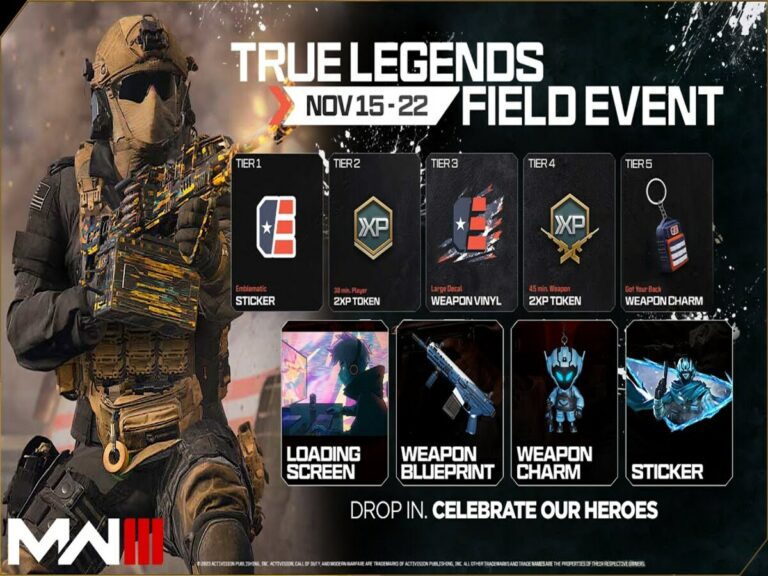 The first in-game celebration of combat veterans in Modern Warfare 3 is called True Legends.
Ten free Call of Duty Endowment-themed items, including as weapon skins, XP tokens, stickers, and decals, will be given to players.
Individuals that don the Koa King Operator camo will have immediate access to these free rewards.
After more than a week of play, the developers of COD: Modern Warfare 3 have included the first event.
It is known as "True Legends," and gives players the opportunity to personalize their load-outs with weapon camos, XP tokens, stickers, decals, and other fascinating rewards. 
Modern Warfare 3 True Legends Event
The Call of Duty Endowment Charity DLC aims to assist unemployed war veterans in finding respectable professions so they may sustain themselves. It takes place after this event.
In honor of real legends and military heroes, ten complimentary Call of Duty Endowment-themed awards are yours to keep.
Players may obtain ten distinct in-game products. All it takes to claim this free merchandise is for players to progress through different game modes. Then, they must accrue experience points. 
Ten distinct tiers must be completed by the players in order to advance; upon finishing a tier, a prize will become available.
The full list of rewards is as follows:
Tier 1: "Emblematic" Sticker
Tier 2: 30-Minute Double Player XP Token
Tier 3: "Always Forward" Large Decal
Tier 4: 45 Minute Double Weapon XP Token
Tier 5: "Got Your Back" Weapon Charm
Tier 6: "Stacked" Large Decal
Tier 7: "Anthem" Emblem
Tier 8: "Flanked" Calling Card
Tier 9: 60 Minute Double Battle Pass XP Token
Tier 10: "Brave Stripes" Weapon Camo
The developers of Call of Duty Endowment Warrior Pack have ensured that players who purchase the pack will receive these free rewards promptly, as long as they wear the "Koa King" Operator camo that comes with it.
The name of the most recent operator skin was inspired by Navy Seal Benjamin F., a recently introduced war veteran to the game who mostly served as a scout and participated in many reconnaissance missions throughout Europe, Africa, Afghanistan, and Iraq.