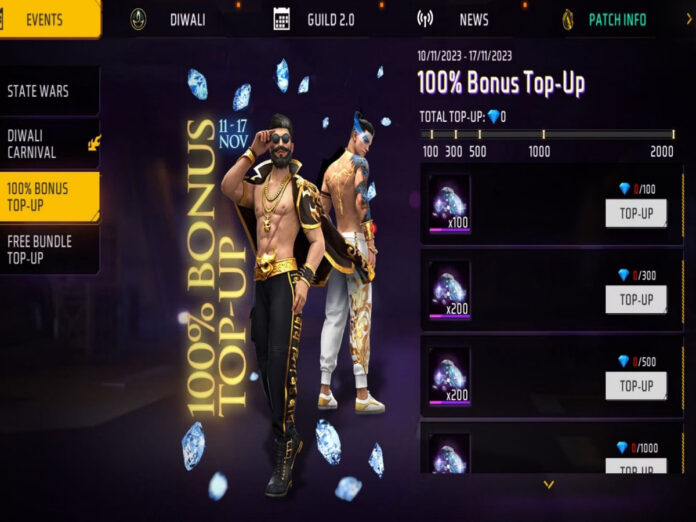 The most beloved event amongst the Diwali celebrations, the Free Fire 100% Bonus Top-Up event returned to the game.
When you fulfill specific purchasing conditions, it offers a bonus of up to 2,000 Diamonds, so cutting the price of that in-game money in half.
November 11, 2023 marked the launching of the new event, which will run for one week until November 17, 2023.
As a result, you may take advantage of the opportunity to load your account with in-game money right away.
Free Fire 100% Bonus Top-Up Event
The 100% Free Fire Bonus Top-Up offers extra rewards to enable in-app purchases, it functions similarly to previous in-game top-up events. 
The main distinction, though, is that diamonds are given out as part of the new inclusion rather as conventional cosmetics.
The conditions and rewards for the new Free Fire 100% Bonus Top-Up event are as follows:
Purchase 100 Diamonds: Get free 100 Diamonds
Purchase 300 Diamonds: Get free 200 Diamonds
Purchase 500 Diamonds: Get free 200 Diamonds
Purchase 1,000 Diamonds: Get free 500 Diamonds
Purchase 2,000 Diamonds: Get free 1000 Diamonds
To meet at least one of those conditions, you can buy any of the following packs:
100 Diamonds for INR 80
310 Diamonds for INR 240
520 Diamonds for INR 400
1,060 Diamonds for INR 800
2,180 Diamonds for INR 1,600
5,600 Diamonds for INR 4,000
You may purchase the 2,180 Diamonds pack for INR 1,600 to be qualified for all of the awards of this event because the criteria are interrelated.
In this instance, you will obtain 4,180 Diamonds in total, which includes the bonus that offers the highest value.
How to participate in the event
To take part in the new event and win twice as many Diamonds, you can do the following steps:
To go to the in-game top-up center, log into your account.
To reach the threshold, buy the necessary number of Diamonds.
Upon completion of the purchase, you will qualify for two Diamonds.
Navigate to the event area and choose the menu item labeled 100% Bonus Top-Up.
To claim the bonus, click the icon on the right.