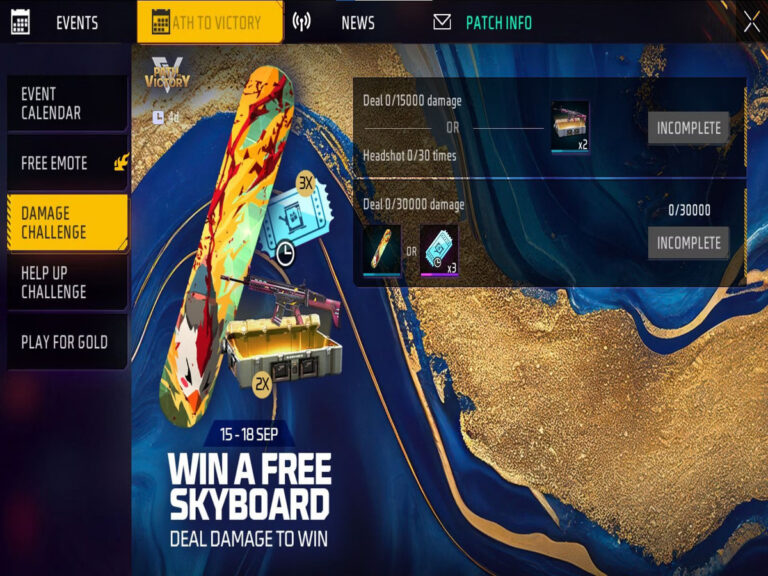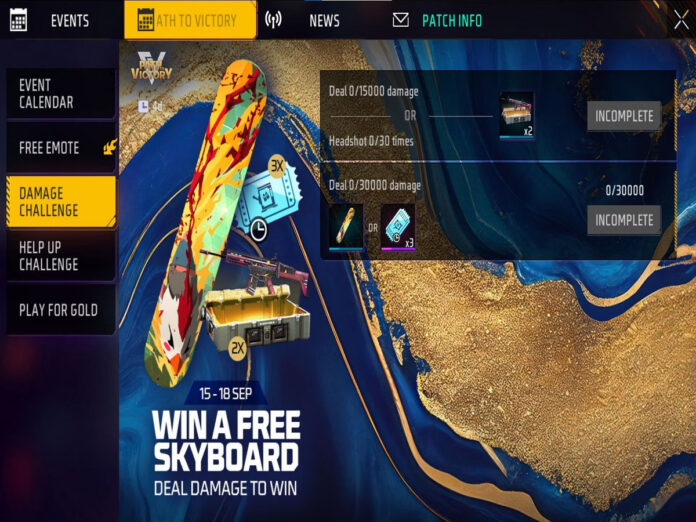 Damage Challenge, the most recent event that was added to the Free Fire game, gives players the opportunity to win a Vertigo surfboard or Luck Royale vouchers as well as free weapon loot crates.
To obtain the rewards in this event, Free Fire players must deal the requisite damage that the event specifies.
On September 15, 2023, the game's creators brought out this new event, and you now have a limited amount of time to complete its two prerequisites and reap its benefits.
Free Fire Damage Challenge
The most recent Free Fire event, Damage Challenge, will keep players occupied with duties until September 18, 2023. 
This content, which is a part of the Path to Victory campaign, has the following specifications:
Deal 15,000 damage or hit headshots 30 times to get 2x free Pink Devil weapon loot crate
Deal 30,000 damage to get a free Vertigo surfboard or 3x Luck Royale Vouchers (Expiry date: October 31, 2023)
Dealing 30,000 damage during the course of the event is a requirement for all the rewards, although active players shouldn't have any trouble doing this.
You can follow this procedure to get the rewards from the Free Fire Damage Challenge:
Launch your Free Fire account and begin grinding through the games to build up damage.
The event tab allows you to keep tabs on the development.
After completing the necessary steps, go to the Path to Victory menu and select Damage Challenge.
To confirm the purchase of the surfboard or 3x Luck Royale Vouchers, select the Claim button on the right side of the Vertigo surfboard.
You will then receive your selected reward.
Free Fire players shouldn't pass up this chance to obtain the surfboard for free because it often costs roughly 99 Diamonds in the store for items of this degree of rarity.
The Luck Royale Vouchers option is always available if you already possess it. You can employ spins worth a few hundred diamonds thanks to this.
Also Read: Call Of Duty Xbox Sale Is Now Live: All You Need To Know