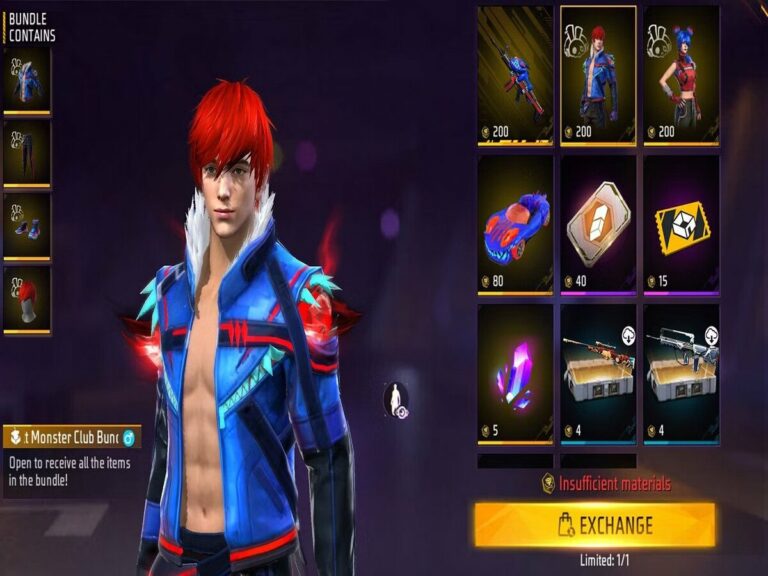 In Free Fire, the much anticipated new Monster Ring is now available. The Luck Royales has four alluring cosmetics, including two outfits, a gun skin, and a vehicle skin, as suggested by the leaks.
All of these things may be purchased with diamonds, or you can exchange them for Universal Ring Tokens that you may have obtained from this or previous Luck Royales.
Collecting these Glee Spree items gives you brand points for your Trend+ development. In the section that follows, further information on the Luck Royale is given.
As of September 14, 2023, Free Fire Monster Ring came into effect. It will be playable for a week before expiring on September 27, 2023, like many other Luck Royales in the game.
The cost of the spins is the same as it would be for any other ring-themed event, costing 20 Diamonds for one spin and 200 Diamonds for 11 spins in the second choice.
Free Fire Monster Ring Event Rewards
Upon spinning, you will either win items or Universal Ring Tokens in Free Fire. The following rewards are included in the prize pool:
Cobalt Monster Club Bundle
Scarlet Monster Club Bundle
SCAR – Monster Attack
Sports Car – Monster Transformer
Universal Ring Token
2x Universal Ring Tokens
3x Universal Ring Tokens
5x Universal Ring Tokens
10x Universal Ring Tokens
Since you may exchange the Universal Ring Tokens for the Cobalt Monster Club Bundle and other Monster Ring rewards, they are quite valuable. The items are as follows:
SCAR Monster Attack – 200x Universal Ring Tokens
Cobalt Monster Club Bundle – 200x Universal Ring Tokens
Scarlet Monster Club Bundle – 200x Universal Ring Tokens
Sports Car Monster Transformer – 80x Universal Ring Tokens
Name Change Card – 40x Universal Ring Tokens
Room Card (1 Match) – 15x Universal Ring Tokens
Cube Fragment – 5x Universal Ring Tokens
Lucky Koi Weapon Loot Crate – 4x Universal Ring Tokens
FAMAS – Metallic Weapon Loot Crate
Phoenix Knight (Mini Uzi + AUG) Weapon Loot Crate
Persia Prowess Weapon Loot Crate
How to obtain the rewards
To get the rewards from the Free Fire Monster Ring on your account, follow these steps:
Choose the event by perusing through the Luck Royale area.
Spend Diamonds to generate spins once the event UI has loaded.
Keep doing this until you either have the desired reward or have accumulated enough Universal Ring Tokens to exchange for it.
Navigate to the exchange area and choose your favourite item. To redeem the reward, click on the exchange button.
You may retain the cosmetics you win in Luck Royale forever and they are all permanent.
Also Read: Minecraft Live 2023 Mob Vote: Find Out How To Vote