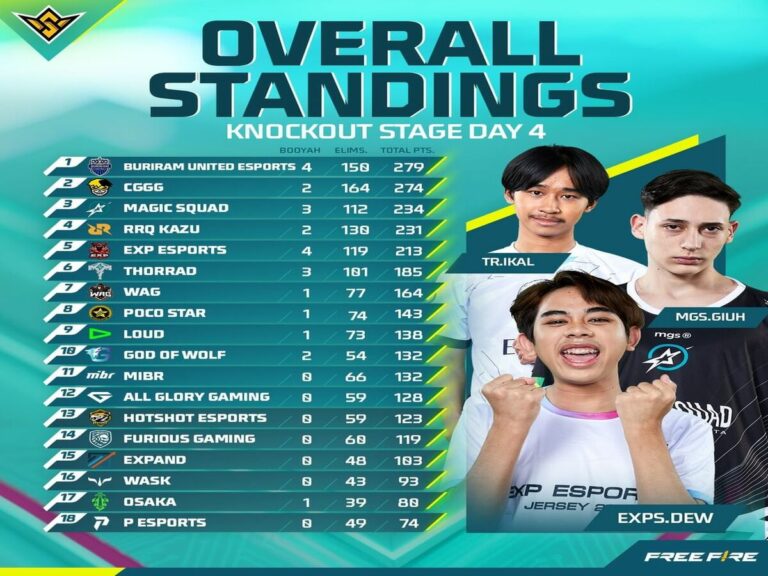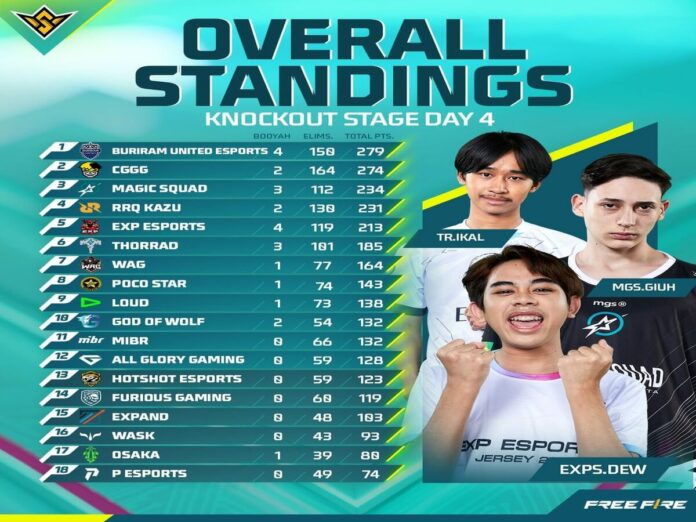 After intense competition between the teams in Groups A and B, Buriram United Esports emerged victorious in the rankings on Day 4 of the Free Fire World Series (FFWS) Knockout stage.
With a staggering 279 points and four Booyahs, the Thai powerhouses emerged victorious. With 274 points, Team CGGG took second place, while the Brazilian team Magic Squad rounded out the podium with 234 points.
With 213 points, EXP Esports, who wasn't in this group, dropped to fifth place overall. At the moment, LOUD has the ninth position.
To go on to the next round, they must do well in their upcoming matches.
Match Highlights
With an incredible 16 frags in the opening match, Indonesian player Thorrad won their second Booyah of the Free Fire competition. Ikal, their fragger, won MVP after taking out six opponents.
CGGG used a strong approach to win 10 frags, and All Glory Gaming from Mexico came in second with four frags.
In the second battle, Magic Squad adopted a more assertive strategy and secured the Booyah with a remarkable 18 frags.
The MVP was Free Fire star MGS Giuh, who had seven eliminations and over 2400hp in damage.
With seven frags, God of Wolf from Vietnam took second place.
CGGG put up a remarkable effort in the third match, scoring a Booyah with an astounding 14 frags.
Their achievement was mostly due to Peter's six frag efforts. With 12 eliminations, Buriram United Esports proved their consistency once more, taking second place.
In the fourth match on Kalahari, Thorrad proved their mettle by winning their second Booyah of the day and scoring 13 frags.
In second place was Hotshot Esports, closely followed by CGGG in third.
Buriram United secured a Booyah in the fifth game with an amazing 16 frags. After capturing three frags and unleashing an incredible 7400hp of damage, Moshi was crowned MVP.
Vietnam's WAG brought the Free Fire event's fourth day to a successful close by capturing a Booyah with 12 frags.
With seven frags, MIBR had an excellent performance and took second place. CGGG completed the top three with nine elimination points.
Also Read: BGMI Red Bull M.E.O Season 6 National Finals Day 3 Schedule, Livestream