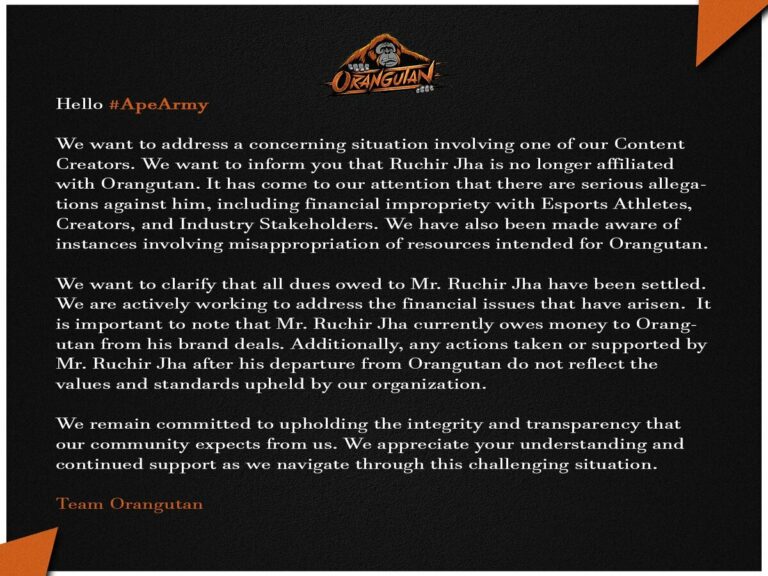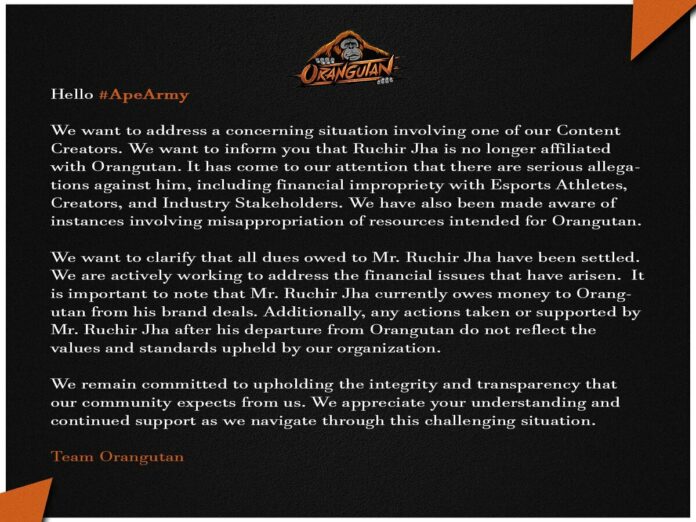 In an attempt to reorganize its content side, Orangutan Esports has released all of its content producers save for Ruchir Jha. He was the only creator that the company kept on board.
Ruchir Jha was recently also released, according to the organization. As per a tweet from Orangutan, Ruchir is no longer associated with the organization. The choice was made after serious financial problems were found.
In a social media post, Orangutan Esports claimed to have found instances of Ruchir allegedly abusing resources. Additionally, the organization asserts that Ruchir owes money from earlier brand alliances. 
Orangutan has not yet offered any more details on the entire situation as of now.
Orangutan Announces Ruchir Jha's Release
The declaration states,
"Hello #ApeArmy, We want to address a concerning situation involving one of our content creators.
We want to inform you that Ruchir Jha is no longer affiliated with Orangutan. It has come to our attention that there are serious allegations against him, including financial impropriety with esports athletes, creators, and Industry stakeholders.
We have also been made aware of instances involving misappropriation of resources intended for Orangutan.
We want to clarify that all dues owed to Mr. Ruchir Jha have been settled. We are actively working to address the financial issues that have arisen.
It is important to note that Mr. Ruchir Jha currently owes money to Orangutan from his brand deals.
Additionally, any actions taken or supported by Mr. Ruchir Jha after his departure from Orangutan does not reflect the values and standards upheld by our organization.
We remain committed to upholding the integrity and transparency that our community expects from us.
We appreciate your understanding and continued support as we navigate through this challenging situation. Team Orangutan".
The company restated its commitment to being open with its audience. Orangutan asserts that other creators have suffered as a result of Ruchir's actions.
Ruchir still owes the organization money through brand deals, but Orangutan maintains that all payments due to him have been settled after cutting all ties with him.
Also Read: Skyesports x MOGO Collegiate Indian Esports Championship Details, Schedule, Prize Pool