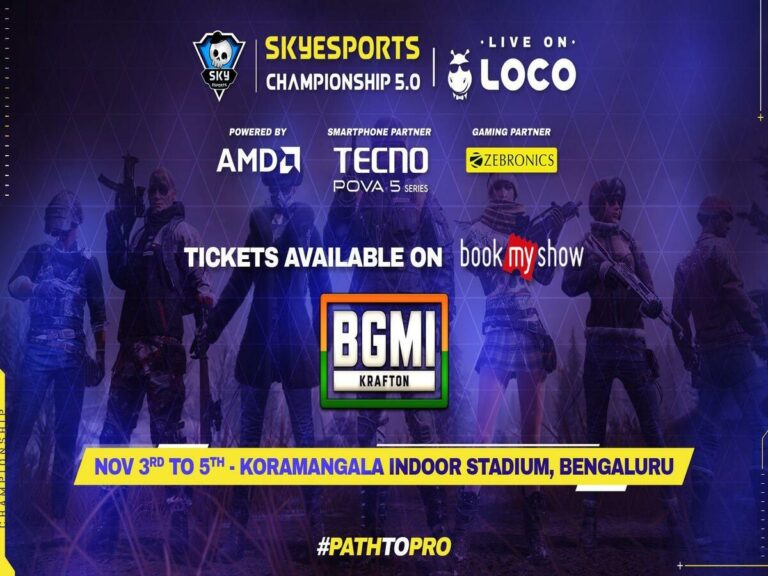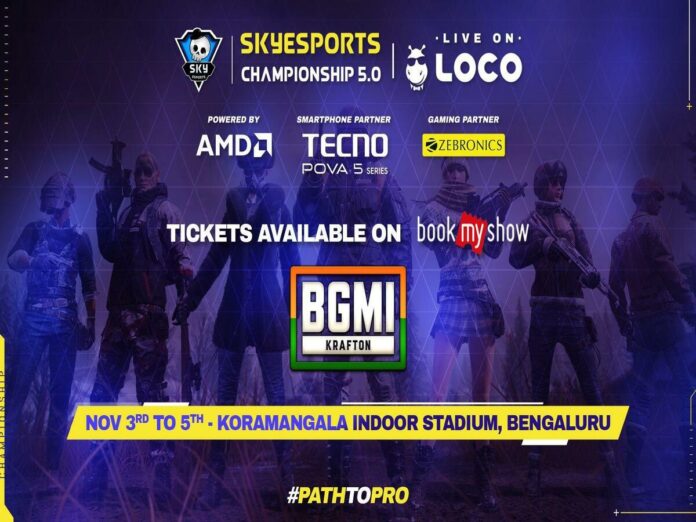 The country will witness a live audience cheering for their favorite teams with the start of the Skyesports Championship 5.0 Finals.
From November 3–5, Bengaluru's Koramangala Indoor Stadium will host the BGMI LAN finals.
The competition, which has a Rs 1.25 crore prize pool up for grabs, will include the best 16 teams from previous rounds.
The Open Qualifiers kicked off the Championship at the beginning of October.
24 teams competed in the quarterfinals between Oct 14 as well as Oct 15, whereas the semifinals, which were held from October 17 to 21, contained a ₹25 lakh cash prize.
For the decisive three-day Battlegrounds Mobile India match, the sixteen finalists have made their way to the Koramangala Indoor Stadium. 
Since the stadium can hold between 3,000 and 3,500 people, seating will be distributed according to arrival order. Fans may use BookMyShow to reserve their seats.
Skyesports BGMI Championship 5.0 Finals
Each of the 16 qualifying and invited teams will play six matches on the four official maps of Vikendi, Sanhok, Erangel, and Miramar for a chance to win a cash prize of Rs 1.25 crore.
The daily map order is as follows:
Game 1 – Erangel – 4 PM
Game 2 – Miramar – 4:50 PM
Game 3 – Sanhok – 5:40 PM
Game 4 – Vikendi – 6:30 PM
Game 5 – Miramar – 7:20 PM
Game 6 – Erangel – 8:10 PM
Teams involved in the championship include:
Team Soul
Godlike Esports
Big Brother Esports
Blind Esports
Gladiators Esports
OR Esports
Entity
Orangutan
Revenant Esports
Team Numen
Team Empire
Celcius Esports
Team Infinity
Obey Esports
Marcos Gaming
Gods Reign
As the BGIS Champions, Gladiators Esports were granted a spot in the Finals.
In the last five months, the Destro-led group has won two significant awards.
They placed sixth overall in the BGMI India vs. Korea Invitational, but their performance crumbled there.
In recognition of their outstanding achievement during the Skyesports Championship Series this year, Blind and Soul have been awarded a ticket to the Finale.
On the other hand, GodLike Esports, the victors of the Skyesports Championship 3.0, were invited directly.
Big Brother was additionally invited to compete in the Finale.Fans may watch the BGMI action live on the well-liked streaming service Loco.
The competition will be shown live on Loco in Tamil, Hindi, and English to provide fans throughout India with the finest viewing experience possible and to enable them to be completely engulfed in the action.