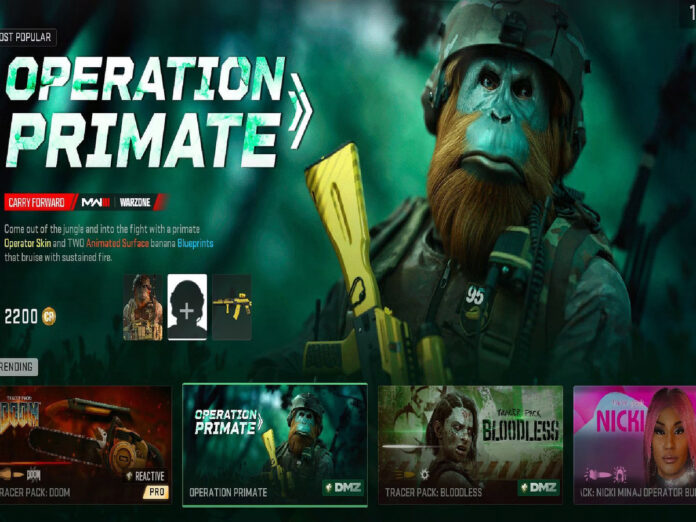 Modern Warfare 2 (MW2) and Call of Duty Warzone 2 were given a unique bundle known as Operation Primate.
Because players like the feline operator skins from the previous seasons, the creators thought it would be a good idea to include another well-liked animal.
It is a rather unusual makeover that simply requires the operator to wear a mask and comes with a few vividly colored cosmetics.
These skins improve the gameplay experience even if they come at a high cost.
These packs provide diversity to the game and make money via microtransactions.
Warzone 2 And Modern Warfare 2 Operation Primate Bundle
You may purchase the Operation Primate package for 2200 Call of Duty Points (CP).
Although the price is not as high as the premium 2400 CP bundles, there are still a good number of items included in the pack. You may buy the whole Primate bundle straight from the in-game store.
This is a list of every item found in the Warzone 2 and MW2 Operation Primate bundle:
Orangutan Aksel Operator Skin
Free Active Duty Slot
"Big Berry" Kastov Blueprint
"Banana Bam" FSS Hurricane Blueprint
"A Bunch" Weapon Charm
"Orangutan Ops" Weapon Sticker
"Wild Eyes" Loading Screen
"Fear This" Emblem
After buying the bundle, you may access and use every item right away.
The Orangutan Aksel skin can be among the greatest if you enjoy collecting unusual skins.
Furthermore, with the release of Modern Warfare 3 on November 10, 2023, every item in this bundle will be accessible in the game, which will facilitate gamers' transition to Activision's future shooter game.
Another unique feature of the Operation Primate pack is the additional DMZ (Demilitarized Zone) game mode benefits.
These comprise an additional self-revive kit and guaranteed weapon cooldown blueprints for the Kastov and FSS Hurricane. Keep in mind that you may only get the free revive kit if your character's active slot is vacant.
Therefore, this bundle can be a wonderful addition to your survival sessions if you often play in the DMZ mode.
The full pack has two effective weapon designs that are ready for battle, as well as appropriate colors that reflect the orangutan's natural environment.
In a multiplayer or battle royale match, players can queue in with both of the weapons equipped in a loadout.
Also Read: Top 5 Features Of The Minecraft 1.21 Update