In this article, we are going to take a look at top 5 rib-tickling IPL funny moments that will surely put a smile on your face!
Indian Premier League (IPL) is the most famous and followed T20 Leagues globally. Each of its seasons has been successful ever since the first edition was staged in 2008.
The 12 seasons of IPL has seen amazing finishes, thrilling finals, and huge hits. The carnival has also had inspiring hundred, jaw-dropping fielding, and more.
Since stakes are super high in IPL, it hardly leaves any scopes for light-hearted exchanges among players.
Nonetheless, IPL has seen a few humorous moments in its history. On that note, let's check out 5 of those light-hearted instances that amused everyone. Read on!
Top 5 IPL Funny Moments
1. Shikhar Dhawan shows off his moves on the crease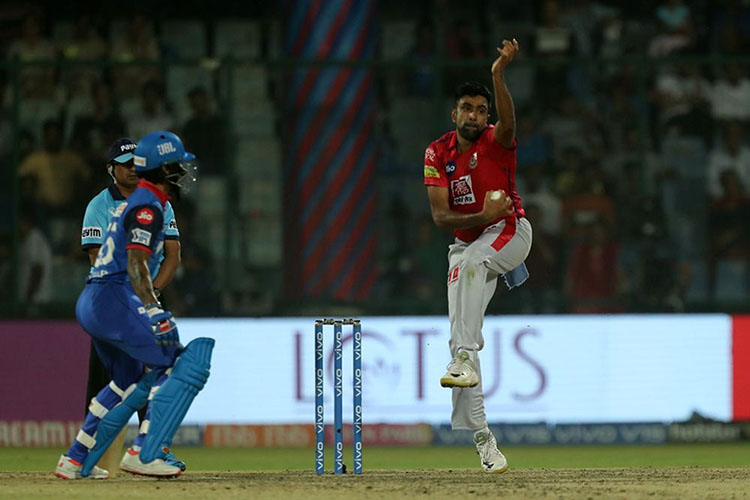 In a game between Kings XI Punjab and Rajasthan Royals, Rajasthan needed 185 for the win. And they were better placed at 108 for 1 in the 13th over. Ravichandran Ashwin Mankaded Jos Butler at that point of the game. Ashwin had also tried to Mankade Shikhar Dhawan of Delhi Capitals while chasing 164. The funny fact about this episode was that the Ashwin tried this again when the score was the same when Butler was Mankaded. Yes, it was 108 for 1. Dhawan looked at Ashwin as he delivered the ball and showcased some funny moves at the non-striker's end. The crowd at the Feroz Shah Kotla (now Arun Jaitley Stadium) gave a loud cheer to Dhawan. It was after he was able to pull off a light-hearted moment. And it did come in the middle of an intense game. You can check out the incident on YouTube.
2. The unbelievable yet funny six of Ravindra Jadeja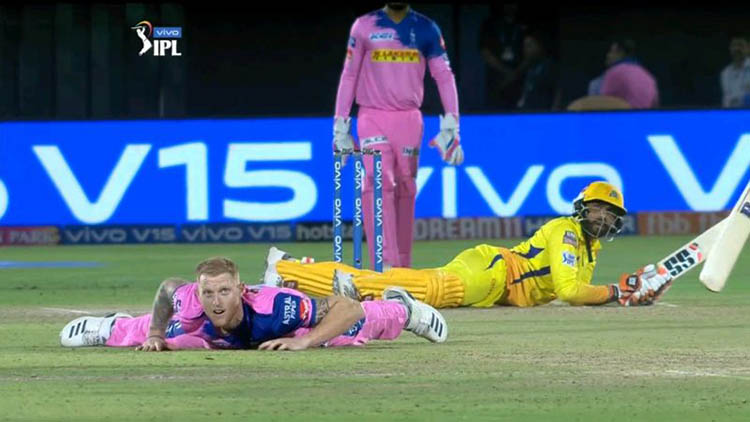 Ravindra Jadeja is a quality batsman, and everyone is aware of that. He can hit some lofty shots with ease. And you don't need to get it wrong. In the last over Vs Rajasthan Royals in the IPL game, Jadeja's hit for the six was a nice shot. Off the bowling of Ben Stokes, Chennai Super Kings (CSK) needed 18 runs. MS Dhoni and Jadeja were out in the middle. The first ball of the over was a wide line, and it was away from Jadeja's reach. But Jaddu stretched and was able to connect with the willow. Its result was the ball sailing over the boundary for a six. What amused everyone was that Jadeja lost his balance while hitting that shot. He fell, and even Ben Stokes also did that in his follow-through. Both of them staring the ball while being down were captured. And that frame broke the internet. The incident spiced up further when MSD did not even saw that shot and took off to complete a single. The CSK Skipper was smiling after he saw that the ball has gone for the maximum. He exchanged some words with Jadeja, and even the Com Box also came alive with an audible banter. The incident happened when CSK still needed 12 runs to win off 5 balls.
Sabko mai hi milta hu troll karne ke liye ??? #CSKvRR #RRvCSK pic.twitter.com/snNA34aaod

— Sir Jadeja fan (@SirJadeja) April 11, 2019
3. When Virat Kohli bowed down before Sarfaraz Khan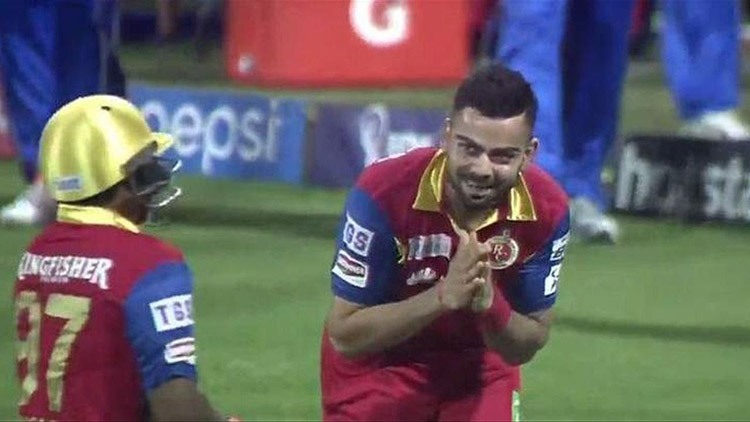 Virat Kohli is the current run machine, and he is among the best batsmen now. And the case was also similar back in 2015. Kohli may not shy away from displaying his aggressive nature on the field, but he is also cheerful. And that was for display for all in an IPL match in 2015 Vs Rajasthan Royals. When AB de Villiers was dismissed run out for 57, the young Sarfaraz Khan came out to bat. He played an awesome inning of 45* off only 21 balls. That led RCB to reach 200. When Sarfaraz was coming off the field at the end of the inning, he had his Captain waiting. Virat bowed to him with his both hands folded. In the commentary box, Ravi Shastri had a nice laugh. And he even gave a phrasing of what Kohli may have said to Khan – "Nameste Ji! Well Played!"
4. When David Warner gave a flying kiss to Kieron Pollard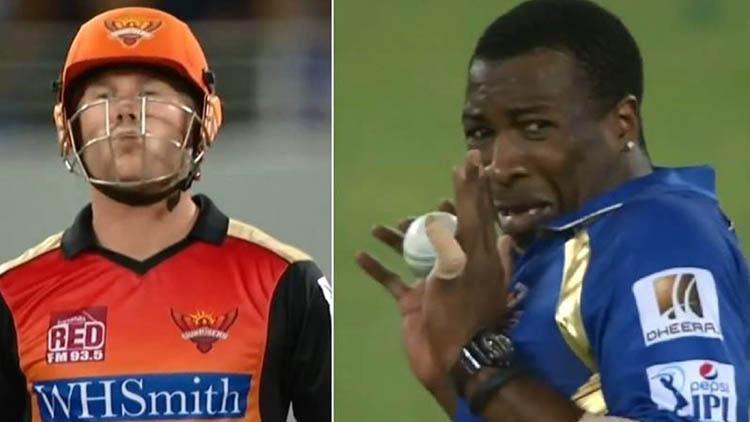 Can you expect things to be dull when Kieron Pollard is on the field? Nobody can forget how he came back with tape on this mouth after exiting an IPL game! His exchanges with MS Dhoni, Dwayne Bravo and more make him one of the entertaining characters. It was in the 2013 season when David Warner enjoyed a tussle with the big man. He missed a ball with a 'play and miss' and exchanged a few words with Pollard. And then it was Pollard's chance to walk to him and say something. Can you imagine how Warner responded to it? He did that with a flying kiss in a conventional Aussie way! But Pollard did not miss the chance to come up with a strong reply. Pollard facial gesture was something that was like – 'Ewwwww…'. It was another game that added more in the IPL history of funny instances on Kieron Pollard.
5. Mahendra Singh Dhoni Trolled Kevin Pietersen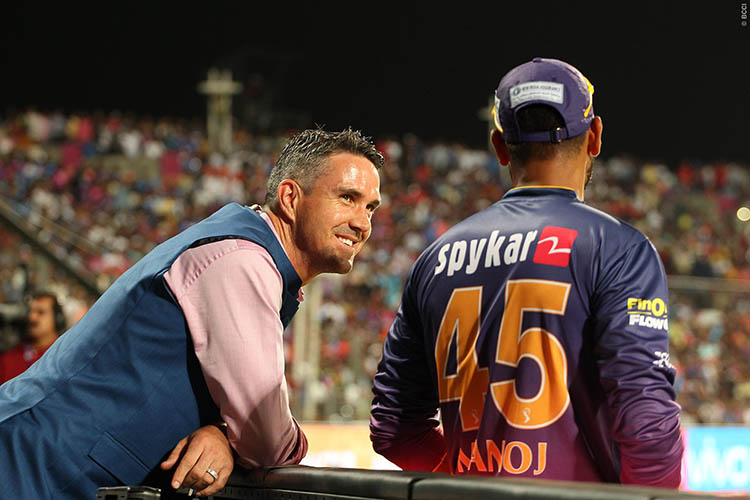 The witty responses during Press Conferences of Mahendra Singh Dhoni are something that is known among fans. While being in the commentary box, Kevin Pietersen decided to go for a crack via Manoj Tiwari who had the Mic. Yes, it was in a game in IPL 2017 when Kevin wanted things to be communicated to MSD via Tiwari.
This is what Kevin said "Looking good, mate! Can you do me a favor? Can you whisper in the ears of MS that I am a far better Golfer than him, pls?"
Tiwari did what he was requested! And as always, the response of Mahendra Singh Dhoni was full of humor. What he replied left everyone super amused in the commentary box. "He is still my first Test wicket." It was what MS said via the Mic of Manoj. Kevin did not have anything more to say, and he pleaded his innocence when he said: "It was a referral."
MS Dhoni had not dismissed Kevin Pietersen. Yes, the on-field call by the umpire was put down. But MS' response won the internet once again.
The incident was recently a matter of discussion during the online video chat between Kevin and Virat.
It is perhaps still the funniest moment in IPL history. And given how witty MS is, we see no surprise in seeing him involved in the instance.