Nasser Hussain, the former England skipper feels that Kyle Jamieson is troubling Virat Kohli very similar to how James Anderson did in 2014 when India traveled to England. Kyle Jamieson has turned into a nightmare for the Indian skipper, who has dismissed Kohli thrice since his debut back in 2020 against India.
Kyle Jamieson made his international debut back in 2020 during two-match Test series against India. He picked Kohli as his maiden wicket. He troubled Indian batsmen throughout the series and grabbed 9 wickets in just 2 Tests. He was one of the top three wicket-takers in that Test series particularly.
Nasser Hussain Says Virat Kohli Struggled Like 2014 Against England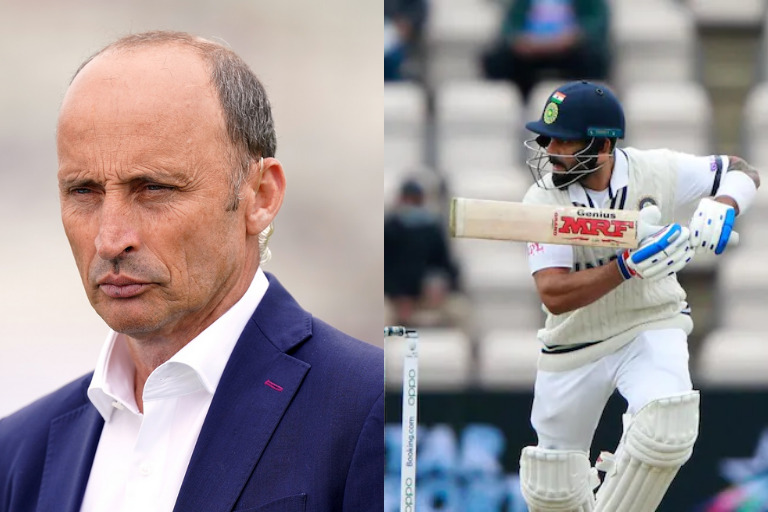 Jamieson was at his best once again when Kohli came out to bat for Team India in the World Test Championship final. He never allowed the Indian skipper to get settled on the pitch. The Kiwi pacer caught Kohli in front of the stump. It looked like Virat Kohli will certainly come up with an epic response in the 2nd innings. But, he failed in turning things around and he was once against dismissed by Jamieson.
In an interview, Kyle Jamieson said that Virat Kohli struggled very similar to when he struggled against James Anderson in 2014. He added that on the very next tour he shattered several batting records after he scored 593 runs in five Tests.
"Little bit more like 2014 and not the one of 2018. That was the sort of line that James Anderson troubled him in 2014. He left those last time around when he played in England," Hussain said. Sunil Gavaskar who was commentating with him added to the conversation stating that the Indian skipper's footwork was not up to the mark. "His backfoot didn't move and he committed himself to the shot," he said.
Coming onto the historic game, New Zealand defeated India in the WTC final by 8 wickets and lifted the maiden title. Kane Williamson and Ross Taylor knitted a brilliant match-winning partnership of 98 runs for the third wicket.