Pakistan is currently involved in the 2nd game of the two-match Test series. And, the hosts have found themselves struggling in the game after the departure of Babar Azam and Fawad Alam. The Pakistan skipper got dismissed in the first over of the day. But, the latter, who looked settled was sent back to the pavilion by Temba Bavuma on the back of his brilliant fielding.
Advertisement

Pakistan finished their previous day without losing the important wickets of Fawad Alam and Babar Azam. The former scored an amazing fifty on the Day-1. And. latter was very close to scoring a magnificent fifty but that was not the case. He amassed 44 runs before heading towards the pavilion.
Also Read: Chris Gayle Credit Kumar Sangakkara After Scoring Joint-Fastest 50. Here Is Why
Temba Bavuma Wins Heart With His Brilliant Fielding Effort To Run Fawad Alam Out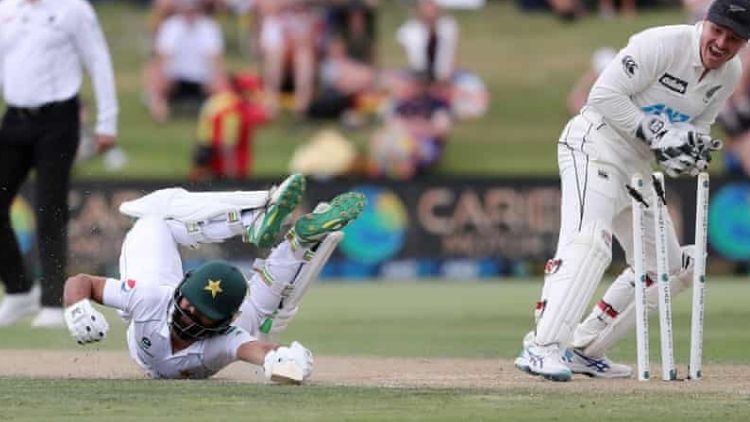 The instance happened in the 64th over of the innings bowled. Kagiso Rabada, the South African bowled a short-pitched delivery on the fifth stump. And, Fawad Alam played the delivery with soft hands and tried to steal a single. Meanwhile, Temba Bavuma, who was standing inside the 30-yard circle was quite quick in picking the ball and went for a direct hit. Interestingly, he got Fawad Alam run-out with his rocket throw.
Coming onto the game, Pakistan is currently playing at a score of 180 runs for a loss of five wickets. Faheem Ashraf and Mohammad Rizwan are currently batting on the field. And, the hosts will be expecting them to play a good knock in order to revive the Pakistan cricket team from the crises.
Meanwhile, Babar Azam's weakness to get out early was quite visible in the game once again. He got out in the first over of the day. And, this was the third time in the year when he got out in the very first over of the day.
Here Is The Clip: