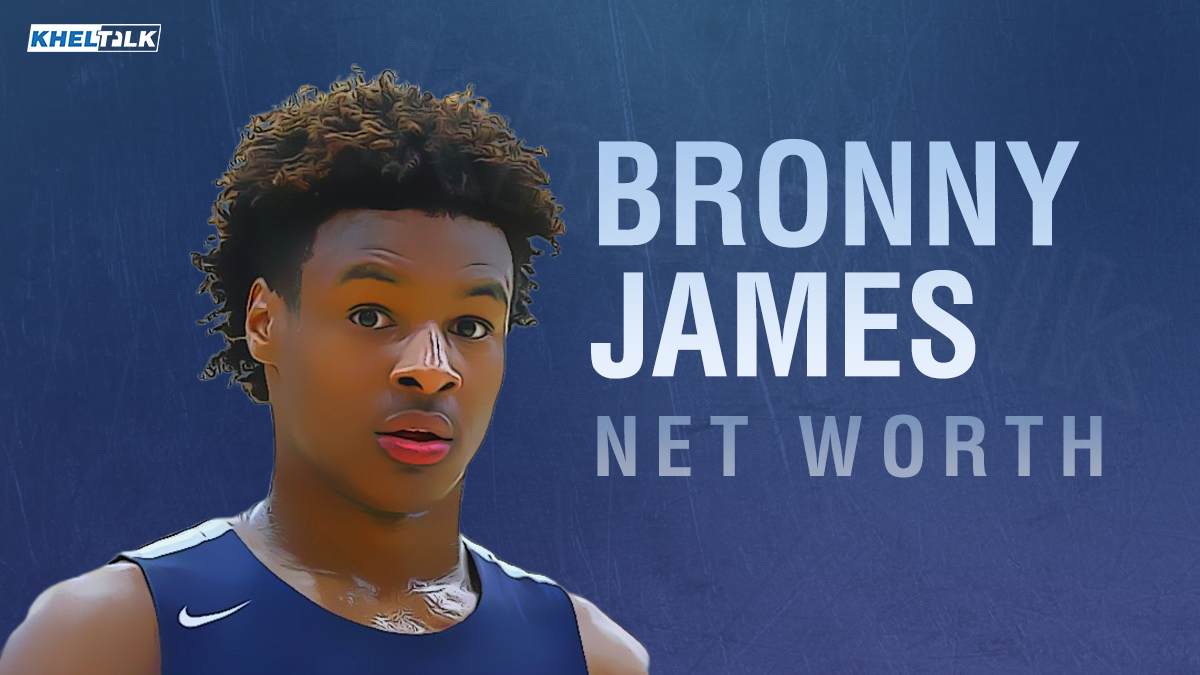 LeBron Raymone James Jr., better known as Bronny James is the son of NBA Superstar and Basketball legend LeBron James. He is a 17-year-old American High School basketball player who currently plays for and attends Sierra Canyon School in Los Angeles, California.
Bronny is the Eldest born son child to Lebron James and his then-girlfriend (and now his wife) Savannah Brinson. Bronny was born to the NBA All-Star player when he was just 19 years old and was raised by both his parents. Bronny plays as a point guard/ shooting guard with his high school team Sierra Canyon Trailblazers.
Bronny James' Net Worth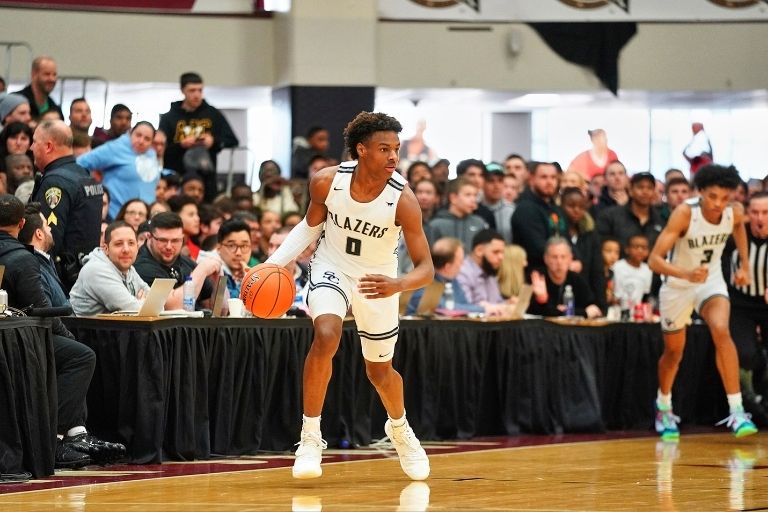 Lebron Raymone "Bronny" James Jr. is reported to have a net worth of around $8-10 million (USD), making him one of the youngest millionaires on the planet.
Endorsements & E-Sports: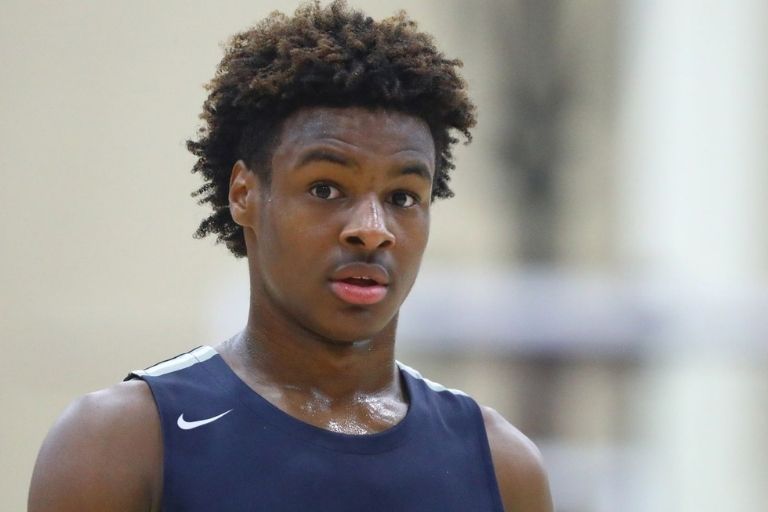 Though Bronny isn't directly endorsing any brand he has been sighted on most occasions playing basketball with a Nike kit on. Nike is officially endorsed by his father LeBron James.
Bronny James is a part of the Esports team known as "FaZe Clan". At FaZe Clan, he and his fellow clan members create social media content and gaming streams. As part of the community, Bronny streams Fortnite, Call of Duty: Warzone, and NBA 2K under the username "FaZe Bronny."
Bronny James' Salary & Assets:
Being a 17-year high schooler, Bronny doesn't have any official salary or assets. It is not known how much he earns (if any) from his Gaming streams.
Teams represented by Bronny James
Bronny at the young age of 17 has represented many teams in the Amateur Athletic Union. Some of the teams that he has represented are:
Miami City Ballers
Gulf Coast Blue Chips
North Coast Blue Chips
Strive for Greatness
He currently plays for his high school team at The Canyon School. At Sierra Canyon, he has already had a wonderful career and his school team is regarded as one of the best in the division with ESPN even telecasting 15 of their matches in the USA last season.
Bronny James' Basketball Career
James has played for his School, Highschool and in the Amateur Athletic Union in his short career and has already won a lot of accolades.
Old Trail School:
In February 2018, James tasted his first success as he guided Old Trail School (where he attended middle school) to an Independent School League tournament win.
Bronny James has competed with quite a few Amateur Athletic Union (AAU) basketball teams before going into high school.
Miami City Ballers:
In 2014, 9-year-old Bronny played for the Miami City Ballers at a fourth-grade AAU tournament where was also being observed by Kentucky Wildcats head coach John Calipari.
Gulf Coast Blue Chips:
In June 2015, Bronny James played for the Gulf Coast Blue Chips AAU team which won the fourth-grade championship at the Hype Sports Summer Jam.
North Coast Blue Chips:
In 2018, the young James helped the North Coast Blue Chips team capture a John Lucas All-Star Weekend title in Houston. His Blue Chips also finished undefeated and claimed the under-13 championship at the NY2LA Swish 'N Dish tournament in Wisconsin. James represented the North Coast Blue Chips again at the Jr. National Basketball Association (NBA) Midwest Championships against ninth-grade opponents and advanced to the quarterfinals.
Strive for Greatness:
Despite being quite younger than most of the competing players, Bronny joined the AAU team Strive for Greatness at the under-16 Nike Elite Youth Basketball League (EYBL) in 2019 as a 14-year old.
High school Career (Sierra Canyon High School):
In May 2019, James transferred to Sierra Canyon High School which is situated in Chatsworth, Los Angeles as a freshman.
In November 2019 Bronny James made his debut for Sierra Canyon against Montgomery High School. He came off the bench to get 10 points for his team. As a freshman, James was the only player on the team to play in all 34 games averaging 4.1 points in 15 minutes per game.
Trophies Won by Bronny James
Here are some of the Trophies won by Bronny James in his young Basketball career:
| | |
| --- | --- |
| Team | Trophy/Tournament won |
| Old Trail School | Independent School League tournament |
| Gulf Coast Blue Chips | AAU fourth grade championship |
| North Coast Blue Chips | John Lucas All-Star Weekend title |
| North Coast Blue Chips | Under-13 championship (NY2LA Swish 'N Dish) |
Bronny James' Stats in High School
Bronny has only played 7 games at his high school for the University team thus far. Here are the Stats:
| | | | | | |
| --- | --- | --- | --- | --- | --- |
| Season | Games played | Points | Points per Game | Rebounds | Rebounds per game |
| 2020/21 | 1 | 3 | 3.0 | 0 | 0 |
| 2019/20 | 6 | 41 | 6.8 | 2 | 0.3 |
| Var. Total | 7 | 44 | 6.3 | 2 | 0.3 |
Bronny James' Personal information
Now that we know about his Basketball career, Let's have a look into a few details of Bronny James' life
| | |
| --- | --- |
| Name | LeBron "Bronny" Raymone James Jr. |
| Date of Birth | October 6, 2004 |
| Age | 17 years |
| Born in | Cleveland, Ohio |
| Parents Name | Not known |
| Numbers worn | 0, 23 |
| Middle School | Old Trail School, Crossroads School |
| High School | Sierra Canyon School |
| Father | LeBron James |
| Mother | Savannah Brinson |
| Height | 6'2″ (1.88 m) |
| Weight | 80 kg (176 pounds) |
| Married | No |
| Siblings | Bryce Maximus James (Brother), Zhuri James (Sister) |
| Basketball Position | Point Guard/Shooting Guard |
| Hair Colour | Black |
| Eye Colour | Black |
| Known for | Basketball player, LeBron James' Son |
Bronny James' Family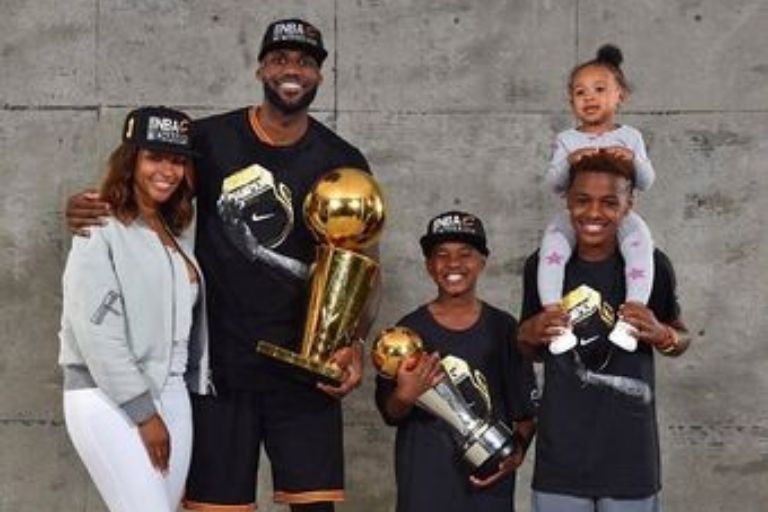 Bronny James' father LeBron James is one of the best Basketball players to ever step foot on this planet. LeBron has featured for some top NBA teams like Cleveland Cavaliers, Miami Heat, and Los Angeles Lakers winning four NBA Titles in his career. LeBron has also won 4 NBA MVP awards and 2 Olympic gold medals.
Bronny James' mother Savannah Brinson is a successful entrepreneur, interior designer, and businesswoman. She is also the vice president of the LeBron James Family Foundation.
Bronny has two younger siblings named Bryce Maximus James and Zhuri James and the family resides in Cleveland, Ohio.
Bronny James' Girlfriends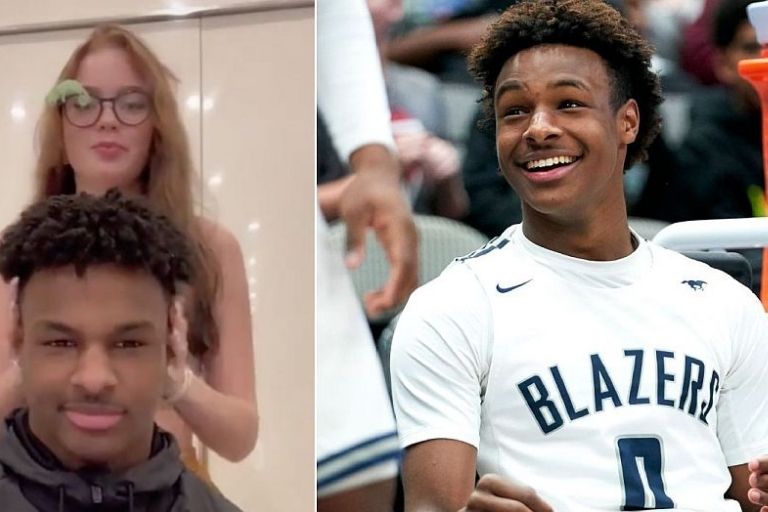 Over the years, a lot of Dating rumors have surfaced about Bronny James. Here are a few of those
Amara Wayans: She is the daughter of Damon Wayans Jr. and the rumors of them dating surfaced in early 2020 after Bronny had left some flirty comments on Amara Wayans Instagram account after she posted a picture. They follow each other on social media but have never talked about each other to any news outlet.
Peyton Sama: Bronny was again in the limelight in late 2020 after he was seen with Sama on her Tik Tok video. However, the two haven't commented on the relationship.
Larsa Pippen: In early 2021, Bronny was linked to 46-year old Larsa Pippen. His parents were furious on seeing rumors of this outlandish rumor catching heat.
Bronny James' Controversies
Bronny was trapped in a major controversy in September 2020 after he posted a video on his Social Media account while smoking marijuana.
On realizing his mistake, he deleted the post from his account but it was too late as some people were quick to react and took screenshots of the video. This landed Bronny in some major heat as he was only 16 years old at that time.
FAQs about Bronny James'
Who is Bronny James' Godfather?
Basketball player Chris Paul is James' Godfather
Who is Bronny James' girlfriend?
Bronny has been linked with Amara Wayans and Peyton Sama but he has not disclosed anything officially about his relationship
Did James finish his graduation?
No he is currently studying at Sierra Canyon School
Why does Bronny James wear the number 0?
He wears it as a tribute to his favorite basketball player, Russell Westbrook.
Are Bronny James' parents still together?
Yes, LeBron James and his highschool girlfriend Savannah Brinson got married in 2013 and are still together
Is Bronny James a good Basketball player?
According to 247Sports.com, Bronny James is a four-star recruit (out of five stars) and is listed as the country's 30th best player in the age group.
At what grade is Bronny James in ?
As per LeBron James, Bronny was in 9th grade in 2020.
Will Bronny play in the NBA?
His basketball career has started off very well. Only time will tell but he is on the right trajectory to play in the NBA.
Read More:-