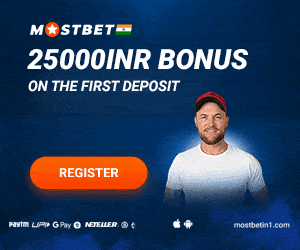 Born on 22 May 1987, Novak Djokovic is a professional tennis player who hails from Serbia. He is one of the best Tennis players to ever grace the game. Djokovic is also the current world number 1 ranked ATP player.

Djokovic has a record 20 Grand Slam men's titles and is also the only player in the world to complete the career Golden Masters on the ATP Tour. To add to this, he has gone on to do it twice.
"The Joker" as he is fondly called has won 86 ATP singles titles. He is called by many as a part of the "big three" in the modern game along with Roger Federer and Rafael Nadal.

In this article, we will have a look at Novak Djokovic's Salary, Net Worth, Personal Information, Family, Career details, Controversies, FAQs, etc

Novak Djokovic's Net Worth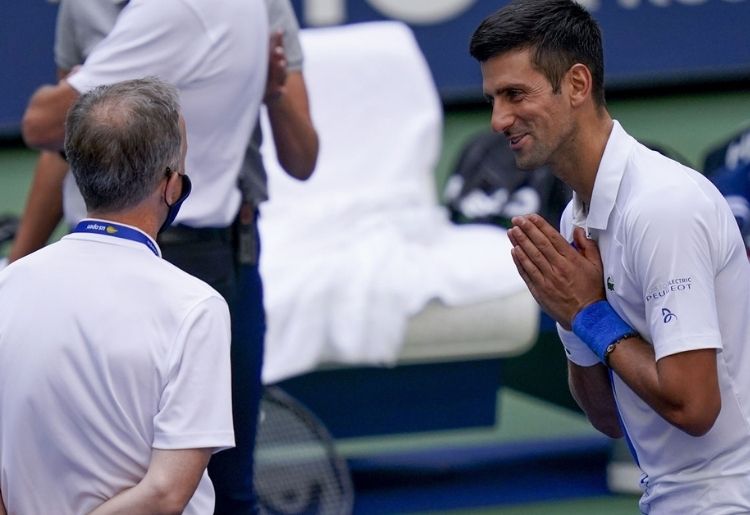 Net Worth: Novak Djokovic's net worth is estimated to be between $220-240 million (USD). He has amassed this sum playing tennis for the last two decades. Apart from this, he also has quite a few endorsements which add to his net worth.
| | |
| --- | --- |
| Net Worth | $220-240 million |
| Born | 22 May 1987 |
| Age | 34 years |
| Country of Origin | Serbia |
| Source of Wealth | Professional Tennis Player, Endorsements |
| Last Updated | 2021 |
Novak Djokovic's Endorsements:
It is estimated that Novak Djokovic earns more than $20 million per year through his various Endorsements. Some of his Endorsements include:
Hublot
Lacoste
Head
Asics
Peugeot
UKG
Raiffeisen Bank
Adidas (Previously)
Seiko
ANZ
Mercedes Benz (Previously)
Novak Djokovic's Assets/Cars:
Djokovic owns a huge Villa in Marbella, Spain. His Villa reportedly has nine bedrooms in the main house, as well as eight bathrooms. It also has a tennis court and gym among other amenities.
He also owns an exuberant Car collection which includes,

Bentley GT
Mercedes Benz S500
Aston Martin DB9
Audi R8
Tesla Model X
BMW M55D
Fiat 500
Peugeot 508 Sport
Peugeot e-208 EV, among others
Novak Djokovic's Playing Style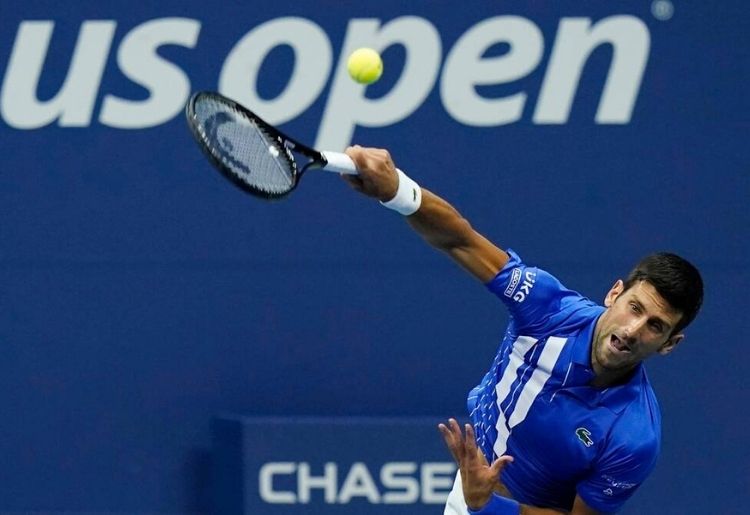 Early in his career, the Serbian played as a counter-punching player who waited for his opponents to commit a mistake.
Later on, Novak Djokovic changed his approach to a more all-around typed game. With lethal service and core strength, fitness he became one of the best service returners in professional tennis in the early 2010s.
Later on, he evolved his play, even more, becoming a devastating backhand player. This along with his counterpunch style helped him become one of the best players we know today.
Also Check: Tony Hawk Net Worth 2021
Novak Djokovic's Career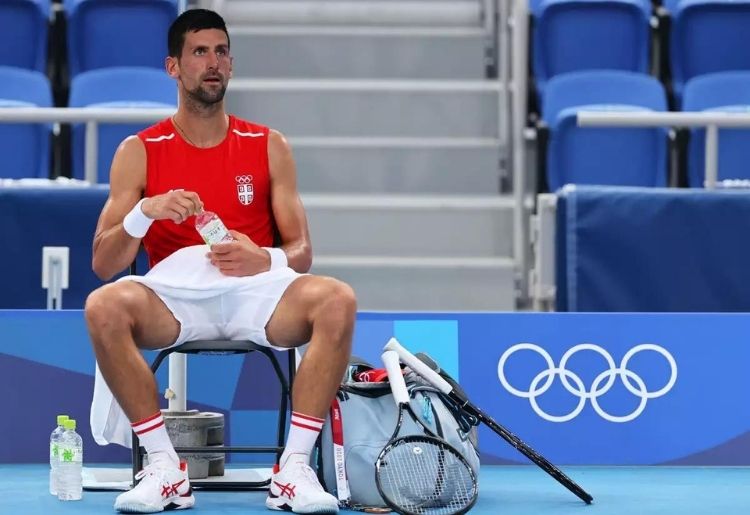 Early Career: The young Serbian started playing tennis when he was 4-years old. He then moved to Pilić tennis academy in Oberschleißheim, Germany, when he was 12 years old.
He began his career at the age of 14, winning European championships in singles, doubles, and team competitions on the International stage.
Junior Career: Djokovic played in the Junior circuit between 2001-03, where he played in the Australian, U.S., and French Open junior events. He had a record of 40-11 in the Junior category.
Professional Career: Djokovic turned professional in 2003 by entering the ATP Tour. But his first breakthrough in a masters tournament came in 2005 when he participated in the Australian Open.
In 2006, Djokovic won his first ATP title by winning the Dutch Open in Amersfoort without losing a set. He also participated in the Davis Cup that year.
His first win in the Masters' tournament would come in 2008 when Djokovic won the Australian Open. Novak Djokovic would go on to win 8 more Australian Opens with the most recent one being in 2021. Djokovic would also win an Olympic Bronze in 2008.
2011 was a special year for Djokovic as he would win both the Wimbledon and the French Open titles for the first time. During this time, he also achieved another feat. Djokovic would go on to become the number 1 ranked ATP player for the first time in his career. The Serbian also won the Australian Open in the year.
In 2015, he would repeat 2011's feat and again won 3 out of 4 masters tournaments in the year. He also won his fifth and final ATP tour finals that year. Hence making it the most productive year of his career.
Among the masters' tournaments, Djokovic was the most unlucky in the French Open but managed to finally get his hands on the title in 2016.
The "Trvialry" between Roger Federer, Rafael Nadal, and Novak Djokovic was at its peak since 2008. It can be regarded as possibly the greatest rivalry in Tennis history with respect to the accomplishments each man has achieved.
On 1 March 2021, Novak Djokovic equaled Roger Federer's Open Era record of 310 weeks at world No. 1. The following week, he surpassed that mark and has extended the record since. Novak Djokovic has since then extended the record to 346 weeks at the top.
As of 2021, he has 6 Wimbledon titles, 9 Australian Open titles, 2 French Open titles, and 3 U.S. Open titles.
Also Read: Marc Márquez Net Worth 2021
Novak Djokovic's Career Stats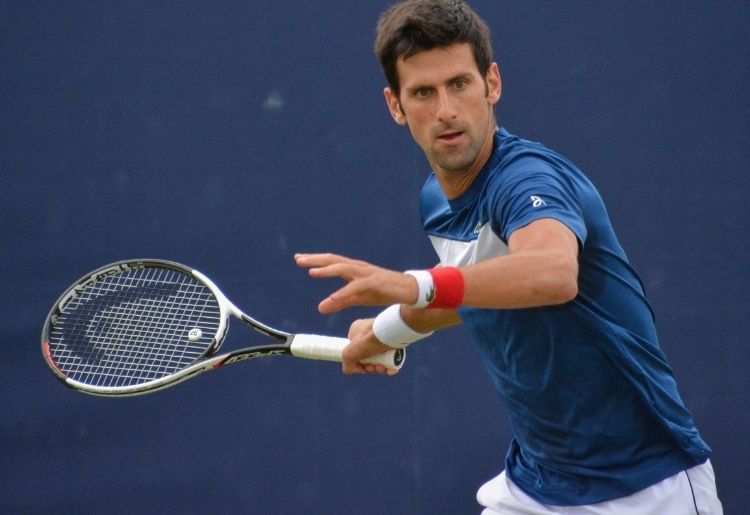 Djokovic has a career record of 982-198
Djokovic has 85 Career titles to his name
Novak Djokovic's Accomplishments
Singles Championships:
Australian Open x9 (2008, 2011, 2012, 2013, 2015, 2016, 2019, 2020, 2021)
French Open x2 (2016, 2021)
Wimbledon x6 (2011, 2014, 2015, 2018, 2019, 2021)
US Open x3 (2011, 2015, 2018)
Tour Finals x5 (2008, 2012, 2013, 2014, 2015)
Olympic Games Bronze (2008)
Team Competitions:
Player of the year awards: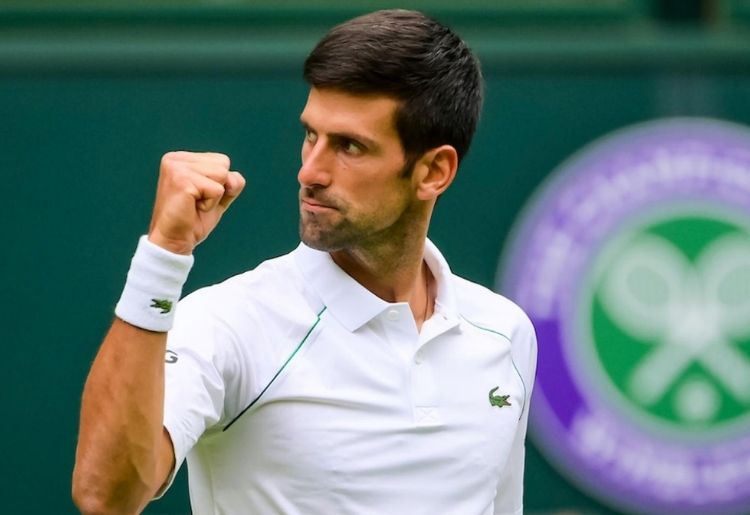 ITF World Champion x6 (2011, 2012, 2013,2014, 2015, 2018)
ATP Player of the Year x6 (2011, 2012, 2014, 2015, 2018, 2020)
ATP Most Improved Player of the Year: 2006, 2007
ATP Comeback Player of the Year: 2018
Laureus World Sports Award for Sportsman of the Year x4 (2012, 2015, 2016, 2019)
Tennis Player of the Decade: 2010s
Best Male Tennis Player ESPY Award x5 (2012, 2013, 2015, 2016, 2021)
Marca Leyenda
Novak Djokovic's Personal Info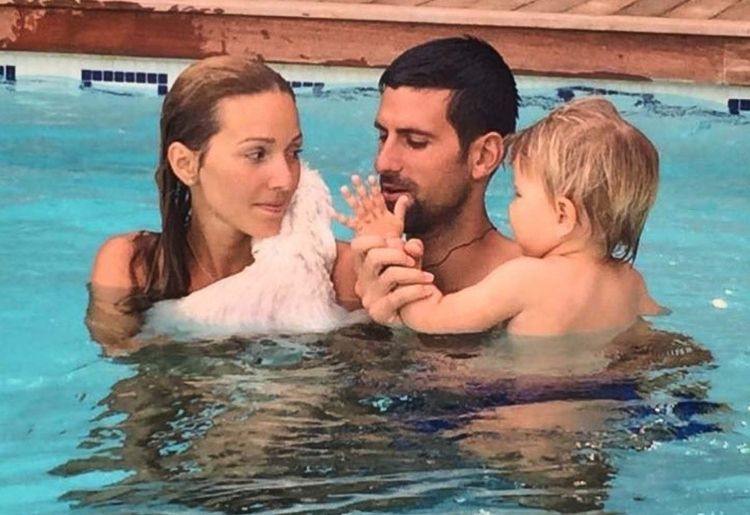 The following is some information about the Modern-day great, Novak Djokovic.
| | |
| --- | --- |
| Name | Novak Djokovic |
| Date of Birth | 22 May 1987 |
| Age | 34 years |
| Place of Birth | Belgrade, SR Serbia, SFR Yugoslavia (now Serbia) |
| Parents Name | Srđan and Dijana Đoković |
| Playing hand | Right-handed |
| Turned Pro in | 2003 |
| College | Did not go to college |
| Professional debut in | 2003 ATP tour |
| Citizenship | Serbia |
| Height | 1.88 m (6 ft 2 in) |
| Weight | 77 kg |
| Spouse | Jelena Djokovic |
| Children | Stefan Djokovic and Tara Djokovic |
| Siblings | Marko Djokovic and Djordje Djokovic |
| Hair Colour | Black |
| Eye Colour | Grey |
| Religion | Not known |
| Known for | Professional Tennis Player |
Novak Djokovic's Wife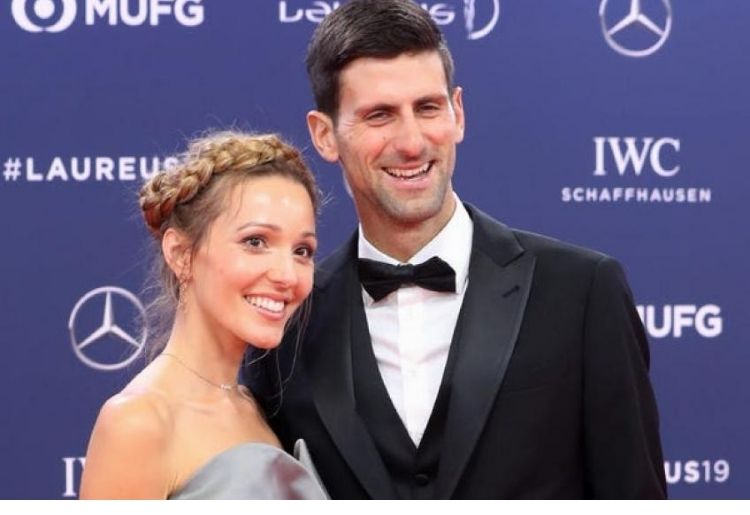 Jelena Djokovic: Novak's wife Jelena was born in Belgrade, Serbia on June 17, 1986. The couple reportedly first met each other in high school but didn't start dating till 2005.
Jelena herself was very fond of tennis during her school days, but she never took it as a professional career. Mrs. Djokovic also has a Master's Degree in Luxury Goods and Services from IUM.
The pair got married in 2014 and they have two children together. They have a son named Stefan Djokovic and a daughter named Tara Djokovic. Jelena also manages the Novak Foundation along with her husband.
Novak Djokovic's Controversies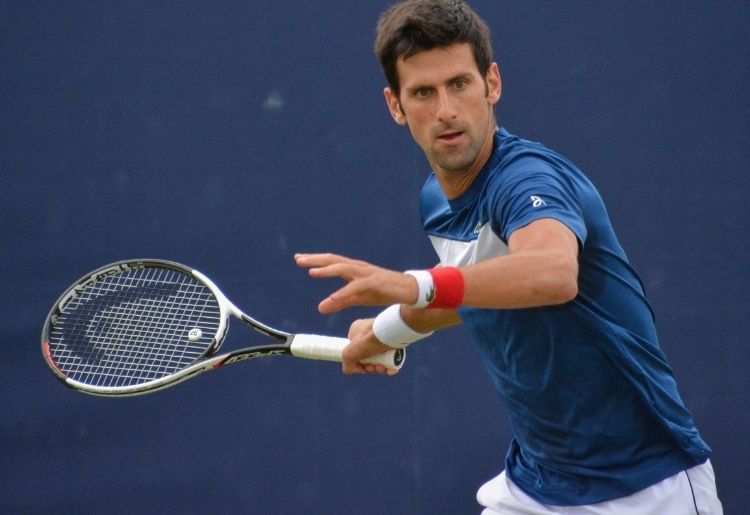 Here are some of the controversies about the player that have surfaced in recent years:
Tournament during Covid: In 2020, Djokovic organized a tournament in Serbia even though most of the world was facing a global pandemic and most tournaments were canceled.
The tournament saw nearly 4,000 spectators packed in the stadium as ball kids and players violated Covid-prevention protocols regularly. As a result, many people contracted the virus including Djokovic and his wife Jelena and the tour had to shut down.
US Open 2020: In the tournament, Djokovic slapped away the ball in anger in a fourth-round match. But Unfortunately, the ball hit the throat of the line judge. The game was paused as the line judge required immediate treatment.
Novak Djokovic did not mean to do it but apologized for his behaviour nonetheless, however, the Serbian was suspended from the tournament.
Smashing his racket: The Serbian has been found guilty of smashing his racket on more than one occasion. He did so famously in the 2018 French Open and 2021 Australian Open after misplays.
Novak Djokovic's FAQ's
Q.

What is the Novak Foundation?
Novak Foundation is a "global organization" started by Djokovic. He and his wife run it. It focuses on childhood education around the world, especially in Serbia.
Q.

Does Novak Djokovic have the most ATP Masters Victories?
Yes, he has 37 ATP Masters Tournament victories to his name, which are more than anyone else.
Q.

Does Novak Djokovic have any Children?
Yes, he has two children. A son named Stefan Djokovic and a daughter named Tara Djokovic
Q.

Who is Djokovic's greatest rival?
Arguably, Roger Federer and Rafael Nadal are his greatest rivals. He introduced himself when the duo was dominating and regularly won tournaments in their era.
Q

Who are Novak Djokovic's coaches?
Marián Vajda and Goran Ivanišević
Q.

Has Novak Djokovic retired?
No, He is still playing Tennis at the highest level.
Q.

What is Novak Djokovic's best record?
One of Djokovic's best records has been that he was No. 1 for a record total of 346 weeks.
Kapil Dev Net Worth 2021: Income, Endorsements, Cars, Wages, Property, Affairs, Family
Simone Biles Net Worth 2021: Income, Endorsements, Cars, Wages, Property, Affairs, Family