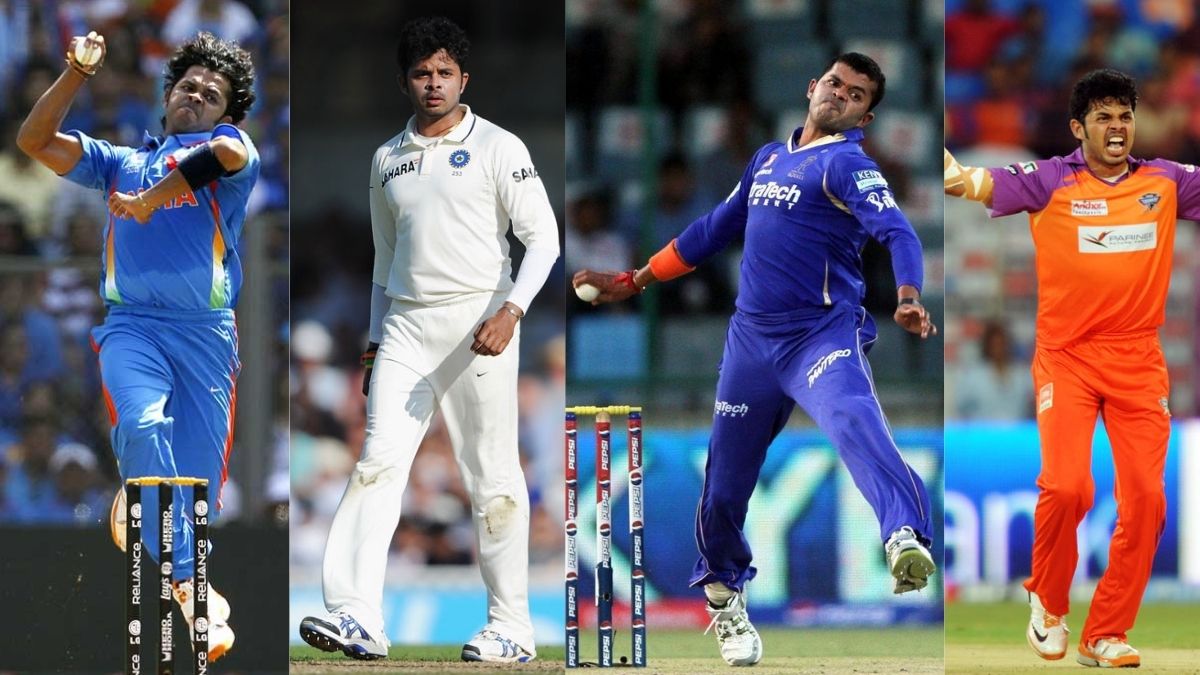 S. Sreesanth is a very controversial Indian cricketer. He has given some iconic moments to fans over the years, whether his fiery spell in the Johannesburg test to the 2007 semi-final match-winning electrifying spell. He was one of those young Indian bowlers who brought aggression and ruthless spirit to the Indian pace battery.
Not only for his performances, but his controversies were always talk of the town. From his iconic banter with Andre Nel in 2006 to the 2013 IPL fixing syndicate, he was always in the headlines for good and bad reasons.
Sreesanth is one of few cricketers who has won the T20 World Cup as well as the 50-over World Cup. Indian cricket fans will always remember his aggressive nature and brutality with the bowl. Sreesanth is a fruitful person, during his days with the Indian team, his hairstyle, celebration, and banter with his own players was very popular.
Sreesanth comes from a small town named Kothamangalam from Kerala. He was the first cricketer from Kerala to play in all formats for the Indian team. Not many know, Sreesanth was a Leg-spinner and used to copy his role model Anil Kumble's actions.
However, it was his ability to bowl yorkers that made his elder brother convert him to fast bowling. He made his first-class debut in 2002, but his first break came in 2000 when he was selected for MRF Pace Foundation, which developed his bowling and increased his pace from 125 to 140 kph.
Sreesanth made his debut for India in 2005 after shattering records in the domestic circuit. Although he struggled during his 1st year of International cricket, after that, he became India's most lethal weapon on foreign soil.
His most iconic performance came in the 2006 Johannesburg test when he produced an electrifying spell of 5 for 40, which helped India register their first test victory on South African soil. After that, he became a regular in the Indian team and was one of the main reasons behind India's 2007 WT20 victory. His yorker to Matthew Hayden in Semi-final against Australia still gave goosebumps to fans.
After 2007, he was in and out of the Indian team and was many times warned by BCCI and Kerala cricket association for his bad behavior and leniency to cricket. He was part of the 2011 World Cup-winning team but only played 2 games in that campaign. His biggest setback came in 2013 when Delhi Police arrested him for his involvement in IPL spot-fixing. The BCCI imposed a life ban on him after that incident.
After that, he was seen in various dancing and other reality shows, and he even contested in assembly elections in 2016. A huge relief came in 2015 when he was acquitted from a spot-fixing case, but his life ban was not uplifted, but in 2017, Kerala High Court revoked his life ban imposed by BCCI.
In 2020, he made his comeback to the domestic circuit and was Kerala's highest wicket-taker in Vijay Hazare Trophy. He wants to make his comeback in IPL to regain his respect at the same platform from which it all started, but he was unsold in 2021 IPL auctions but let's see if he can finally make it to the list in upcoming auctions.
Sreesanth's Net Worth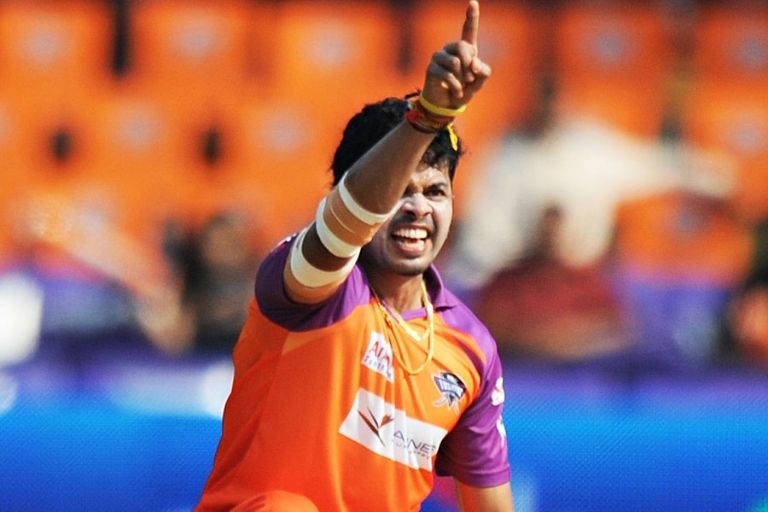 S. Sreesanth's entire net worth is estimated to be USD 1 million, which is roughly 7.5 crore Indian rupees. Sreesanth's main source of income came from Cricket before the ban but after the ban, his income came through shows he participated in like Jhalak Dikhhla Jaa and Big Boss. In 2016, while contesting elections for Kerala Assembly, his net worth was at ₹7.38 crores as per his own declaration which included a luxury car and a 9,000 square foot house.
Let's now go into details of S. Sreesanth's net worth.
S. Sreesanth's Source of Income
IPL Income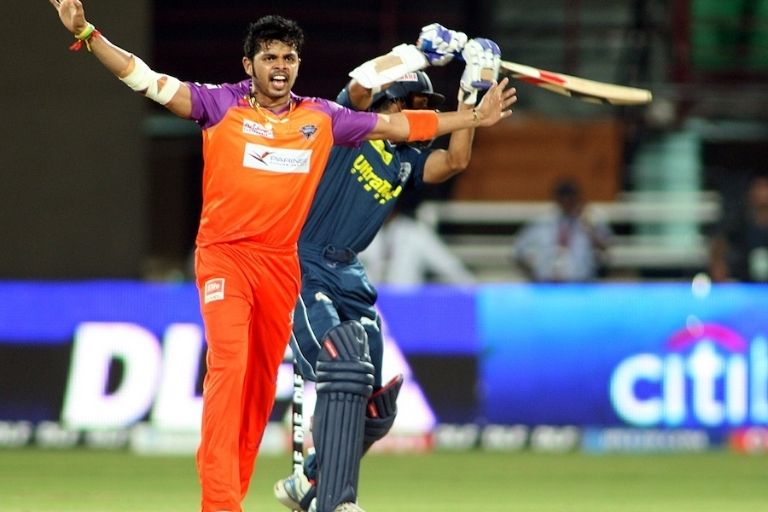 IPL has made a huge impact on Sreesanth's career. He got fame from this and almost lost all his respect due to this. He now wants to make a comeback into Worlds richest cricket league as he has some unfinished business left but it all started in 2008, when he was picked by Kings XI Punjab for whopping 2.5 crores and played three seasons there and was one of the most successful bowlers.
In 2011, his home state IPL Franchise picked him for a record of 4.14 crores and after Kochi Tusker Kerala's dissolution he moved to Rajasthan Royals for 1.84 crores, and eventually, in 2013, it all ended after he was arrested in IPL spot-fixing scandal.
| | |
| --- | --- |
| Year | Salary (in rupees) |
| 2008 | 1.84 Crores |
| 2009 | 1.84 crores |
| 2010 | 1.84 crores |
| 2011 | 4.14 crores |
| 2012 | 1.84 crores |
| 2013 | 1.84 crores |
S. Sreesanth's Brand Endorsements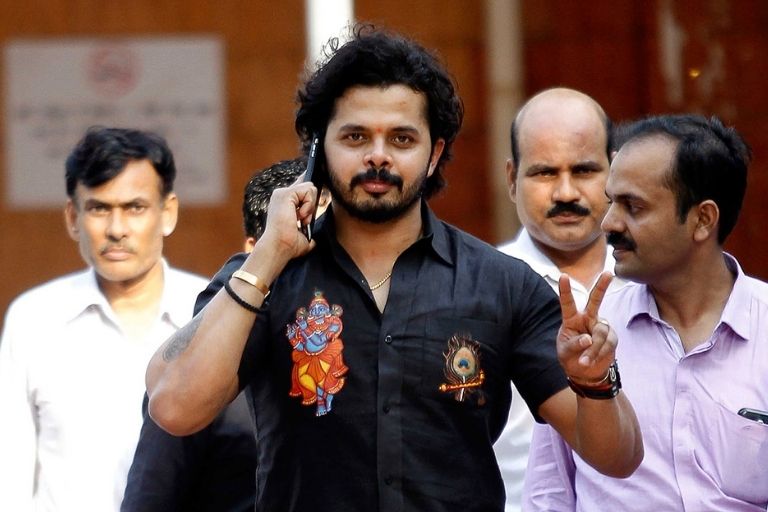 S. Sreesanth was one of India's first flamboyant cricketers and before 2013, he was the brand ambassador of many big companies like Marico, KPL, Nike. In fact, he was the only Indian athlete to be sponsored by Nike at that time before Kohli arrived on the scene and he was the main reason behind how Virat Kohli got his first deal with Nike. He is now not the brand's first choice because of his controversial history but he was recently announced as brand ambassador for Divyang Premier League.
S. Sreesanth Social Media Appearance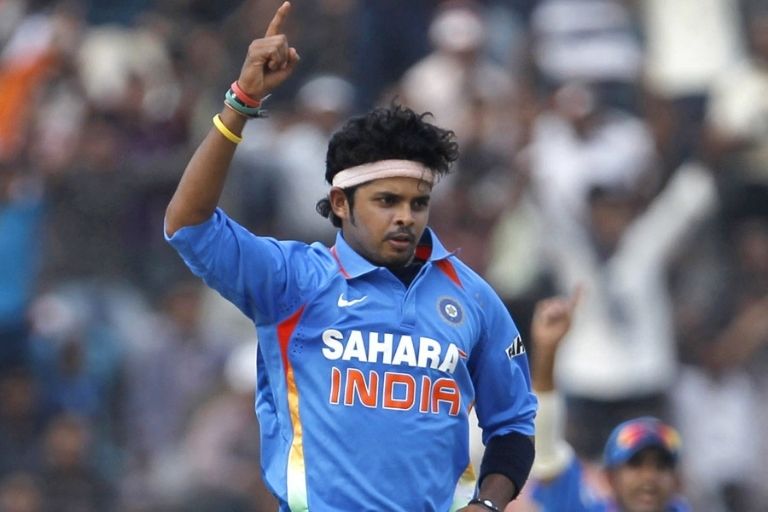 S. Sreesanth is most active on Instagram and Twitter after his comeback to the Domestic circuit. He is regularly seen posting pictures of his loved ones to keep updated with his fans. Sreesanth is a very popular figure in Kerala Cricket and during Vijay Hazare Trophy as well, he was seen singing songs with fellow members like Robin Uthappa and Vishnu Vinod. Sreesanth is very optimistic about his comeback to cricket and posts some motivational quotes to keep himself motivated.
| | | |
| --- | --- | --- |
| Social Media Platform | Followers | Profile |
| Instagram | 440K followers | Link |
| Twitter | 994K followers | Link |
| Facebook | 1.5 million followers | Link |
S. Sreesanth Luxury Cars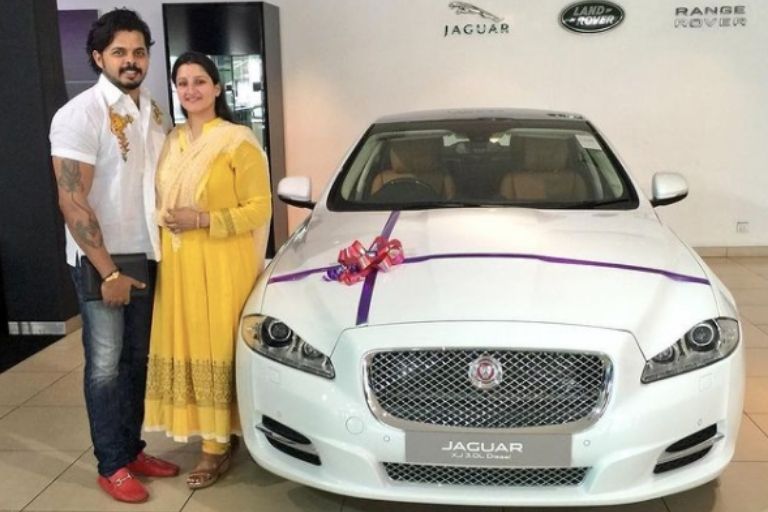 S. Sreesanth's car collection is not that big but has some luxurious vehicles in it. He declared in an affidavit for the 2016 Assembly elections that he owns a Jaguar worth ₹1.8 crores but he has one BMW and Bentley also in his collection.
| | | |
| --- | --- | --- |
| Brand | Model | Value |
| Jaguar | Jaguar XJL | 1.18 crore + |
| BMW | BMW X6 | 1 crore + |
| Bentley | Unknown | 1 crore + |
S. Sreesanth's Property
S. Sreesanth comes from a middle-class family, and all his siblings are successful like him now. His elder brother owns a music company, and his sister is a television actress. Sreesanth lives in 5.26 acres and 9,000 Square foot villa in Kerala. His house is worth more than 5.5 crores. He has some ancestral properties in his hometown.
Personal life and Family life of S. Sreesanth
1. Family and Personal info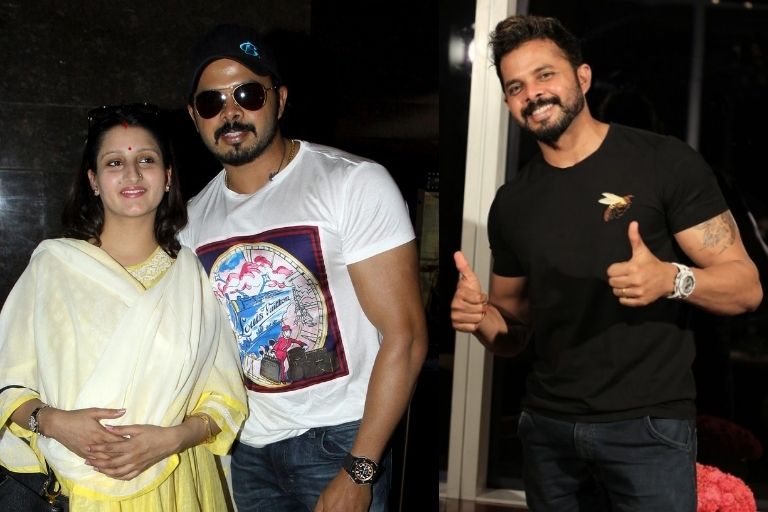 S. Sreesanth was born on 6th February 1983 to Santhakumaran Nair and Savithri Devi. He is the smallest in his family and has one elder brother and two elder sisters. His brother, who encouraged Sreesanth to turn fast bowler name is Dipu, and he owns a music Company in Kochi. While his eldest sister Nivedita is a famous television actress in the Kerala TV industry and his other elder sister Divya is married to famous South Singer Madhu Balakrishnan.
| | |
| --- | --- |
| Full name | Shanthakumaran Sreesanth Nair |
| Date of Birth | 6 February 1983 |
| Birth Place | Kothamangalam |
| Father | Santhakumaran Nair |
| Mother | Savithri Devi |
| Wife | Bhuvneshwari Kumari |
| Son | Suryasree Sreesanth |
| Daughter | Sree Sanvika Sreesanth |
| Domestic Cricket debut | 2002 for Kerala |
| IPL Debut | 19 April 2008 v Chennai Super Kings |
| TEST Debut | 1 March 2006 v England |
| ODI Debut | 25 October 2005 v Sri Lanka |
| T20I Debut | 1 December 2006 v South Africa |
2. Favourite Things: Hobbies, Friends, etc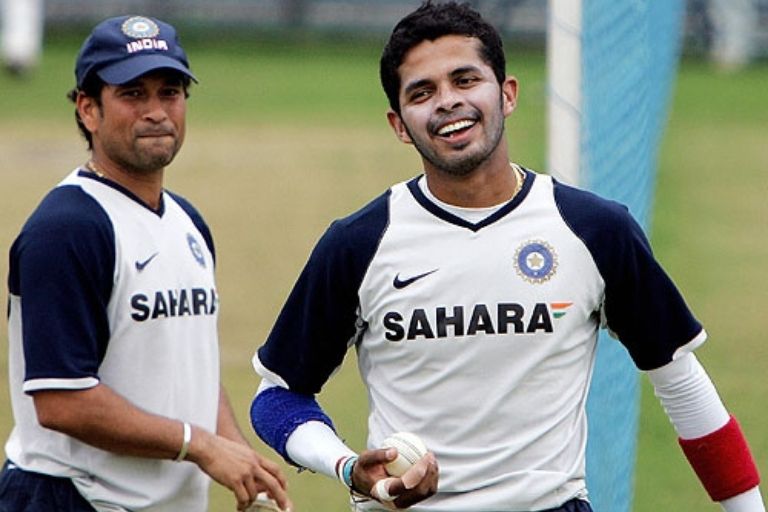 | | |
| --- | --- |
| Best Friend | Robin Uthappa |
| Nickname | Sree, Gopu |
| Favorite Actor | Shahrukh Khan |
| Favorite Social media platform | Twitter |
| Favorite food | Dosa |
| Favorite Fashion Brand | Dolce & Gabbana |
| Favorite Cricketer | Sachin Tendulkar |
| Favorite Opposition | Pakistan |
| Idol | Anil Kumble |
| Hobbies | Acting, Dancing |
| Favorite Stadium | Eden Gardens |
| Favorite Color | Black |
| Favorite Holiday Destination | London |
3. Affairs and Marriage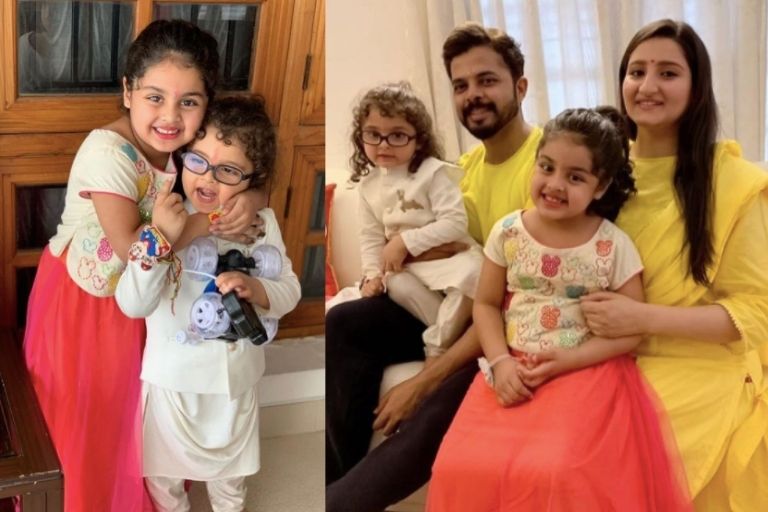 S. Sreesanth was famous for his extravagant persona during his peak time in international cricket. He is quite famous with many B-town celebs during that time. He linked up with Surbhi Chawla in 2008 and they even participated in a reality show called Ek Haseena Ek Khiladi. In 2011 after a 50 over World Cup-winning campaign, he again made headlines and was rumored to be in a relationship with Riya Sen.
S Sreesanth is now married to Bhuvneshwari Kumari, who was his long-time girlfriend before they tied the knot in 2013. She comes from the Royal Family of Jaipur. He met her during his stint with Rajasthan Royals and they now happily live in Kerala and are blessed with one boy and a girl.
Sreesanth Controversy
Name Change Saga
S. Sreesanth is very superstitious and always wears a golden chain and lucky bands. After making its debut in 2005, his form slumped and Sreesanth tried to change his fortune by changing from Sreesanth to Sreesunth on numerological advice given by his family guru. He was then criticized for this belief and was advised to focus more on practice. Although he didn't change his name due to sentimental connections
Slap Gate
In 2008 also Sreesanth was again in the headlines but now because of someone else's mistake. He was reportedly slapped by Harbhajan Singh after Mumbai and Punjab's match and was caught in tears after that incident. Mumbai had lost 3 consecutive matches and some of Sreesanth's comments made Harbhajan angry which led to a slap. Later on, Sreesanth clarified that Harbhajan is like an elder brother to him and it was blown out by the media in different contexts.
2007 England Tour
On the historic 2007 England tour also Sreesanth was in controversy. In the second test at Trent Bridge, he was caught deliberately shouldering England Captain Michael Vaughan. Then he bowled a beamer to Kevin Pietersen which was booed by the English crowd.
Later in that match, he bowled a no-ball by overstepping by 2 feet which were labeled as deliberately. After the match former England captain, Michael Atherton called fo4 Sreesanth's ban as he can't control his on-field behavior.
Warning From BCCI and KCA
Sreesanth's flamboyant style was very famous among youth at that time. He was a regular in the Indian team but his on-field and off-field behavioral issues always put him under the scanner. In 2009 BCCI gave him a final warning after his rude behavior to Umpire during a domestic match.
The controversy was that big BCCI told Sreesanth that if he doesn't improve his behavior then he might be banned from domestic cricket. The same year Kerala cricket association also issued him a warning after he repeatedly missed the Kerala Ranji Trophy team camp in Kannur
2013 IPL Spot Fixing
S. Sreesanth took a drastic change in 2013 when he was allegedly involved in IPL 2014 spot-fixing scandal. It was Kings XI Punjab and Rajasthan Royals match where Sreesanth's no balls were noted as suspicious and his towel was regarded as a sign to bookies. He along with 2 other cricketers were banned by the BCCI.
After a long judicial battle in 2015, he was found innocent but his life ban was not revoked. Again after an intense legal battle in 2017 finally, Kerala High Court ordered BCCI to lift a life ban from him. Later on, BCCI lifted the ban and cut it short to 7 years and after 7 years Sreesanth finally made a comeback to cricket in 2020.
Stats of Sreesanth career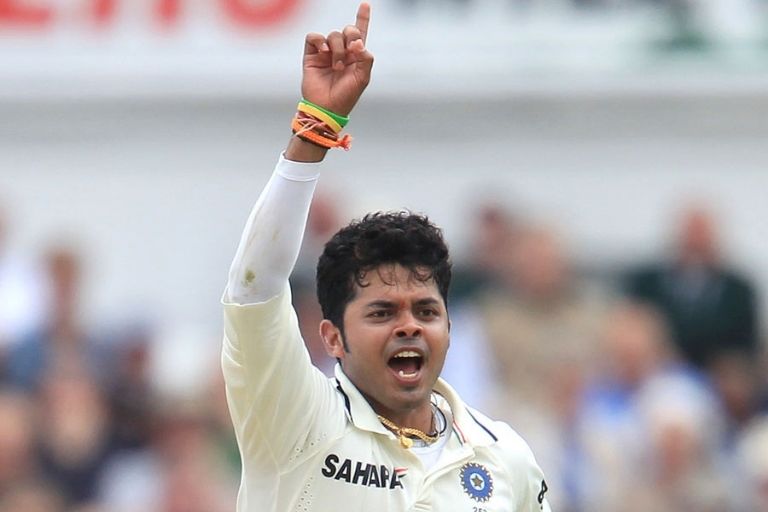 | | | | | |
| --- | --- | --- | --- | --- |
| Format | Matches | Wickets | 5-fer | Best Fig |
| Test | 27 | 87 | 3 | 5/40 |
| ODI | 53 | 75 | 1 | 6/55 |
| T20I | 10 | 7 | 0 | 2/12 |
Unknown Facts about S. Sreesanth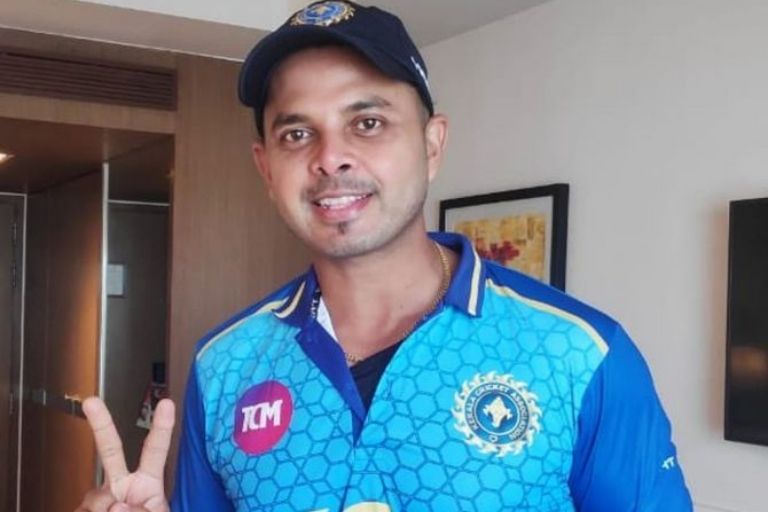 S. Sreesanth started his career as a leg spinner.
Sreesanth is famous for his breakdance.
S. Sreesanth was 2008 IPL's best Indian bowler.
S. Sreesanth has acted in many Bollywood and South Movies
Sreesanth's name pronunciation was a source of confusion in Media before in 2007, he finally clarified
He was part of the dance reality show 'Ek Haseena Ek Khiladi' in 2008
In 2009, MS Dhoni hailed him as world's one of best bowler of Reverse Swing
S. Sreesanth was selected for the 2011 World Cup due to Praveen Kumar's injury
Sreesanth lost only by 11,710 votes in the 2016 Assembly elections
Sreesanth helped Virat Kohli get his first sponsorship deal with Nike.
FAQs about S. Sreesanth
Q. How many movies has S. Sreesanth been a part of?
Ans- He has featured in 5 movies, Kempegowda 2 (2019), Cabaret (2019), Aksar 2 (2017), Team 5(2017), and Big Picture (2015)
Q. Did S. Sreesanth confessed to Spot Fixing Involvement?
Ans- Yes, he did confess to Delhi Police but later on denied saying it was done under extreme pressure.
Q. Is S. Sreesanth Alcoholic?
Ans- Nod
Q. Does S. Sreesanth lives in Kerala?
Ans- Yes
Q. Did Harbhajan Singh slapped Sreesanth?
Ans- Yes, and Harbhajan was banned for the rest of the IPL season after that incident.
Q. Is S. Sreesanth's wife an actress?
Ans- No
Q. Does Sreesanth hate Harbhajan Singh?
Ans- No, after the slap gate incident Sreesanth clarified that there is no rift between him and Singh and he considers Bhajju Paa as elder Brother.
Q. Was Sreesanth a good bowler?
Ans- Yes, S. Sreesanth was a good bowler, although he was expensive sometimes but he had won many matches for India and even MS Dhoni once hailed him as the best Reverse Swing Bowler.
Q. Did Sreesanth win Bigg Boss?
No, He finished as runner-up.
Check Net Worth of These Players