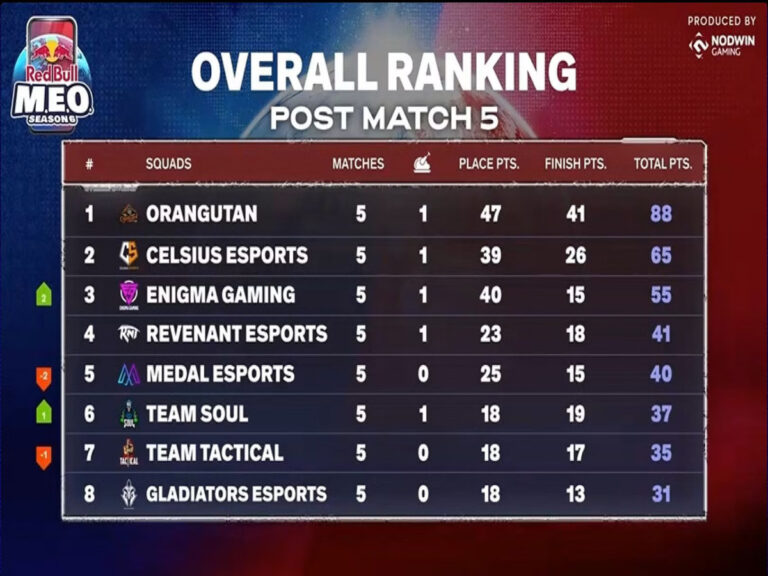 On the first day of the BGMI Red Bull M.E.O Season 6 Finals, Orangutan Gaming was unstoppable.
With an average of 16, the team scored 80 points, demonstrating their dominance. With 65 points, Celsius Esports came in second, while Enigma Gaming came in third with 55 points.
Revenant Esports had 18 eliminations and 41 points, thus gaining fourth place.
Team Soul was unimpressive in the other three games, although they performed well in the first two. 
With 37 points, the team finished sixth overall in the standings. Gladiators Esports had a lackluster showing today, finishing ninth with 18 points. With 28 points, the underdog Loose Ends took ninth place.
GodLike Esports, who just signed Jelly, finished with 27 points, earning 11th place. Gods Reign finished their five games with 27 points as well.
In the overall standings, Mavi-led Global Esports (ranked 22), Big Brother (ranked 21), and Team XSpark (ranked 21) were the bottom three.
BGMI Red Bull M.E.O Season 6 Finals Day 1 Rankings
Orangutan Gaming
Celsius Esports
Enigma Gaming
Revenant Esports
Medal Esports
Team Soul
Team Tactical
Gladiators Esports
Match Highlights
Revenant Esports secured a 23-point victory in the first game of the BGMI Red Bull M.E.O Season 6 Finals Day 1 after defeating Enigma Gaming in the end zone. Five frags were taken by BGMI standout MJ from their lineup.
In the second game, Team Soul scored a decisive 26 points over Chicken Dinner. Neyoo, their emerging star, defeated seven adversaries there by himself.
Orangutan and Medal were able to add 17 and 18 points to their names, respectively. Eight points were won by Owais' Gods Reign team.
Orangutan showcased their prowess in the third game of the BGMI Red Bull M.E.O Season 6 Finals Day 1, earning a 24-point victory. Aslaa Esports scored 13 points, while Gladiators Esports scored 17.
In Match 4, Celsius emerged victorious with 26 points. Orangutan scored 25 points while maintaining their amazing speed.
In the fifth match, Enigma Gaming scored a 20-point victory to earn a Chicken Dinner.
Loose Ends scored 22 points in an unexpected showing in Match 6 of the BGMI Red Bull M.E.O Season 6 Finals Day 1. Orangutan gained 18 points to their account as they carried on their incredible skills.
Also Read: PUBG Mobile 2.9 Update Android And iOS Download Guide