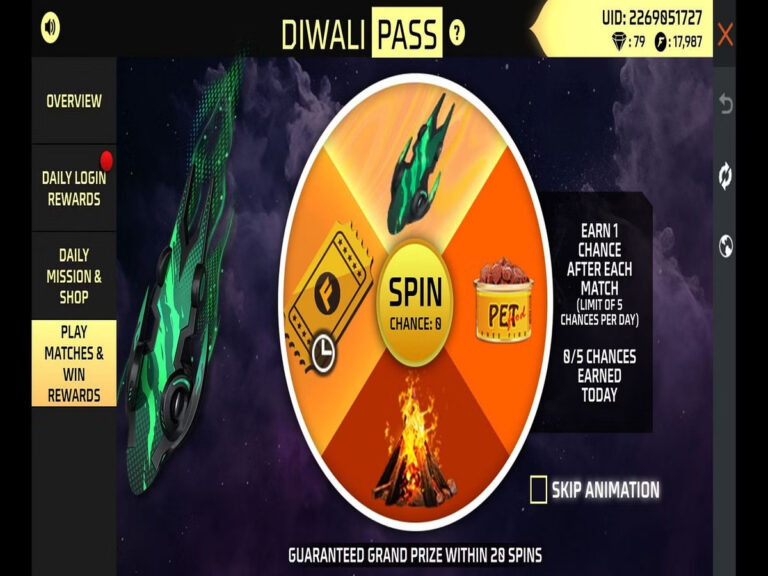 Garena has introduced its annual Diwali Pass as a part of the ongoing Free Fire Diwali activities.
To activate the Diwali Pass, you have to buy diamonds. After that, in order to claim the benefits, you need to fulfill the conditions listed in the relevant section.
By adding 100 more diamonds between November 6 and November 20, you may get the Free Fire Diwali Pass. You can then do the designated tasks to receive the prizes after doing so.
Free Fire Diwali Pass
The Diwali Pass in Free Fire is divided into three portions. To claim gun skin trial cards, you must log in for the next seven days after unlocking the Diwali Pass. 
Once the necessary number of things have been collected, the Divine Blade is accessible as a Bonus Reward.
Day 1 – AN94 Tsunami Bolt (1D)
Day 2 – MP5 Meta Lava (1D)
Day 3 – Groza Flames Enchanted (1D)
Day 4 – UMP Grizzly Papercut (1D)
Day 5 – AUG Mars Landcrusher (1D)
Day 6 – P90 Tune Blaster Blue (1D)
Day 7 – Diwali Dino (1D)
Bonus Reward – Divine Blade
By using diamonds, you can get the unclaimed prizes. But with every further missed login, the pass to obtain the missing cosmetic will rise.
You have to finish objectives in the Daily Missions and Shop, such taking out a specific amount of opponents or winning games, in order to get Pass tokens.
The following products can be exchanged for the tokens you receive:
Urban Scooter Motorbike – 20x Pass tokens
100% EXP card – 8x Pass tokens
Cube Fragment – 5x Pass tokens
Luck Royale Voucher – 4x Pass tokens
Armor Crate – 1x Pass token
Supply Crate – 1x Pass token
Leg Pockets – 1x Pass token
Pocket Market – 1x Pass token
Bonfire – 1x Pass token
Airdrop Aid – 1x Pass token
Secret Clue – 1x Pass token
Bounty Token – 1x Pass token
Rewards
You can play matches after enabling the Diwali Pass to have one opportunity to spin the wheel and win one of the following rewards:
Urban Skyboarder
Pet Food
Bonfire
Gold Royale Voucher
Following every match, you will receive one chance—up to a maximum of five. Within 20 spins, the top reward is assured to you.
Also Read: Minecraft 1.21 Update: Trial Chamber Details Announced