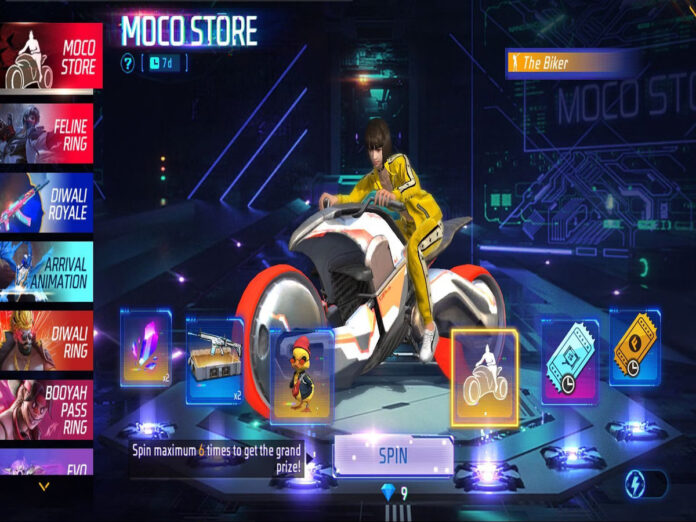 One of the most popular Luck Royales in Free Fire is Moco Store. Players appreciate it because it offers guaranteed big wins in a certain amount of spins.
This sort of event has returned to the game, with one of the rewards being the unique Biker Emote. Players will also be able to obtain a number of other random items in addition to it.
Like previous Moco Stores, this one will only be open for around a week, and in order to purchase anything, users will need to spend diamonds.
You can find more details about the new Moco Store in Free Fire here below.
Free Fire Moco Store
On November 13, 2023, the recently launched Moco Store event arrived in Free Fire. It will remain there for a week, ending on November 19, 2023.
In order to begin, players will have to select one Grand Prize and one Bonus Prize from the available options. They can then start selecting prizes from the prize pool.
The details of the rewards in Free Fire's Moco Store are as follows a;
Grand Prizes (Choose any one)
The Biker Emote
Bamboo Dance Emote
Coral Rebel Bundle
Coral Trouble Bundle
MAC10 – Enflamed Terror
UMP – Pumpkin Flame
Bonus Prizes (Choose any one)
Dr. Beanie
Zasil
Batwings Backpack
Claw Core Backpack
Grenade – Mr. Nutcracker
Vampiric Loot Box
Prize Pool
The Chosen Grand Prize
The Chosen Bonus Prize
2x Water Elemental Weapon Loot Crate
2x Cube Fragments
Luck Royale Voucher (Expiry: December 31, 2023)
Gold Royale Voucher (Expiry: December 31, 2023)
The price of the event's initial draw is nine diamonds, and it will go up for each further draw.
Gamers will need to pay 19, 49, 99, 199, and 499 diamonds for the next five spins. They will thus undoubtedly receive 874 diamonds as their chosen prizes, which is a good number.