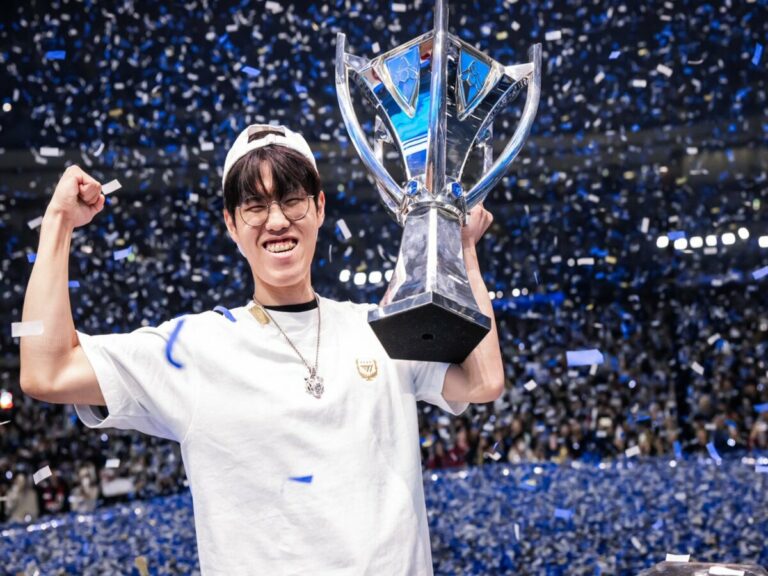 Following a thrilling and suspenseful League of Legends Worlds 2023, T1 defeated Weibo Gaming three times in a row to win.
The Gocheok Sky Dome in Seoul hosted the ultimate Worlds competition, and the local audience was extremely proud of T1 for winning their fourth championship.
Weibo Gaming made a valiant effort to respond, but they were unable to match T1's astute tactics and strategically timed strikes, resulting in a one-sided Grand Final.
Even so, it was a memorable occasion for all parties, particularly the players and supporters of T1.
T1's mid-laner, Lee "Faker" Sang-hyeok, won a Worlds championship recently, marking a significant victory after seven years. The last time Faker triumphed against the Samsung Galaxy was in 2016.
T1 Wins LoL Worlds 2023
Any League of Legends team that has participated in the World Cup of League of Legends has always lost a best-of-five series to T1. 
T1 defeated members of the LPL at Worlds 2023 and won all series. In the Swiss Stage, LNG Esports in the Quarterfinal, JD Gaming in the Semifinal, and Weibo Gaming in the Grand Final, they defeated all four of the Chinese teams.
T1 continuously outperformed their rivals in the Grand Final, demonstrating a higher degree of talent and planning to secure easy wins in every game.
T1's skilled toplaner, Choi "Zeus" Woo-je, made a big impact by destroying everything in his path while demonstrating his mastery of Yone, Gwen, and Aatrox.
Zeus easily outperformed South Korean top laner Kang "TheShy" Seung-lok on Weibo, demonstrating his superior talent. Zeus won MVP honors in the Grand Final because of his outstanding performances.
At League of Legends Worlds 2023, Moon "Oner" Hyeon-joon, the jungler for Team T1, was the most notable player.
He outperformed all the other junglers he encountered, leaving little doubt about his influence on the game.
With a few key plays, Faker helped secure their victory with Oner. on the meantime, T1's Ryu "Keria" Min-seok and Lee "Gumayusi" Min-hyeong held their own on the bot lane, doing their tasks consistently and precisely.
Also Read: Call of Duty 2024 (CoD 2024) Round Based Zombies Map Details Revealed