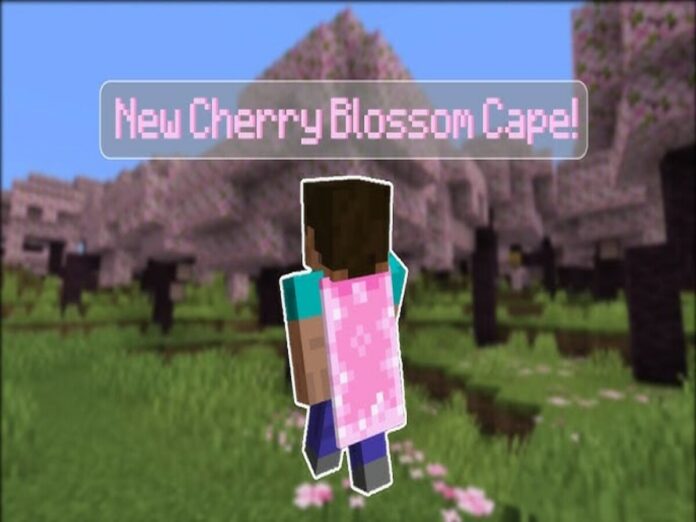 Players are eagerly awaiting the Minecraft 1.21 release, since new features are constantly being teased, including entirely redesigned mobs.
A lot of people are playing the game to take advantage of all the features included by the 1.20 update, though, without knowing when it will be released.
Mojang has begun rewarding players who took part in the 2023 Mob Vote with a brand-new cherry blossom-themed cape. 
Only the people who voted in the Minecraft Mob Vote event 2023 received this exclusive reward.
Everyone is receiving a cape from Mojang, despite the fact there were three methods to vote: via the launcher, the website, and a dedicated server.
Mojang is still thanking players for their continuous backing, especially those who participated in the recent mob vote when the Armadillo was declared the winner.
Steps to get new Cherry Blossom Cape
 These are the steps to obtain the new Cherry Blossom Cape in the Java edition of Minecraft:
Start the game using the official launcher. You must first navigate through the Java Edition area using the left-hand tab, and then use the upper bar to pick the Skins option.
This is where you may view every skin option available to you, both custom and default.
Three dots on each skin will open the options. After making your choice, click the Edit button.
All of the capes you possess on your account will be shown once the appearance editing page loads. You may either choose to preserve the skin by selecting the cherry blossom cape if it is available or choose to wait for the developers to add that skin to your account.
These are the steps to obtain the new Cherry Blossom Cape in the Bedrock Edition of Minecraft:
Launch the Bedrock Edition of Minecraft and proceed to the changing area. Everything pertaining to your appearance, including capes, may be edited here.
The section about caps may be found on the left-hand tab. To find the pretty pink cherry blossom cape, just pick it to bring up the cape page.
The Cape is available only for a limited period so gamers will have to make their moves quick in order to obtain the Cherry Blossom Cape in Minecraft.
Also Read: Top 5 Tips To Use While Facing Pro Players In PUBG Mobile