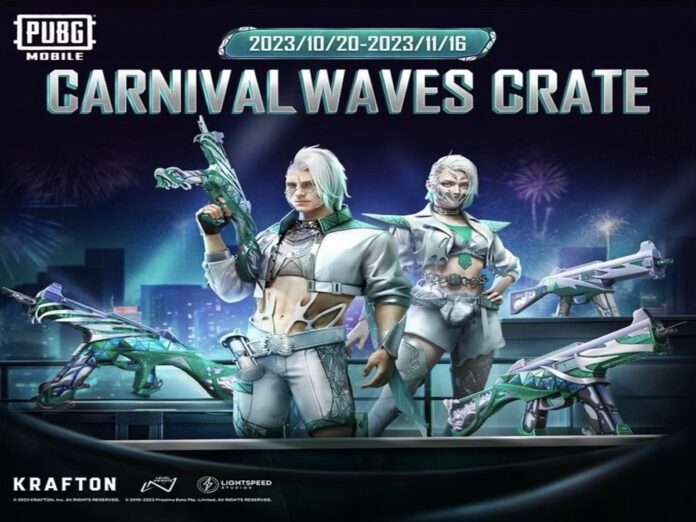 A brand-new Carnival Waves crate has been added by Tencent Games to PUBG Mobile.
It was revealed this morning via the game's social media accounts and will remain accessible until November 16, 2023.
Coupled with several legendary and mythic goods, it gives a brand-new Carnival Celebration mythic set and an upgradeable Carnival Waves UMP45 skin.
Legendary items tend to be rarer than mythic ones in-game. In the game, the latter is highlighted in a red layout and is claimed to have a less appealing look than the first.
PUBG Mobile Carnival Waves
Two legendary items, the Carnival Waves headpiece and mask, as well as two mythic items, the Carnival Celebration top and bottom, were included in the new Carnival Waves luck crate in PUBG Mobile.
A new Carnival Waves UMP45 SMG skin that can upgrade its appearance is also included in the crate, along with other in-game items like modification material pieces and paint.
To get the Carnival Waves items, you'll need to unlock crates using your in-game Unknown Cash (UC).
A single draw will determine your reward at random, costing you six UCs. Furthermore, you can execute 10 draws simultaneously for 270 UCs.
Keep in mind that these sums could change while the crate is still available in the game.
If specific requirements are met, the game offers guaranteed items if the player is unable to collect the exclusive things from the crate openings.
If you open nine crates in a row without being able to win a unique item, the legendary Carnival Waves masks will be revealed when you open your tenth crate.
After that, on the fifteenth draw, you will receive the legendary headgear item if you once again fail to find any exclusive piece in 14 crate opens.
You'll need a specific number of in-game Paint and modification material pieces to upgrade the skin on your Carnival Waves UMP45.
Keep in mind that the amount needed to upgrade varies depending on the level.
Also Read: Free Fire World Series (FFWS) 2023 Teams & Dates Announced: Check Details