Michael Vaughan, the former England skipper was full of praise for the Indian pacer Bhuvneshwar Kumar. He feels that the right-handed pacer is currently one of the most skillful pacers in white-ball cricket, who is way too dangerous than a bowler bowling at a speed of 90 miles per hour.
Bhuvneshwar Kumar sustained a dangerous ankle injury while playing for Sunrisers Hyderabad in IPL 2020. He took enough time to recover from the same. This is the reason he didn't feature in the squad that travels to Australia for playing the series across all the formats. The selectors were critical about his injury and didn't want to hurry due to which they only picked Bhuvneshwar Kumar for the ODI and T20I series.
Michael Vaughan Full Of Praise For Indian Pacer Bhuvneshwar Kumar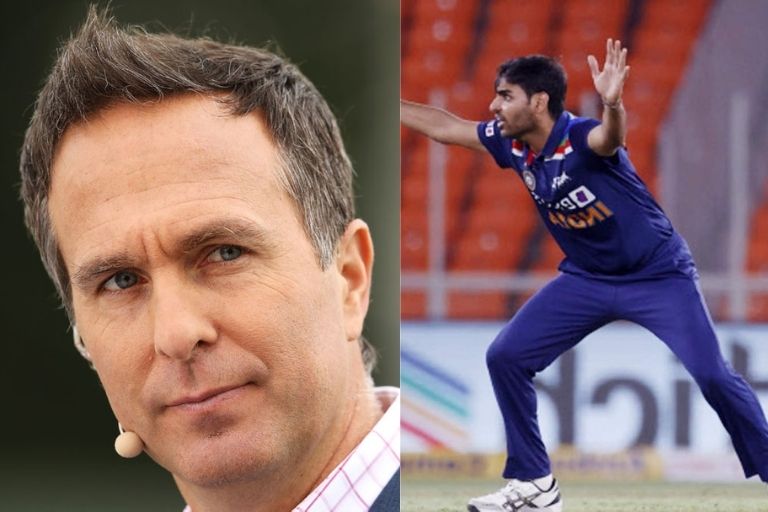 In the shorter format, he took four wickets and impressed everyone with his strong comeback. He carried his fine form in the ODI series as well. Michael Vaughan, who spilled beans during the Test series for Team India, was full of praise for the Indian pacer. He said that Bhuvi is currently one of the most skillful bowlers of white-ball cricket in his opinion.
The former cricketer added that a bowler becomes dangerous when he can swing at a speed of 80 miles per hour. As per him, Bhuvneshwar Kumar can bowl inswinger, outswinger, yorkers and cutters, and other deliveries that can unsettle any best batsman in the world. As per him, Bhuvneshwar has managed a commendable comeback after recovering from his injury,
"Bhuvneshwar Kumar is the most skillful white-ball bowler in the world. I can't think of any other [bowler] that bowls at 80-odd miles an hour and has that white ball moving as he does. There's no one I know that can just get the ball to subtly move as Kumar can. Whether it's outswinger, the inswinger, the cutters. He can bowl the yorkers and the bouncers.
Not often but when he wants to unsettle a batsman, he'll bowl a bouncer. I don't know of a more skillful bowler. At that pace around the world. When you think he's coming back from an injury, a remarkable comeback for Bhuvneshwar Kumar," said Vaughan.