The 2021 transfer window has not been very kind to the La Liga giants Real Madrid CF and FC Barcelona. Both clubs couldn't win the league title nor the Champions League in the 2020/21 season. To add to their misery, both the clubs have lost their captains that too on a free transfer.
Sergio Ramos and Lionel Messi are two of the biggest names in the history books of Spanish football and both the icons have led their beloved clubs to every title attainable. But at the start of the 2021/22 season, we won't be seeing them at Real Madrid and Barcelona respectively. What's even crazier is the fact that both the players could possibly be lining up together for the French Side Paris Saint Germain when the new season begins.
Sergio Ramos has already completed his switch from the Spanish capital to the Parisians and Lionel Messi could soon be following suit. As of today, PSG is the favorite to land Lionel Messi. The club has already begun talks and will soon send a contract to the Argentine icon if things go forward smoothly.
Failed Contract Extension Saga
It was expected that both Ramos and Messi would extend their contracts in their clubs but that didn't happen. What is even more baffling to think about is both the players wanted to stay at their clubs rather than transfer out.
Sergio Ramos wanted a multi year contract at Real Madrid, whereas Los Blanco's were willing to offer only a one year extension to Ramos, this lead to the eventual end to the relationship
Lionel Messi's extension was even closer as the board and the player had almost agreed to the terms. But the Spanish financial fair play came into play and this led to the decision of letting the Argentine Football icon depart the club
Duels in the El-Clasico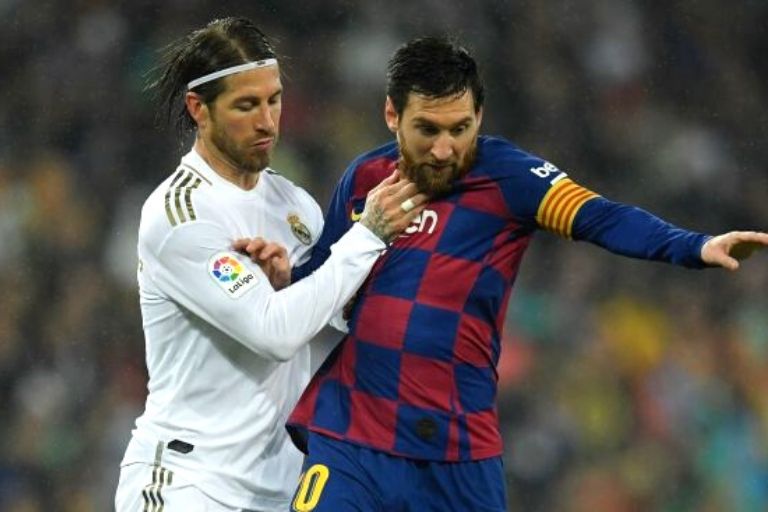 Both Lionel Messi and Sergio Ramos have played 45 Clasicos each for their respective clubs. Some of the biggest talking points between the two in their El-Clasico rivalry are:
In 2010, Real Madrid were losing 5-0 to FC Barcelona at the Camp Nou. Ramos performed a dangerous tackle on Messi which led to a red card being shown to the Real Madrid man. This resulted in a huge tussle between both the benches. Ramos on his way out even slapped Puyol and pushed the likes of Xavi and Pique.
In 2017 (2016/17 season), Real Madrid were losing 1-2 at the Camp Nou to Luis Enrique's FC Barcelona. Ramos performed a two-footed tackle on Messi who was on the attack. This led to a straight red card for the Madrid captain.
In 2017 (2016/17 season), It was rumoured that Lionel Messi had a chat with Atletico Madrid players to play hard before a Madrid Derby. This irked Sergio Ramos and he had his say in a press conference.
In 2018 (2017/18 season), Sergio Ramos performed a hard tackle on Luis Suarez. A few minutes Later Messi took the revenge on Suarez's behalf by performing a hard tackle on Sergio Ramos, getting a yellow card in the process.
In 2019 (2018/19 season), Sergio Ramos elbowed Lionel Messi in the Clasico. This led to a tussle between the two later on in the game.
What Ramos said about Messi after joining PSG:
When asked about Lionel Messi, Ramos stated in an interview with TNT sports" I like to play with the best players, Messi is one of the best players in the world". He also said that the pair had gotten closer outside the pitch and talked to each other via messages and encouraged Messi to join him in the French club.
Talking about the Pair, here are a few of their accolades from their time at their previous clubs:
Sergio Ramos at Real Madrid CF:
4 x UEFA Champions League Titles
5 x La Liga Titles
2 x Copa Del Rey Titles
4 x Spanish Super Cup Titles
3 x UEFA Super Cup Titles
4 x FIFA Club World Cup Titles
Lionel Messi at FC Barcelona:
4 x UEFA Champions League Titles
10 x La Liga Titles
7 x Copa Del Rey Titles
8 x Spanish Super Cup Titles
3 x UEFA Super Cup Titles
3 x FIFA Club World Cup Titles
So with all this history from all their years in Spain, it would be very interesting to see how the two would fare together if they end up together at Paris Saint Germain.
Check Here:-