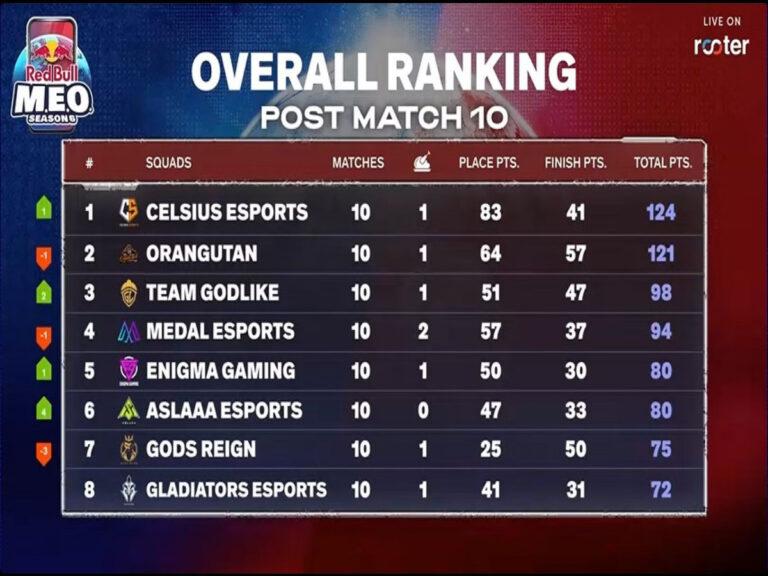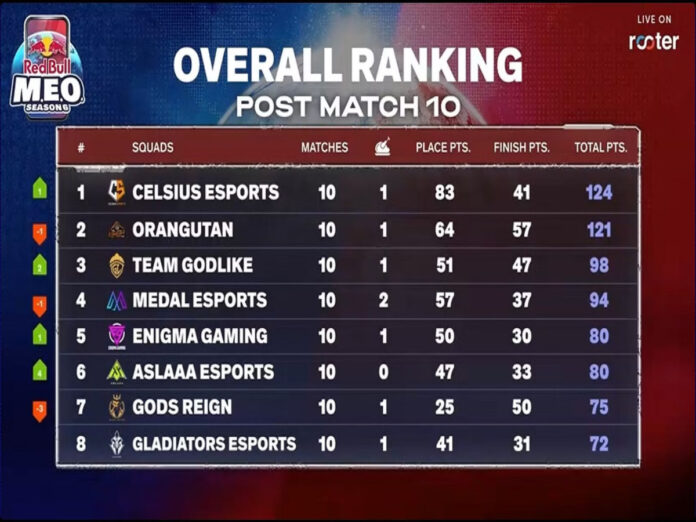 On Day 2 of the BGMI Red Bull M.E.O. Season 6 National Finals, Celsius Esports overtook Orangutan Gaming and took the top place overall.
The squad that was favored continued to play well, scoring 124 points in ten games.
Orangutan finished second with 121 points after a string of poor performances.
Team GodLike put on a better show, moving up to third place with 98 points from their previous ranking of 11th. With 94 points, Medal trailed them in fourth place.
After a mediocre match, Team Soul dropped to 11th place with 63 points.
After yet another terrible day, Global Esports dropped to 16th place with 40 points. On November 18, Delhi will host the tournament's final day
BGMI Red Bull M.E.O Season 6 National Finals Day 2 Rankings
Celsius Esports – 124 Points
Orangutan – 121 Points
Godlike Esports – 98 Points
Medal Esports – 94 Points
Enigma Gaming – 80 Points
Aslaaa Esports – 80 Points
Gods Reign – 75 Points
Gladiators Esports – 72 Points
Revenant Esports – 70 Points
Team Tactical – 70 Points
Team Soul – 63 Points
Team Infinity – 57 Points
Loose Ends – 52 Points
Team X Spark – 50 Points
Big Brother Esports – 41 Points
Global Esports – 40 Points
Match Highlights
In the first game of the BGMI Red Bull M.E.O Season 6 National Finals Day 2, Gladiators Esports performed a strategic match, winning the Chicken Dinner with 21 points. 
GodLike Esports, lead by Jelly, had a fantastic run, scoring 24 points with 12 kills.
In the second game of the day, Medal Esports won by a score of 23 points because of their incredible skill.
GodLike received 15 points and lost their last fight once more.
With five kills from Sayyam, Medal Esports won the third game and the second Chicken Dinner with 27 points.
Both Revenant and Aslaaa Esports secured 18 points each.
In the second to last game of Day 2, Owais's Gods Reign put on an amazing show, winning a 28-point Chicken Dinner.
Celsius and Tactical both won with impressive displays of talent (17 each).
With 27 points in the last fight of Day 2, GodLike Esports won their first Chicken Dinner of the Finale.
With six kills, their BGMI pro Jonathan was the match's standout performer. 
Also Read: The Game Awards 2023 – PUBG Mobile Nominated For Best Esports Game: Check Details