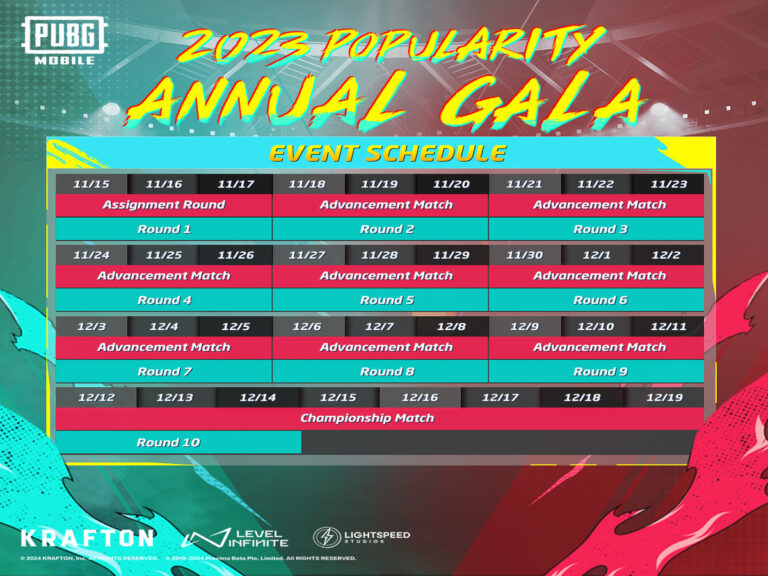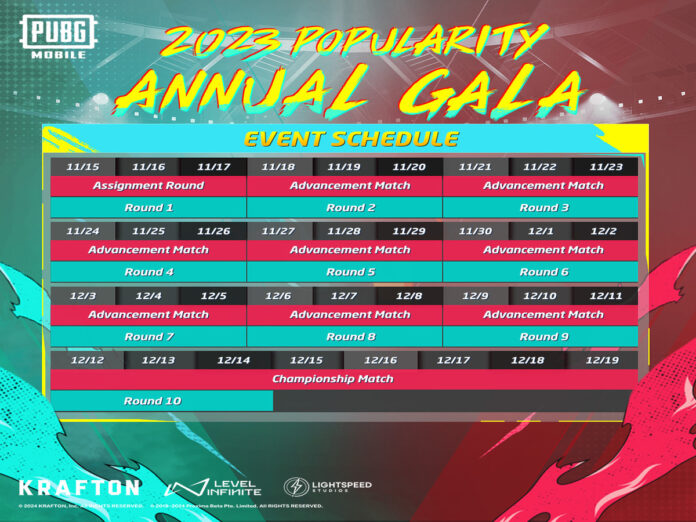 The 2.9 update for fans of PUBG Mobile worldwide has been released by Krafton.
It has enhanced the well-liked battle royale game with a number of fascinating new features.
One of the most anticipated events in the game is the Popularity Annual Gala, which is happening soon.
You can find below, the specifics of the PUBG Mobile Popularity Annual Gala, including its start date, prizes, guidelines, and more.
PUBG Mobile Popularity Annual Gala
The Popularity Annual Gala is scheduled to begin on November 10, providing users worldwide an opportunity to jump straight into the action, while the PUBG Mobile 2.9 update concluded its rollout on November 9. The event's dates are listed below:
Registration Period: November 10 – November 14
Battle Period: November 15 – December 15
Players of PUBG Mobile who are unable to register during the open time can still do so during the combat period. Depending on when they registered, they will be assigned to the matchmaking group for the following round.
The following rewards will be given to participants who take part in the event:
Honor Title
Honor Name Tag
Honor Avatar Frame
The player's Final Showdown rank and ladder grade will determine how the rewards are awarded.
Event rules and procedure
In order to take part, players must get a Popularity Level of 3 or higher in addition to a minimum Player Level of 2.
Every three days, participants are partnered with opponents of comparable skill levels in a total of ten rounds of the tournament.
A Popularity Battle will be fought by the players. Half of the opponent's points can be claimed by the victor. The Basic Points and Looted Points are added to determine these Battle Points.
By engaging in battles, players may raise their Battle Level, just like they can advance rank in PUBG Mobile.
Players' starting ladder grades in the Assignment Round of the tournament will be determined by the popularity they have acquired following the first round. Six divisions/grades make up the ladders: SSS, SS, S, A, B, and C. SSS is the highest grade that can be attained.
Aiming for a high ladder grade during the assignment round, players can only be upgraded or degraded by one tier at a time.
There are 100 spaces in each ladder, and the top 20 players are promoted, the middle 60 players keep their spots, and the worst 20 players get relegated.
Players need to make sure that when the ladder results are computed, their rank is higher than the retention threshold.
Also Read: Upthrust BGMI Diwali Battle 2023: Team Soul Declared Fan Favourite Team