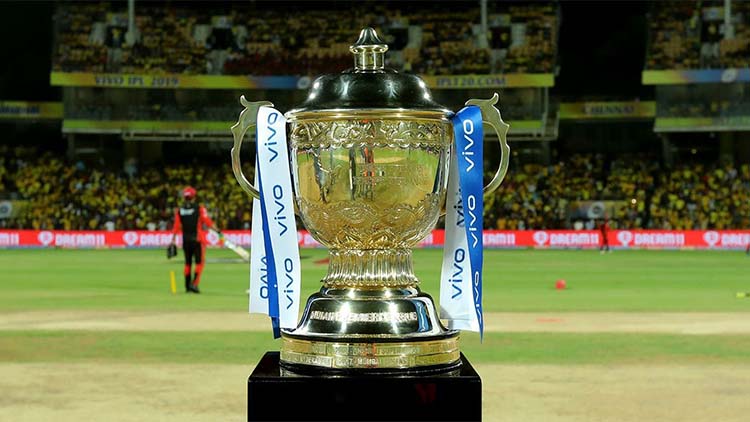 In this article, we are going through IPL Winners List from 2008 to 2019. Here we are going to discuss every Winning team in the history of this tournament.
The 13th season of the lucrative Indian Premier League (IPL) has been indefinitely postponed. It is due to the outbreak of the Novel Coronavirus (COVID-19) Pandemic. If you are an ardent IPL fan, then this news must have been heartbreaking. But you don't need to worry as the reports of the ICC T20 World Cup moving to 2022 are doing the rounds. If that happens, we may see IPL rolling this year itself, maybe in October-November.
Till that happens, we have brought you an exclusive article that you would surely like to go through! We are going to enlist the list ofIPL trophy winner ever since the inception of the World's largest T20 extravaganza in 2008.     
Mumbai Indians (MI) has been the most successful IPL franchise closely followed by Chennai Super Kings (CSK). MI has the distinction of pocketing the coveted IPL Trophy 4 times, with CSK winning it thrice.
So, without further ado, let's enlist the IPL winning teams List from 2008 to 2019!
IPL Winners List – 2008 to 2019
2008 IPL Winner – Rajasthan Royals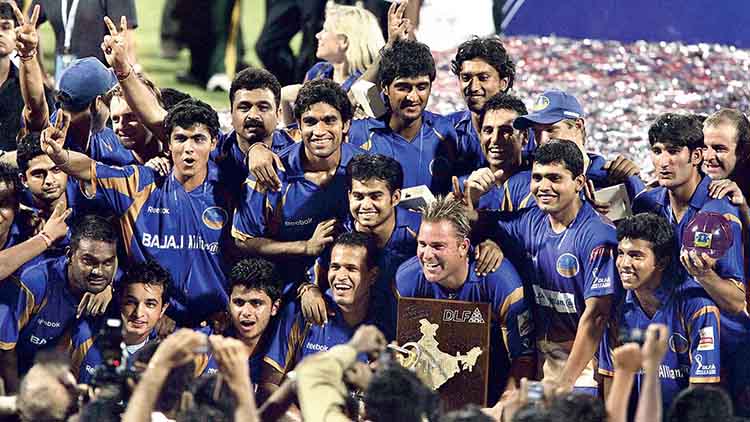 When IPL started in 2008, nobody had predicted that it would be the Shane Warne-led Rajasthan Royals (RR), who will end up winning the maiden Trophy. The Team had the right mix of talented players, though. It consisted of quality players like Graeme Smith, Shane Watson, Yusuf Pathan, along with Pakistan's Sohail Tanvir. Yusuf Pathan went on to play one of his career's most crucial knocks in the Final match vs CSK. Pathan took 3 important wickets first and then smashed bowlers to score 56 off 39.
2009 IPL Winner – Deccan Chargers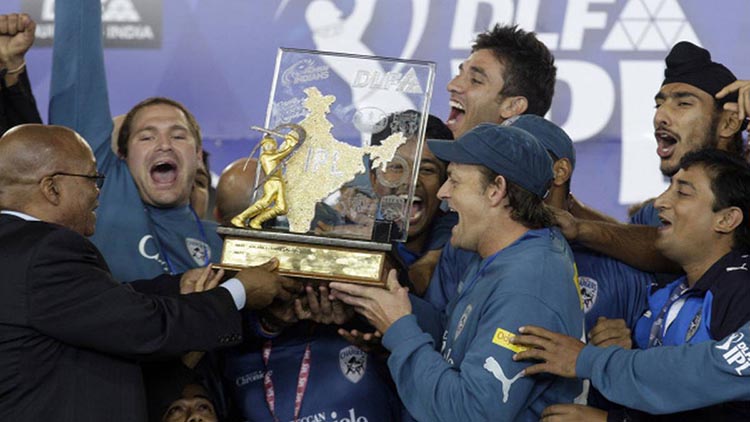 Deccan Chargers (DC) won the 2nd edition of the Indian Premier League in 2009. The Team was headed by Australia's explosive keeper bat Adam Gilchrist. The side boasted of big hitters such as Rohit Sharma, Andrew Symonds, and Herschelle Gibbs. Pragyan Ojha went on to take 18 wickets in the season and played a key role. Gilchrist amassed 495 runs in 16 outings and was the 2nd batsmen with most runs. But it was Mathew Hayden who topped the list in 2009.
2010 IPL Winner – Chennai Super Kings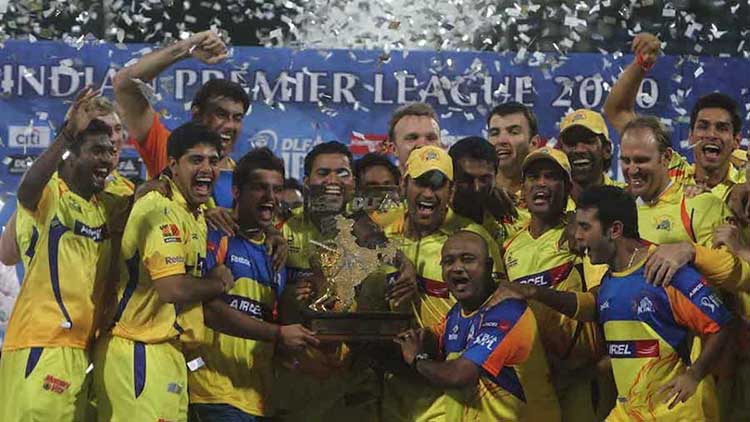 CSK had lost the Final against RR in the opening season. But it made for the loss by winning the 2010 IPL season. MS Dhoni, along with Raina, Muralitharan, Hayden, and Morkel was among in a well-balanced Team. Suresh Raina, in particular, was one of the top performers for CSK. His knock of 57 off 35 balls helped CSK win the first IPL Trophy for CSK against Mumbai Indians, which was captained by Sachin Tendulkar.
2011 IPL Winner – Chennai Super Kings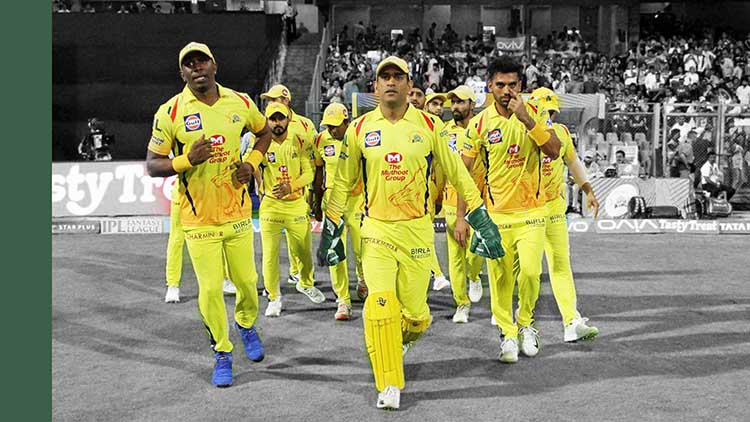 CSK went on a roll and emerged as the first IPL franchise to have won the prestigious Tournament twice. This time, they battled it out against the Royal Challengers Bangalore (RCB). Michael Hussey was CSK's Greatest Asset throughout the IPL 2011 as he played crucial knocks. CSK was able to defend its IPL Title. It rode on the splendid 159 runs partnership for the 1st wicket between Murali Vijay and Michael Hussey.
2012 IPL Winner – Kolkata Knight Riders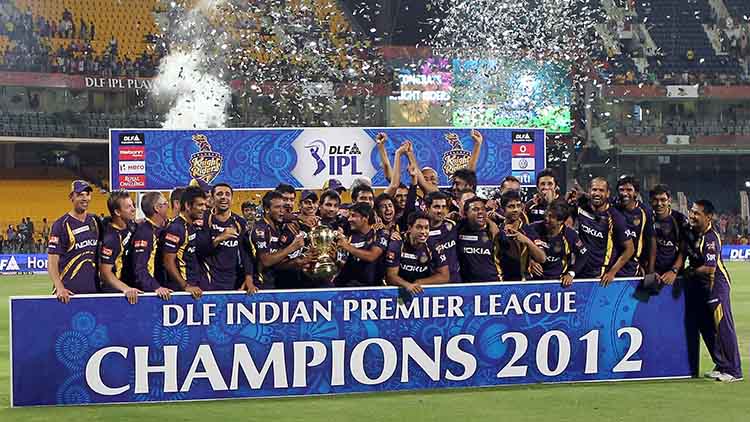 CSK made it to their 3rd back to back IPL Finals in 2012, but could not complete a hat trick of IPL Title wins. CSK's marathon run was stopped by Gautam Gambhir-led Kolkata Knight Riders (KKR). CSK gave KKR 190 to chase and win the IPL 2012. Manvinder Bisla believed in his heroics and played a stunning knock of 89 off 48 deliveries. Earlier, Raina contributed with 73 from 38 balls, but KKR chased a big total and won its first IPL.
2013 IPL Winner – Mumbai Indians
Mumbai Indians (MI), led by Rohit Sharma, had its first success by winning the IPL Trophy in 2013. CSK again made it to the IPL Finals for the record 4th consecutive time. But this time, it was MI who got better of it. The presence of players like Rohit Sharma, Mitchell Johnson, Kieron Pollard and Lasith Malinga helped the Team become a force across the season.
2014 IPL Winner – Kolkata Knight Riders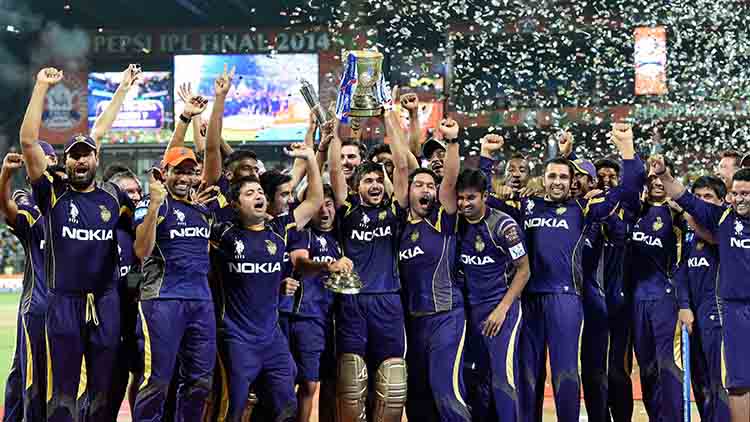 In the 2014 edition of the IPL, KKR emerged as the 2nd Team to take home the IPL Trophy more than once. This time, it was a fantastic performance by Manish Pandey that helped the side chase 199 set by Kings XI Punjab. The right-hander scored a brilliant 94 off 50 balls. For scoring 660 runs in 16 games, Robin Uthappa (KKR) won the 'Orange Cap'.
2015 IPL Winner – Mumbai Indians
In 2015, MI joined KKR and CSK to become the 3rd IPL Team to win the IPL Tournament more than once. Lasith Malinga was outstanding in the 2015 season and picked up 24 wickets. But it was Dwayne Bravo who grabbed the 'Purple Cap' by taking 26 scalps. Overall, it was the right balancing of batting (Pollard, Rayudu, Simmons, Rohit and Pollard) and bowling that helped MI to become the 2nd time IPL Champs.
2016 IPL Winner – Sunrisers Hyderabad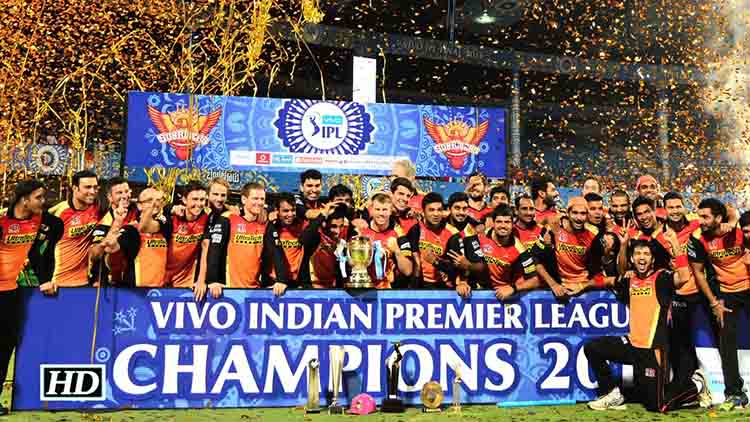 RCB made it to their 2nd IPL Final but could win the Trophy again. Sunrisers Hyderabad (SRH) beat RCB by just 8 runs in a close encounter. David Warner led SRH to the title triumph. But the season was remembered for Kohli's 4 tons and 7 fifties in 16 games. Another thing that kept fans entertained was the partnership of Kohli and ABD in many games. Kohli won the 'Orange Cap' in IPL 2016.
2017 IPL Winner – Mumbai Indians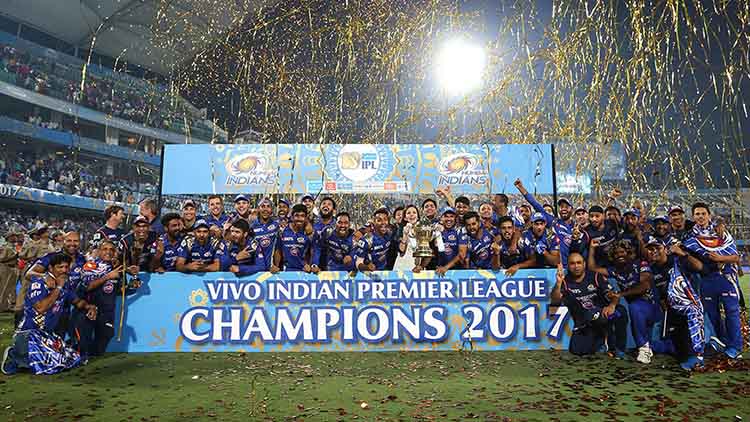 MI scripted its name into the history books by emerging as the only Team to win the IPL for the 3rd time. They engaged in a thrilling Final with Rising Pune Supergiant (RPS) and won the encounter by just 1 run. Rohit Sharma showcased excellent skills as the MI Skipper throughout the season.
2018 IPL Winner – Chennai Super Kings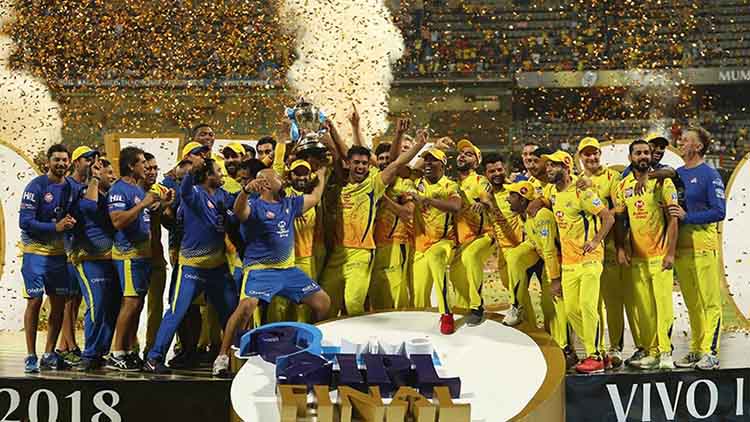 It looks like a race between CSK and MI to outdo each other in terms of most wins in the IPL. In 2018, CSK joined MI to become the 2nd Team to win the IPL thrice. Dhoni, along with Rayudu and Shane Watson helped the batting unit of CSK to accelerate. In the bowling department, Dwayne Bravo spearheaded the show for CSK.
2019 IPL Winner – Mumbai Indians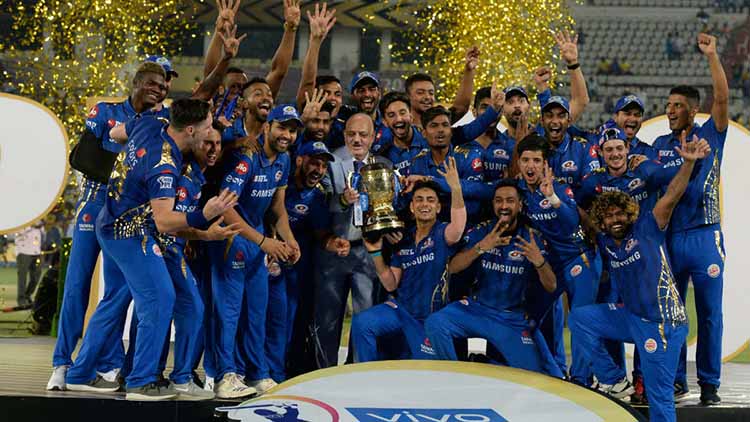 Mumbai Indians edged CSK by just 1 win to win its record 4th IPL title. In the process, it became the only Team in the IPL history to have won IPL for 4 times. It was also Mumbai Indian's second IPL Trophy that it managed to win by a single run. It was the brilliance of Lasith Malinga who outsmarted Shardul Thakur's attempt to take one run and take CSK to the Super Over. 
IPL Winners List – Table
To give you more insight on IPL winners history, here is a tabular view of the IPL Winners List.
| | | | | | |
| --- | --- | --- | --- | --- | --- |
| Year | Winner | Runner Up | Venue | Player of the Match | Player of the Series |
| 2019 | Mumbai Indians | Chennai Super Kings | Hyderabad | Jasprit Bumrah | Andre Russell |
| 2018 | Chennai Super Kings | Sunrisers Hyderabad | Mumbai | Shane Watson | Sunil Narine |
| 2017 | Mumbai Indians | Rising Pune Supergiants | Hyderabad | Krunal Pandya | Ben Stokes |
| 2016 | Sunrisers Hyderabad | Royal Challengers Bangalore | Bangalore | Ben Cutting | Virat Kohli |
| 2015 | Mumbai Indians | Chennai Super Kings | Kolkata | Rohit Sharma | Andre Russell |
| 2014 | Kolkata Knight Riders | Kings XI Punjab | Bangalore | Manish Pandey | Glenn Maxwell |
| 2013 | Mumbai Indians | Chennai Super Kings | Kolkata | Kieron Pollard | Shane Watson |
| 2012 | Kolkata Knight Riders | Chennai Super Kings | Chennai | Manvinder Bisla | Sunil Narine |
| 2011 | Chennai Super Kings | Royal Challengers Bangalore | Chennai | Murali Vijay | Chris Gayle |
| 2010 | Chennai Super Kings | Mumbai Indians | Mumbai | Suresh Raina | Sachin Tendulkar |
| 2009 | Deccan Chargers | Royal Challengers Bangalore | Johhanesburg | Anil Kumble | Adam Gilchrist |
| 2008 | Rajasthan Royals | Chennai Super Kings | Mumbai | Yusuf Pathan | Shane Watson |