India clinched a nail-biting victory against England on day five at Lord's, which has created big chaos on social media, and everyone is wondering, "How did India pull off an emphatic win despite odds against them?". Heading into the final day, England was in the driver's seat and was heading towards victory.
India started the day at 181-6 with a modest lead of 154 runs. England struck first blood and took the crucial wicket of Rishabh Pant, and within five overs, they dismissed Ishant as well. India was in danger of another collapse like WTC 2021.
Barmy Army was on song, Indian crowds were silent, and even commentators favored England, but Mohammad Shami and Jasprit Bumrah had other ideas this time around. What happened in the rest of 1st session was historic and ecstatic. This time Mohammad Shami was not slogging blindly, in fact, they both were testing the bowler's patience like an elite top-order batsman.
England dig their own grave in the 2nd Test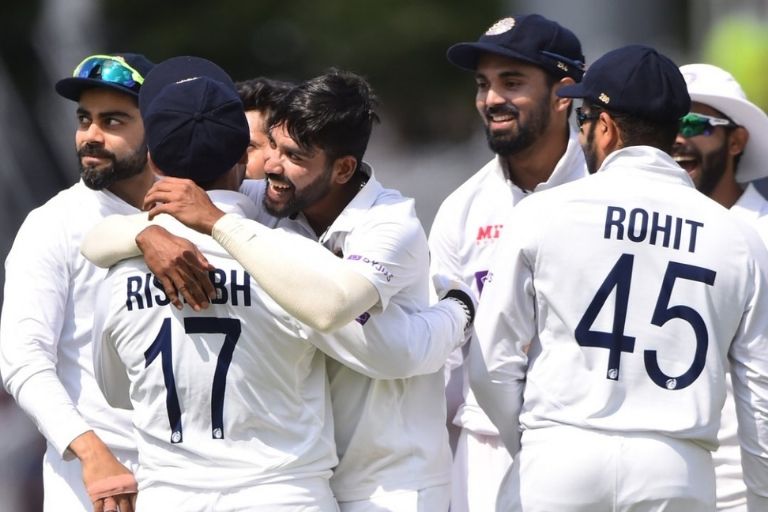 The most surprising thing apart from Shami and Bumrah's batting was English bowlers' revenge-ridden bowling. Instead of looking to get them out caught behind or LBW, the bowlers were trying to scare them and bowl nasty bouncers at them.
Mohammad Shami and Jasprit Bumrah stood like a wall against all barrage thrown at them by English bowlers. They were hit on the head many times, but it only gave them more courage and frustrated the English team and their crowd.
At lunch, India was 286-8 with a mammoth lead of 256 runs on the 5th-day wicket of Lord's, so indeed England's chance of winning was gone, and most likely the result was a draw.
India declared after playing a couple of overs in 2nd session and not even in a dream anyone could've thought that England would be bundled out in the next 52 overs, and India would snatch victory from the jaws of defeat.
Starting the 2nd innings of England, Indian bowlers looked in revenge mode and sent both openers for a duck in the very first two overs only. Then the bowlers charged and crushed the whole English batting lineup with their fierce bowling.
India victory not only surprised the whole world but raised severe questions on Joe Root's captaincy ability as in the morning, the revenge-ridden bowling was the main reason behind England's humiliation at Mecca of Cricket.
The whole story of revenge started two days prior to the final day. In the closing minutes of day 3, James Anderson was batting, and Indian speedster Jasprit Bumrah bowled some fierce bouncers at him, which struck him in the helmet. The same story continued in the next over as Anderson suffered more blows to his body.
Bumrah bowled four no-balls in that spell which was booed by the English crowd, and when Anderson got out, a heated exchange between the Indian team and Anderson sparked controversy.
Even people from outside reacted to this heated exchange, and Stuart Broad, who was part of the first test match, Tweeted with angry emoji. He wrote, "Yeah, I'm looking forward to today's Test Match cricket at Lord's," along with an angry emoji.
Surely English fans and experts are silent now after humiliation on the final day. After being dominant, England easily let India come back into the match and even snatched victory from their hands.
This loss has created a major outrage in English media, and many greats of the game are criticizing Joe Root for his mad revenge-ridden tactics. Even English Great Geoff Boycott didn't shy away from criticizing Root and labeled him as "stupid."
"If you are stupid you do not deserve to win Test matches," Geoff Boycott wrote in the Telegraph.
"Joe (Root) had been doing well with his field placings and captaincy but seeing Jasprit Bumrah at the crease was like a red rag to a bull.
"Tempers were frayed. Heated words were exchanged as England seemed more intent on hitting Bumrah and Mohammad Shami instead of getting them out."
In the post-match ceremony, Joe Root took the blame for this heartening loss and praised Shami and Bumrah for their heroics with the bat.
"A lot on my shoulders, as captain you take responsibility, tactically we could have done things differently – we went from a position where we could win to being behind," Joe Root said in the presentation ceremony after the match.
"More than anything we got a few things wrong. Credit to them (Shami and Bumrah), they played well for that partnership. But I'd do things differently."