The Summer Transfer Window of 2021 would go down as one of the biggest ones in football history. It would probably be known as the one where PSG went crazy and made themselves a SuperTeam. To see something which somewhat resembles this transfer window for PSG, we would have to go all the way back to 2009 when Real Madrid went all in and signed many Galacticos at the club which was highlighted by the signings of former Ballon d'Or winners Cristiano Ronaldo and Ricardo Kaka.
PSG's transfer window was second to none as the club first snapped up Achraf Hakimi from Inter Milan and then went on a free transfer spree, signing Georginio Wijnaldum from Liverpool, Gianluigi Donarumma from AC Milan, Sergio Ramos from Real Madrid and to highlight it all signing Lionel Messi from FC Barcelona. Signing up a captain from one of the biggest clubs of Europe is an achievement in itself, but PSG interestingly took both the Captains of Real Madrid and FC Barcelona in the same transfer window.
Lionel Messi, the highlight of the summer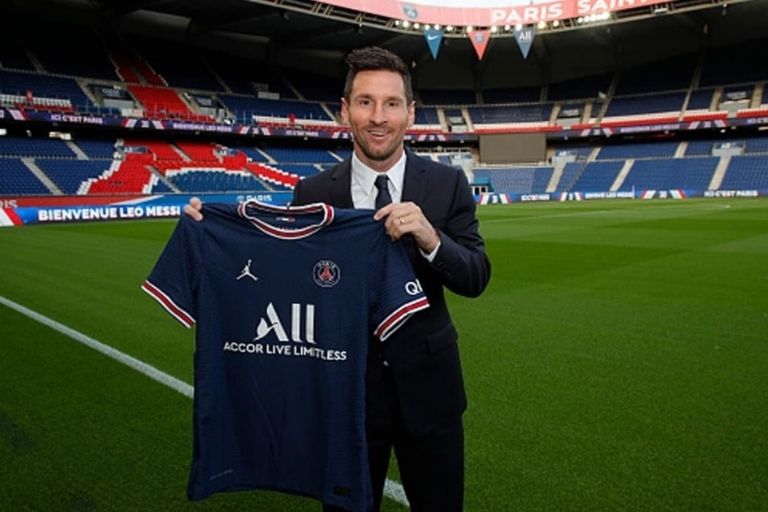 The summer of 2021, would always be remembered to have belonged to Lionel Messi. First, the Argentine superstar finally managed to win an International trophy by leading Argentina to the Copa America trophy. Then, he would shockingly go on to leave his boyhood club FC Barcelona and sign up for Paris Saint Germain.
Lionel Messi's wages are set to be around €35 million per year including the bonuses. Messi was unveiled as an official Paris Saint Germain player on the 10th of June and was presented to the fans a day later at the Parc des princes. The Argentine interestingly would choose the number 30 kit for PSG, as the number 10 was being worn by his close friend and Brazilian footballer Neymar. It is said that Neymar offered the number 10 to Lionel Messi but the footballing icon did not accept it and chose the number 30 instead.
The number 30 is not new to Lionel Messi as he made his FC Barcelona debut with that kit number before transitioning to the iconic number 10 that he wore in his career.
Messi's Jersey is a fan favorite
Lionel Messi's jersey has become a prized possession among PSG fans. Messi is one of the icons of world football and one of the two "GOATs" in this generation. Parisians have made note of this fact and have lined up since the day Leo Messi signed to get their hands on the official replica Jersey from the PSG stores.
PSG make an insane amount of revenue
Paris Saint Germain has reportedly made insane amounts of revenue with the jersey sales since signing Lionel Messi.
It was reported that the club shop had sold 150,000 jerseys online in less than 7 minutes since the announcement and had run out of stocks in their online portal.
Parisians stood in the queue for long hours outside the official PSG store, even before the announcement was made to be one of the first to get their hands on a Lionel Messi #30 kit.
It is believed that in the first 24 hours alone Paris Saint Germain sold 832,000 Messi jerseys alone. This would amount to an insane $105 Million revenue of jersey sales alone. Of this, the club would have gotten about 10% of the total revenue which would account for about $10.5 Million in bonus of revenue for the club on day 1 itself.
Will the shirt revenue pay Lionel Messi's Wage?
Many people believe that the shirt revenues alone would be enough to cover Lionel Messi's wage, but that would not be the case. It was reported that Lionel Messi sold 800,000+ jerseys in the first day alone but there is no way to verify this. Also, even if PSG sold that much the club would have only got back something around the $10 million marks which would be less than one-third of Lionel Messi's yearly wage. Also, the initial hype would have died down in a week or so and then the numbers would return to normal.
Ideally, even if PSG makes around the $20million mark from the jersey sales of Lionel Messi, it would still be short of the Argentine's wages. Nevertheless, this would be a very welcome income for the club that has made a lot of big money transfers this summer.
Only Ronaldo's shirt revenue somewhat matches that of Messi:
Just like Messi's transfer to PSG, his arch-rival Ronaldo's arrival to Juventus from Real Madrid in 2018 made similar headlines. It was reported that the Portuguese Superstar had sold more than 550,000 Juventus kits with his name in less than 24 hours.
Again, these were just reported numbers and both Messi and Ronaldo's jersey sales were not verified by their clubs.
Check Net Worth of These Players