| | |
| --- | --- |
| Net Worth | $10 Million |
| Born | March 14, 1997 |
| Age | 24 |
| Country of Origin | The United States of America |
| Source of Wealth | Artistic Gymnast |
| Last Updated | 2021 |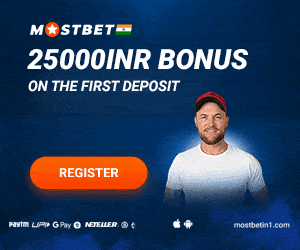 Simone Biles is an Artistic Gymnast from America who has been part of the elite "Final Five" United States team of Gymnasts. Considered as one of the greatest gymnasts of all times, Biles has a combined total of 32 Olympics and World Championship medals in her tally. With a total of seven Olympics Medals won so for Biles ties with Shannon Miller for the most Olympics medals won by an American Gymnast.

At the 2016 Rio Olympics, Biles became the first female US Gymnast to win four gold medals in a single game. She started her gymnastics journey at the early age of six. During a day-care field trip to a gym, she started imitating older gymnasts practicing and was offered to take regular gymnastic classes. She remained associated with Bannon Gymnastix in Houston for 11 years under her coach Aimee Boorman where she enhanced her gymnastic skills following rigorous training.
Becoming the four-time Olympic champion at a young age Biles set a remarkable example of talent and inspiration for all the aspiring girls in the sports world and she also told Health in 2021 "Representation matters, and we want to inspire the next generation to pursue their passion,". Hence today here we"ll discuss the net worth, glamorous career, brand endorsements, properties, and personal life of Simone Biles.

Simone Biles Net Worth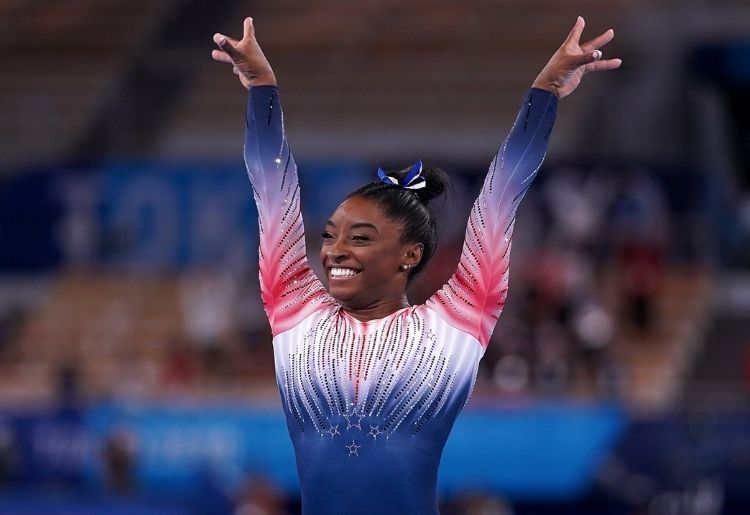 Simone Biles' Net worth is estimated to be around $10 Million. This is a collective of her earnings from her gymnastics career and plenty of brands that she is endorsing.

Simone earned very little money from her Olympic medals but a majority of her earnings come from plenty of endorsement deals under her belt.
Simone Biles Salary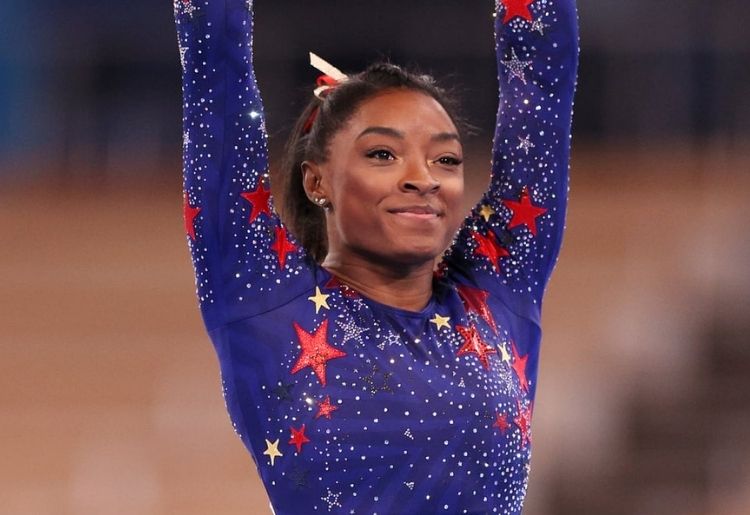 At the Rio Olympics 2016, Biles won four gold and a bronze medal alongside a cash prize for every Olympic Medal. Where the winning amount of each medal is- Gold: $25,000, Silver: $15,000, and bronze: $10,000. So she aprroximately gained around $110,000 in that event.
Overall she has won around 19 Olympic Medals and accumulated hefty cash prizes accompanying it.
She had already earned around $2 Million in World Championships and other tournaments before she even stepped into the Olympics.
Her estimated salary is around $316,000 per year.
Simone Biles Endorsements
Biles instantly became a famous media personality after her inspiring success story got recognized. She was approached by plenty of brands to get associated with.
"I'm very picky about the brands I work with, Instead of just creating a product, they have to connect with a wider community and have an impact," she told Health in 2019.
Biles has been successfully associated with a wide range of endorsements throughout the years. Here is a list below of all the brands that are under the belt of Biles:
Tide
Beats by Dre
Uber Eats
Nike
Kellogs
Procter & Gamble
United Airlimes
Matress Firm Inc.
Hershey
GK Elite Sportwear
Athleta
Candid Dental
Spieth America
Candid
Simone Biles Career Stats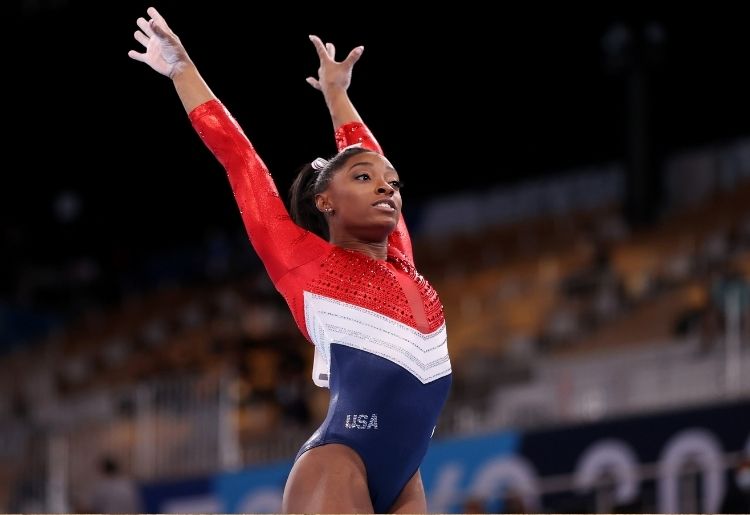 Junior
U.S Classic, Houston 2011
U.S Classic, 2012

Senior
AT&T American Cup, 2013 – 2nd place
City of Jesolo Trophy- Gold(Team)
USA Gymnastics National Championship- Silver
World Artistic Gymnastics Championships, Belgium – first American gymnast to qualify to the all-around and all four event finals since Shannon Miller in 1991.

U.S Classic,Chicago 2014
1st- Vault and Floor exercise
1st- All Around
AT&T American Cup, Texas 2015 – 1st place
City of Jesolo Trophy, 2015
1st- All Around
U.S Classic, 2015 – 1st
Team USA Athlete of the Year, 2015
2016 Rio Olympic Games
Team- Gold
All-Around- Gold
Vault – Gold
Floor Exercise-Gold
Balance Beam -Bronze
World Championships, 2018
Gold- Team, Individual All Around, Vault and Floor Exercise
Silver- Uneven bars
Bronze- Balance Beam
First U.S. gymnast to win a medal on every event at a single World Championships.
Stuttgart World Cup, 2019 – 1st
US World Championship, 2019
1st- All-Around
First gymnast to earn five gold medals at a single World Championship since 1958.
FIG World Cup,2019
All Around- Gold
First person to complete a Yurchenko double pike vault at the U.S. Classic,2021 winning another all-around title.

2021 Tokyo Olympics
Balance Beam- Bronze
Team All Around- Silver
Simone Biles Personal Info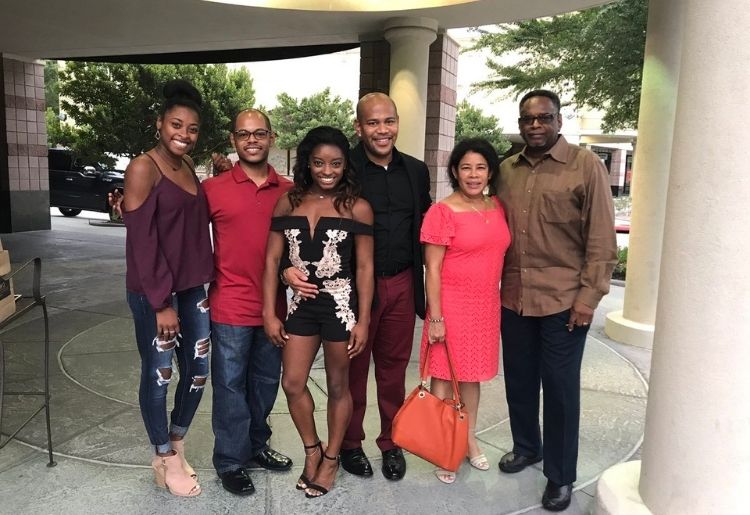 Full Name
Simone Arianne Biles
Date of Birth
March 14, 1997
Age
24
Place of Birth
Columbus, Ohio, USA
Nickname
Simony
Nationality
American
Ethnicity
African American
Religion
Catholic
Height

4ft 8in
Weight
47kg
Education
University of People
Father's Name
Kelvin Biles
Mother's Name
Shanon Biles
Siblings
Ashle Biles (sister)
Tevin Biles (brother)
Adira Biles (sister)
Hair Color
Black
Eye Color
Dark Brown
Boyfriend
Jonathan Owens
Social Media
Instagram, Twitter, Official Website
Simone Biles House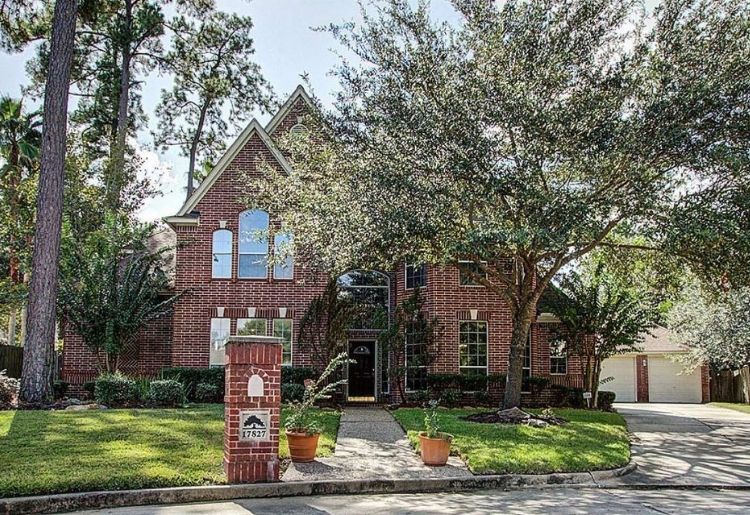 Achieving fame after all the hard work and dedication The Olympian still humbly with her family. She owns a 4000 sq ft mansion in North of Houston which Simone purchased back in 2019. It is an ultra-modern property with a Tuscon Courtyard, a pool, a patio, and a spacious backyard.
Simone Biles Family
Simone was born in Columbus, Ohio where her parents struggled with alcoholism and drug addiction. Her biological father abandoned her family and her mother Shannon was unable to take care of Simone and her siblings. Her grandfather, Ron Biles came to her rescue after adopting the 3-year old Simone and her sister Adria from foster care. Her grandfather Ron Biles is an air force veteran and an air traffic controller.
Ron's second wife Nellie who was a nurse and owned some Nursing homes in Houston, Texas served as a mother to Simone and her sister Adria. Ron and Nellie altogether gave them a nurturing environment and a good upbringing in Spring, Texas area of Houston.
Simone was always an active child with her natural strength and high energy. On a daycare field trip to a gym, the six-year-old started imitating older girls practicing gymnastics and successfully implemented the feats of girls in their teens. After seeing this the coach wrote a note to the family suggesting them to send Simone to take regular gymnastic classes. She started her training with coach Aimee Boorman at Bannon Gymnastix in Houston and went on to become the greatest gymnast of all time breaking records.

Simone Biles Affairs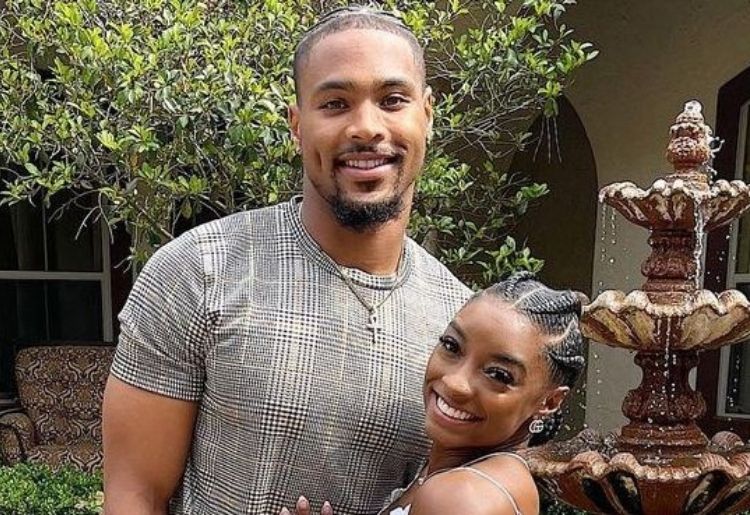 Biles was in a relationship with a fellow gymnast Stacey Ervin Jr since 2017.
After dating for almost three years the couple decided to end their relationship in March 2020 as things were not working out well between them.
She confirmed her breakup talking to The Vogue in July saying "IT'S HARD BEING YOUNG AND HAVING THAT LONG OF A RELATIONSHIP AND THEN ENDING IT. BUT IT WAS FOR THE BEST."
Currently, Simones is dating NFL player Jonathan Owens who is a safety for Houston Texans and was a former player for Arizona Cardinals.
She made her relationship with Owens public via her Instagram handle on August 2, 2020 and the couple has been posting pictures together ever since then.
Simone Biles Contoversy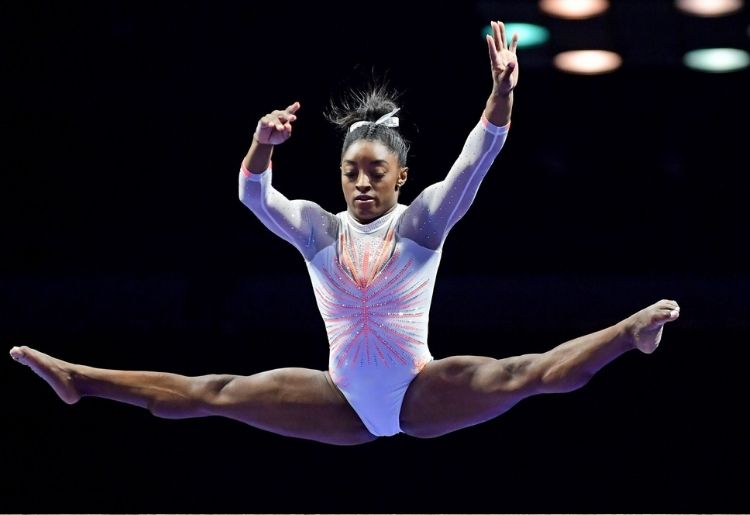 On January 18, 2018, Biles released a statement on Twitter confirming the accusations on her former USA Gymnastics physician, Larry Nassar of sexually assaulting her.
Three other teamates supported her while her Olympics "Final Five" teammate Gabby Douglas also confirmed the sexual assault on herself as well.
She also blamed the USA Gymnasting association for having their role of allowing the abuse to occur and covering the whole thing up.
She did not attend the further court hearings commenting she "wasn't emotionally ready to face Larry Nassar again"
All the survivors of the sexual abuse received Arthur Ashe Courage Award in May, 2018
Simone Biles Unknown Facts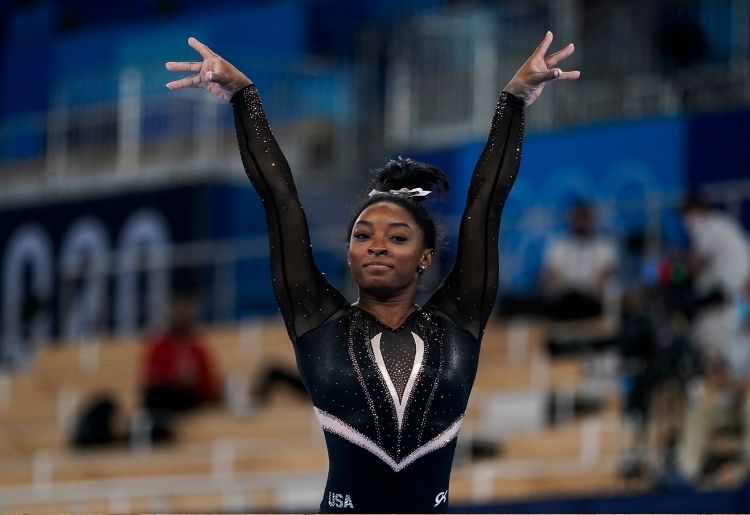 Biles introduced a new skill at the World Championship,2013 which has entered the repertoire of gymnastics and is known by her name as the "BILES"
After the 2016 Rio Olympic games it was disclosed that Biles had treated positive for Ritalin. Later Biles freely admitted that she has long taken Ritalin as a therapeutic exemption allowed from the Olympics Committee as due to her experience with ADHD. This gave encouragement to many young people in the similar situation.
She competed in Dancing with the Stars season 24 finishing fourth place.
Simone is an avid dog lover and has an instagram account dedicated to her two French Bulldogs, Lilo and Rambo where they actively post photos of the duo.
After her successful run at the Rio Olympics Simone alongside journalist Michelle Burford wrote an autobiography "Courage to Soar: A Body in Motion, A Life in Balance" in 2017. Her book became an instant hit and was on the bestsellers in the New York Times Young Adult List.
Simone Biles FAQ
Q. What is Simone Biles's height?
4ft 8in
Q. Who is Simone Biles Boyfriend?
Jonathan Owens
Q. How much is Simon Biles New Worth
$10 Million
Q. Where is Simone Biles from?
Texas, USA
Q. What is Simon Biles famous for?
Artistic Gymnastics
Q. Is Simone Biles Retired?
No, she hasn't decided to retire yet.
Read More:-