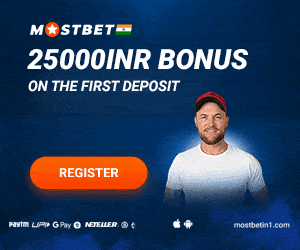 Dennis Rodman is a man with many lives. He has seen the world from the highest peak and even faced days where there was no light at the end of the tunnel. Dennis is a former American basketball player who was one of the best power forward players of the 80s, 90s era. Dennis is known for his defensive abilities but his life is full of ups and downs.

Rodman was born to Shirley and Philander Rodman and his father Philander fought the infamous Vietnam war. His father left him at a very young age and he was the eldest of his 47 siblings. His mother had to work 4-5 times a day to earn a livelihood. Rodman grew up with his two sisters, Debra and Kim in Oak Cliff.
He revealed in his autobiography that his mother used to trust his sister more than him as she believed that they were talented to change their family's fortune. Until high school, he used to play basketball but never considered it a profession as he was just 5'6 and couldn't make the high school team.

The main turnaround came in Dennis's life after he started working as a janitor at Dallas airport and his height shot up from 5'11 to 6'7. Dennis then decided to move back to basketball in college and this time, he was very serious about it as he didn't have any other option. Dennis started playing for Cooke County College and one of his friends helped him to get admission.
He performed well with his team in local tournaments which helped him to get into Portsmouth Invitational Tournament which is a pre NBA draft tournament where Detroit Pistons identified his talent and picked him in the NBA 1986 draft.
Dennis is a man with many lives and after succeeding in Basketball, he even tried his hands in acting, wrestling but controversies never left his shadow. He was addicted to alcohol and drugs which landed him many controversies. It was one of the main reasons behind his downfall as he lost almost all of his money due to his addictions.
Dennis Rodman Net Worth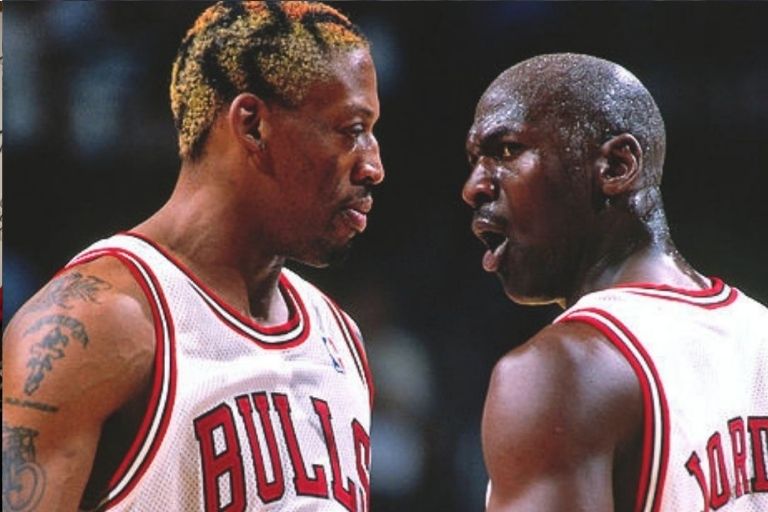 Dennis Rodman was once one of the highest earners in the NBA and even earned an estimated $43 million throughout his career but his current net worth is just $500,000. He has been a controversial figure despite earning so much throughout his basketball career, he lost all of that due to his alcohol and drugs addiction.
Dennis Rodman Net Worth overview

| | |
| --- | --- |
| Name | Dennis Rodman |
| Net Worth | $500,000 |
| Earning per Year | Not Determined |
| Profession | Ex-Basketball Player, Politician, Pro Wrestler |
| Year Active | 1986 |
Let's now go into details of Dennis Rodman's net worth.
Dennis Rodman's Source of Income
NBA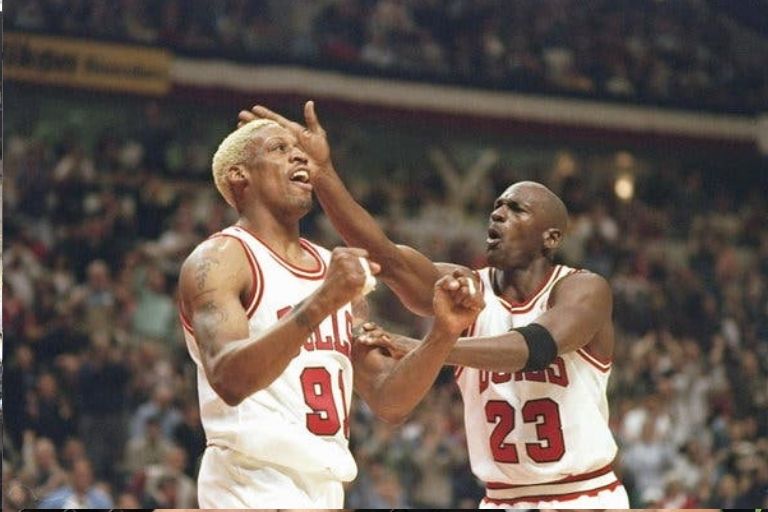 Dennis started his NBA career with the Detroit Pistons and played 7 seasons for them. He even won the championship with the Pistons in the 1989 and 1990 seasons. It was the same phase where he established himself as one of the best in the league. He then moved to San Antonio Spurs but it was not a successful spell for him.
He was then traded to Chicago Bulls where he won a record three consecutive championships from 1996 to 1998. Although he struggled with disciplinary issues and eventually was traded to Los Angeles Lakers where he only played one season.
1999-2000 was his final season in the NBA league and he featured for his hometown club Dallas Mavericks. He took a break from basketball after 2000 and tried hands in various things.
| | |
| --- | --- |
| Year | Salary ($) |
| 1990/91 | 880,000 |
| 1991/92 | 1 Million |
| 1992/93 | 2.3 Million |
| 1993/94 | 2.4 Million |
| 1994/95 | 2.5 Million |
| 1995/96 | 2.5 Million |
| 1996/97 | 9 Million |
| 1997/98 | 4.5 Million |
| 1998/99 | 1 Million |
Professional Wrestling
Dennis tried his hand in Professional wrestling between 1997 to 1999. He was a hardcore WWE/WWF fan but featured for WCW because Hulk Hogan was his good friend and he was wrestling in WCW at that time. Rodman was also part of one of the most iconic wrestling groups nWo. He was a partner of Hulk Hogan and even helped him to win the WCW World Heavyweight Championship. Although he didn't win any championship but had some memorable moments in his short career.
Dennis Rodman's Brand Endorsements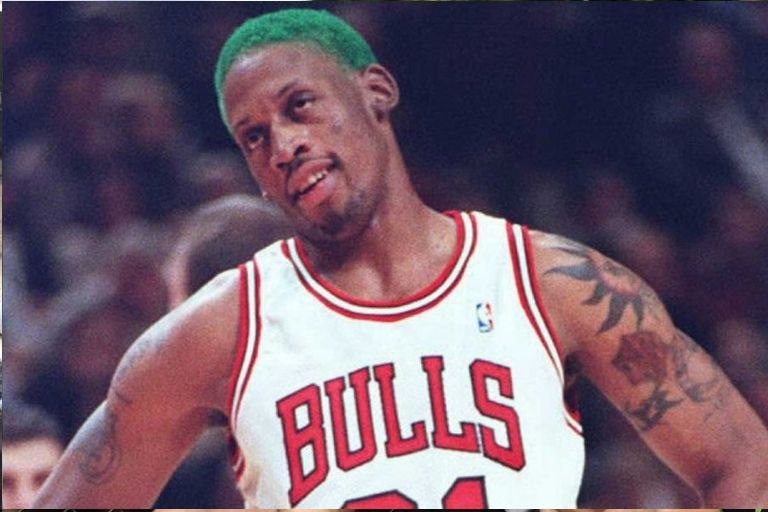 Dennis didn't have a good public image and it was the reason behind his less popularity in the media world. He was involved in drug addiction which made his public image even worse. Although he did endorse many big brands like Nike in his peak time, Nike even released some custom range of shoes named after him. Some of his current endorsements are.
WetBet
The Original Bad Ass Premium Vodka
The Worm
Dennis Rodman Social Media Appearance
Dennis Rodman is still very famous among NBA fans because of his extraordinary life. Although, he is not that active on Social Media as he likes to spend his time in peace at this point in life. But he wants to inspire the new generation to not repeat mistakes he made in his life and regularly posts quotes about stress management.
| | |
| --- | --- |
| Social Media Platform | Followers |
| Instagram | 1.9 Million followers |
| Twitter | 459K followers |
| Facebook | 2 Million followers |
Dennis Rodman Cars
Dennis Rodman reportedly was the proud owner of many big luxurious cars during his peak time but he lost all because of his undisciplined life. He still now owns the prestigious Bentley. His car collection is as follows.
| | | |
| --- | --- | --- |
| Brand | Model | Value (USD) |
| Bentley | Bentley Continental Black | $210,000 |
| Bentley | Bentley Continental Gold | $210,000 |
| Ford | Ford Mustang convertible | $32,655 |
Dennis Rodman's Property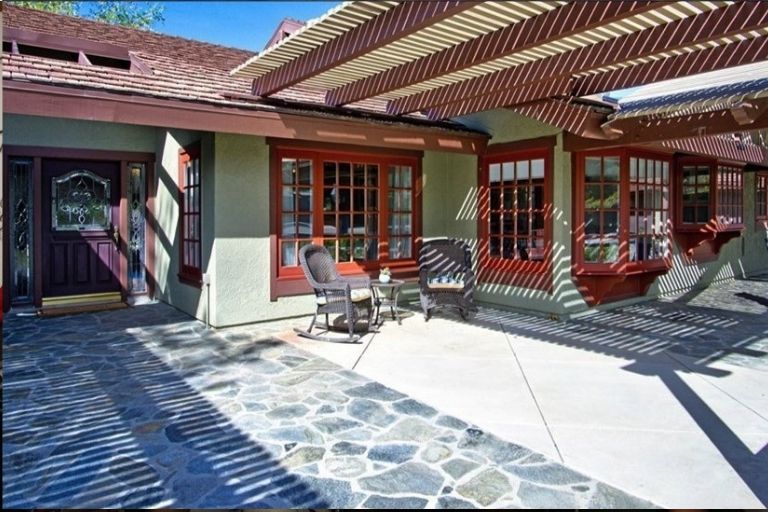 Dennis Rodman lives in Bloomfield Hills. He has been to rehab many times and he revealed in an interview that city life is the one reason behind his addiction and he wants to live in a peaceful place. He lives outside all hectic city life and even spends time in his farms. The value of his house is unknown as he detached from all media.
Personal life and Family life of Dennis Rodman
1. Family and Personal info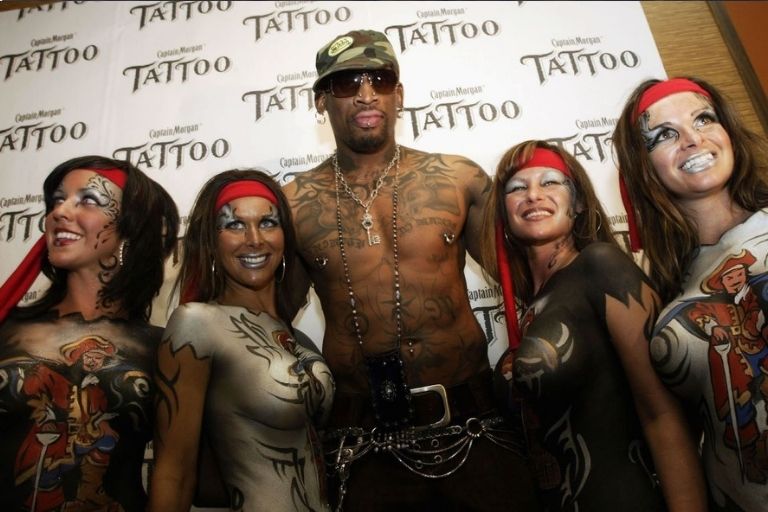 Dennis Rodman was born on 13 May 1961. His father left him at an early age and he used to live with his two sisters and mother. His father had 47 children and Dennis was the eldest according to his father. He never met his father until 2012 after he left them in his childhood. Dennis is really close to his mother and it was his mother who inspired him during his darker phase in life.
| | |
| --- | --- |
| Full name | Dennis Rodman |
| Date of Birth | 13th May 1961 |
| Birth Place | Trenton, New Jersey |
| Father | Philander Rodman |
| Mother | Shirley Rodman |
| Spouse | Michelle Moyer (m. 2003–2012), Carmen Electra (m. 1998–1999), Annie Bakes (m. 1992–1993) |
| Children | Trinity Rodman, Alexis Rodman, DJ Rodman |
| First NBA Pick | In 1986 by Detroit Pistons |
| Position | Power forward / Small forward |
| Height | 6'7 |
| High School | South Oak Cliff |
2. Favourite Things: Hobbies, Friends, etc
| | |
| --- | --- |
| Nickname | Worm, Dennis The Menace |
| Favorite Basketball Player | Phil Jackson |
| Favorite Basketball Team | Detroit Pistons |
| Favorite Game after Basketball | Baseball |
| Favorite Social media platform | Instagram |
| Favorite Color | Red |
| Favorite Car | Bentely |
| Favorite TV Show | Celebrity Apprentice |
| Hobbies | Meditating, Music |
3. Affairs and Marriage
Just like his life, Dennis's personal life is very eventful. He has been married thrice and none of his weddings succeeded. He met his first wife Annie Bakes in 1987 and married her in 1992 but they filed for divorce just after 82 days of marriage because of assault charges made by Bakes. They both had one daughter Alexis Caitlyn who was born in 1988.
He then got married to Electra in 1998 who was an American model. Just after nine days, Dennis filed for a divorce but he reconciled but eventually, they got divorced in 1999. He then met Michelle Moyer who was his partner for the longest period. They got married in 2003 and split up in 2012 because of Rodman's drug abuse and other alcohol issues.
Controversies of Dennis Rodman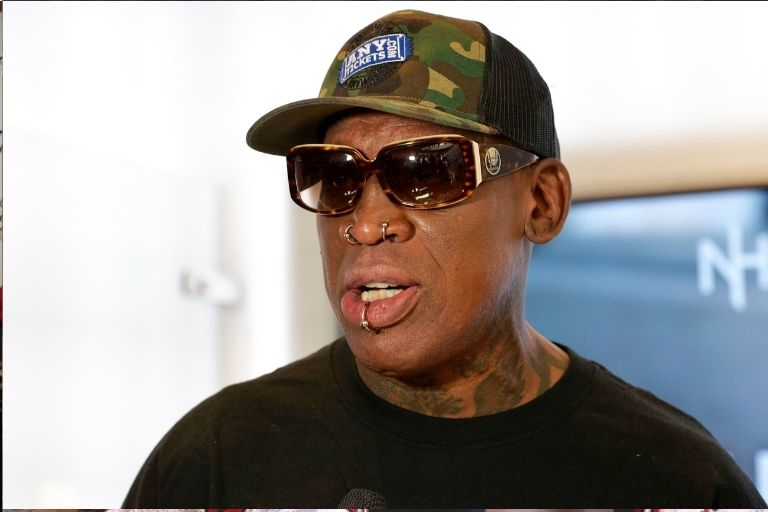 In 1997, he was fined and suspended for kicking photographer during NBA game
In 2000, he was accused by Connie Wilcox for grabbing her breasts without her consent.
In 2000 July, he was sent to alcohol program after being caught guilty for drink and driving
In 2012, he appeared in court for allegedly not paying $800,000 in child support to his ex wife.
In 2016, he was involved in hit and run case
In 2018, he was sent to rehab litigation center after again being caught for possession of Marijuana.
Achievements of Dennis Rodman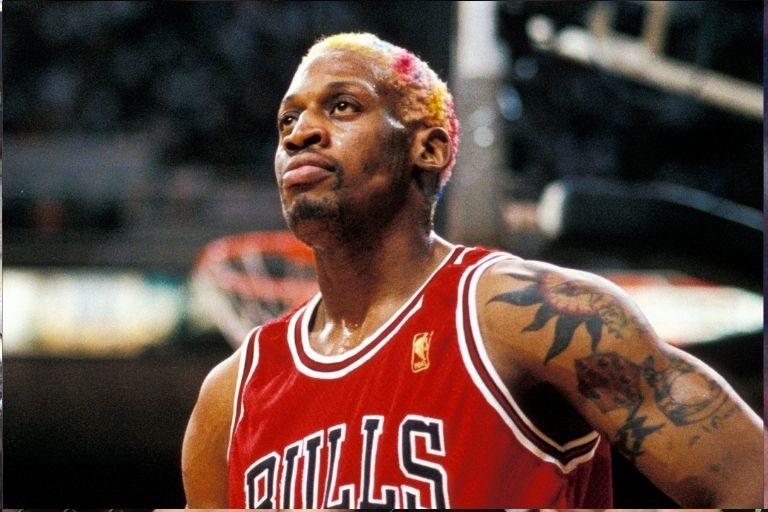 Dennis Rodman has won NBA championship 5 times: 1989, 1990, 1996, 1997, 1998,
He has been awarded NBA Defensive player of the year in 1990 and 1992.
He has been part of the NBA All star teams twice.
Detroit Pistons retired jersey number 10 in honor of Dennis Rodman.
Unknown Facts about Dennis Rodman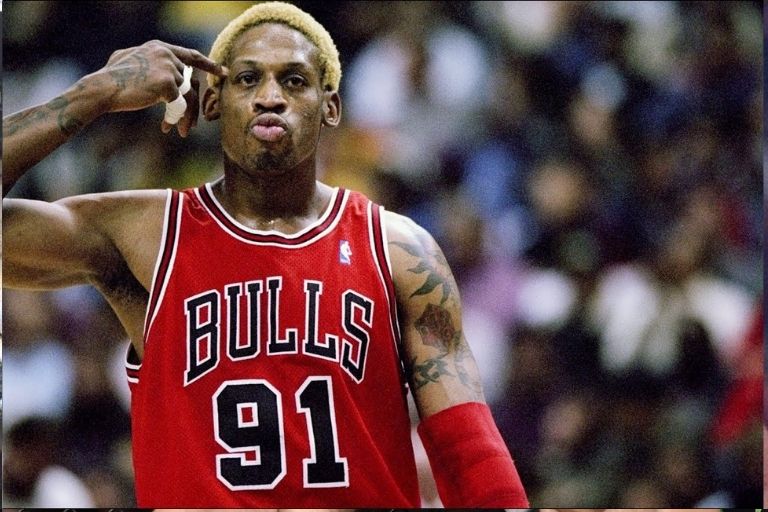 Dennis Rodman reconciled with his father in 2012
"Worm" nickname was given by his mother.
He is good friends with North Korea leader Kim Jong Un.
In 2013, he traveled to North Korea to train North Korea Basketball players.
He was the main key behind Donald Trump and Kim Jong Un's historic meeting at the 2018 Singapore summit.
He owns his own Vodka company.
Dennis Rodman played till 2006 after 1999 exit from the NBA.
Dennis Rodman even played in the Mexican Basketball league.
He is good friends with Hulk Hogan.
FAQs about Dennis Rodman
Q. Dennis Rodman is from which country?
America but he is Afro-American
Q. Is Dennis Rodman married?
No, but has been divorced thrice.
Q. How many NBA titles has Dennis Rodman won?
5
Q. Where does Dennis Rodman currently live?
Bloomfield Hills
Q. Is Dennis Rodman bankrupt?
No.
Q. Is Dennis Rodman still addicted to drugs and alcohol?
No, reportedly he has been clean after going through many rehabilitation.
Q. What is the age of Dennis Rodman?
60
Read More:-