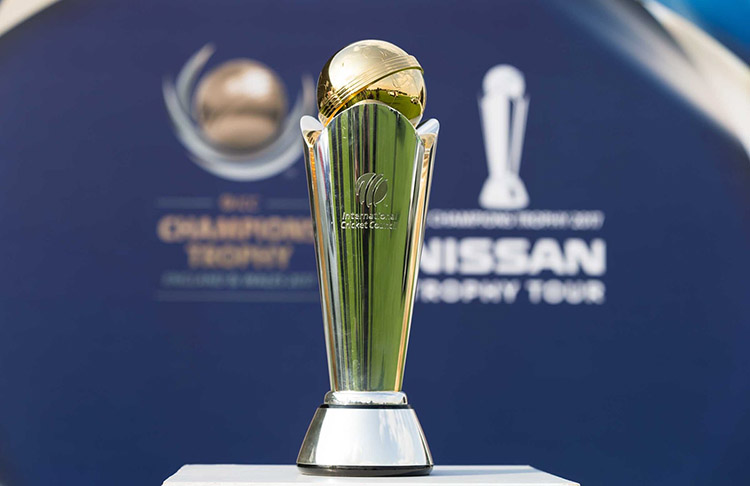 In this "For the Record" article, we are going to take a look at all ICC Champions Trophy Winners since the beginning of this tournament!
The ICC Champions Trophy was the brainchild of the International Cricket Council (ICC). The marquee tournament was staged for the 1st time in 1998 by the world Cricket governing body. It was named as the ICC Knock Out Tournament. But its name was changed to the ICC Champions Trophy in the year 2002.
India, Pakistan, Sri Lanka, Australia, South Africa, New Zealand, England, and West Indies were the major Teams that participated in the event. A few non-Test playing ICC Associate countries also used to feature in it. Some of them were Kenya, Zimbabwe, Bangladesh, the United States, and the Netherlands till 2006.
But only the 8 top Teams were allowed to feature in the ICC Champions Trophy starting 2009.
Chris Gayle, the 'Universe Boss' with 791 runs, is the leading run-scorer. Mahela Jayawardene of Sri Lanka follows him with 742 runs. At the 3rd spot is India's Shikhar Dhawan with 701 runs. With a strike rate of 101.59, Shikhar Dhawan has the highest.
On the other hand, 145* of Nathan Astle (New Zealand) and 145 made by Andy Flower (Zimbabwe) are the highest individual scorer. They achieved the feat Vs United States in 2004 and India in 2002.
Talking about the most successful bowlers in the Tourney, Kyle Mills of New Zealand with 28 wickets is the leading wicket-taker. Lasith Malinga and Muttiah Muralitharan of Sri Lanka follow him with 25 and 24 wickets respectively.
The lowest economy of the ICC Champions Trophy is with Muttiah Muralitharan with 3.60. When it comes to best individual bowling performances, Ferveez Maharoof of Sri Lanka leads the show with an impeccable figure of 6/14.
Josh Hazelwood of Australia with the stats of 6/52 is the next best. Both these bowlers achieved their records while playing against West Indies in 2006 and New Zealand in 2017 edition.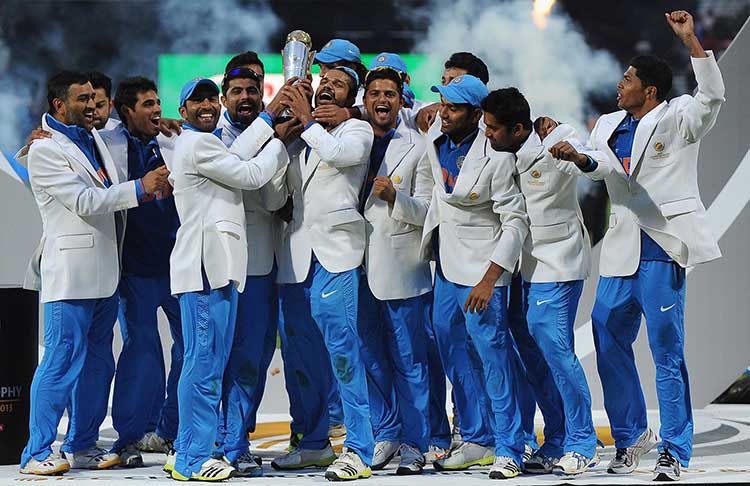 A detailed list of all ICC Champions Trophy Winners
| | | | | | | | |
| --- | --- | --- | --- | --- | --- | --- | --- |
| Year | Host Nation(s) | Winner | Runner-up | Result | Player of Tournament | Highest run scorer | Highest wicket-taker |
| 1998 | Bangladesh | South Africa | West Indies | South Africa won by 4 wickets | Jacques Kallis | Philo Wallace – 221 runs | Jacques Kallis – 8 wickets |
| 2000 | Kenya | New Zealand | India | New Zealand won by 4 wickets | Not awarded | Sourav Ganguly – 348 runs | Venkatesh Prasad – 8 wickets |
| 2002 | Sri Lanka | Sri Lanka and India | None | India and Sri Lanka declared joint winners | Not awarded | Virender Sehwag – 271 runs | Muttiah Muralitharan – 10 wickets |
| 2004 | England | West Indies | England | West Indies won by 2 wickets | Ramnaresh Sarwan | Marcus Trescothick – 261 runs | Andrew Flintoff – 9 wickets |
| 2006 | India | Australia | West Indies | Australia won by 8 wickets | Chris Gayle | Chris Gayle – 474 runs | Jerome Taylor – 13 wickets |
| 2009 | South Africa | Australia | New Zealand | Australia won 6 wickets | Ricky Ponting | Ricky Ponting – 288 runs | Wayne Parnell – 11 wickets |
| 2013 | England and Wales | India | England | India won by 5 runs | Shikhar Dhawan | Shikhar Dhawan – 363 runs | Wayne Parnell – 12 wickets |
| 2017 | England and Wales | Pakistan | India | Pakistan won by 180 runs | Hasan Ali | Shikhar Dhawan – 338 runs | Hasan Ali – 13 wickets |