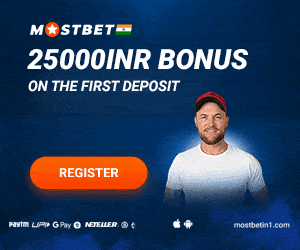 David Warner is one of the most destructive openers of the Modern Era. The Australian southpaw has been making headlines for his extraordinary achievements ever since donning the yellow-green jersey in 2009. David Warner has left a big mark on both Australian and world Cricket but he has been part of many controversies throughout his eventful career. In this article, we will look at his career and achievements off-field.

David Warner is famous for his switch hit shots and he has perfection on that shot but at age of 13, he nearly shifted to right-handed batting. His childhood coach wanted him to switch to right-handed batting as he used to bowl with his right hand and was dominant with his right hand. But it was his mother who insisted Warner continue to be left-handed and eventually he is now the World's best left-handed batsman.
He was a very aggressive batsman from his childhood cricketing days which always set him apart and earned him his first professional contract with his state team at an age of 15. He soon burst into New South Wales's first team in 2006/07 and started as a lower-order big-hitting batsman. Later on, he transformed himself into an opening batsman.

After 2008, Australia was struggling with opening batsmen after the retirement of Adam Gilchrist and Mathew Hayden. They tried grooming many talents like Shaun Marsh, Klinger, Tim Paine but no one succeeded in filling such big boots but David Warner made his international debut in 2009 and instantly left a dominant impact on everyone.
David Warner was initially considered as a T20 player but he worked hard on his longer format skills and by 2012, he became a regular for Australia in all formats. He is now a legend of Australian Cricket but has been very controversial as well. Like in 2018, when he was banned from International Cricket for one year for ball-tampering against South Africa.
David Warner Net Worth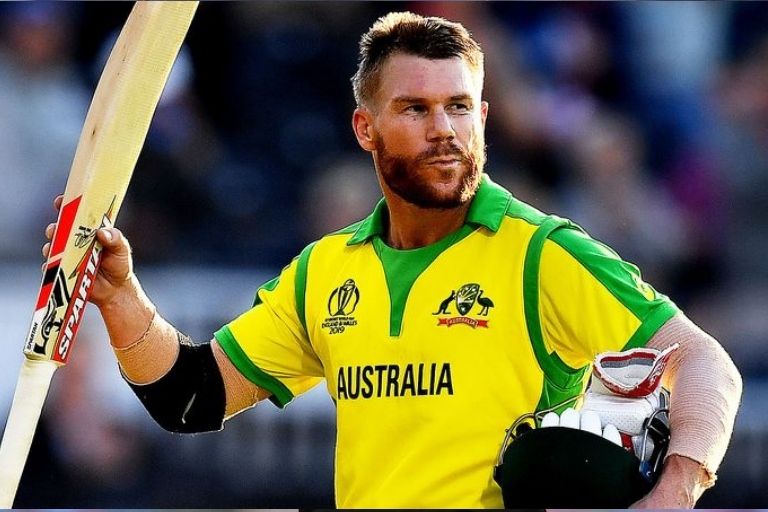 David Warner's net worth is estimated to be around INR 80 Crores. He has matured a lot in the last few years and had a very poor public image back then and even was considered as one of the bad guys of cricket for his bullying nature on the field. His improved nature has both benefited him on and off the field as he enjoyed staggering 40 percent growth in recent years and his source of earnings has been through match fees and contracts.
David Warner Net Worth over the years
| | |
| --- | --- |
| Year | Net Worth (in rupees) |
| 2017 | 40 crore |
| 2018 | 54 crores |
| 2019 | 62 crores |
| 2020 | 70 crores |
| 2021 | 80 crores |
Let's now go into details of David Warner's net worth.
David Warner's Source of Income
IPL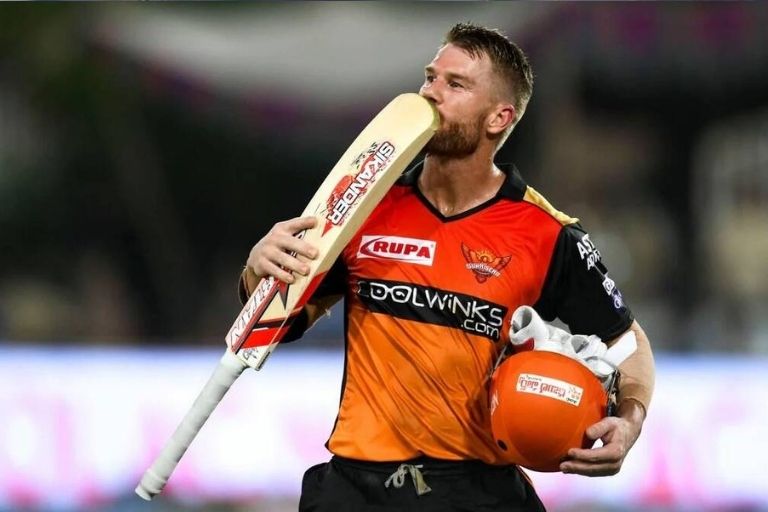 David Warner has till now played for two franchises in the Indian Premier League. He was first picked by Delhi Daredevils in 2009 who bought him for 14 Lakhs after his heroics in KFC Big Bash League 2008 season. He didn't feature much in his inaugural season but his breakthrough season came in 2010 when he scored his first century in IPL.

In 2011 Mega Auctions, again Delhi Daredevils trusted him and snapped him for a big 3.4 crores price. He played till 2013, for the Delhi franchise and provided some magical moments but Delhi decided against retaining him in 2014. Till 2014, David Warner emerged as one of the most destructive batsmen and Sunrisers Hyderabad picked him for 5.5 crores.
Soon after one season, he became captain of the Sunrisers team and even led them to their maiden title in the 2016 season. From a personal point of view also, he enjoyed big success and has won a record 3 orange caps with them. The relationship between him and Sunrisers Hyderabad has been sour recently and he is likely not to be retained for Auctions after mid-season removal from captainship and playing XI.
| | |
| --- | --- |
| Year | Salary (in rupees) |
| 2009 | 14 Lakhs |
| 2010 | 13 Lakhs |
| 2011 | 3.4 crores |
| 2012 | 3.7 crores |
| 2013 | 3.9 crores |
| 2014 | 5.5 crores |
| 2015 | 5.5 crores |
| 2016 | 5.5 crores |
| 2017 | 5.5 crores |
| 2018 (Suspended) | 0 |
| 2019 | 12.5 |
| 2020 | 12.5 crores |
| 2021 | 12.5 crores |
Cricket Australia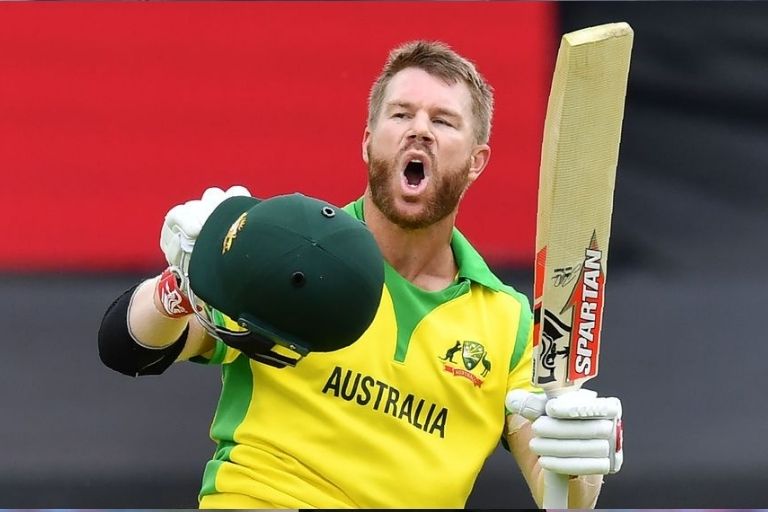 David Warner is a core member of the Australian team in all formats and even was Australia's vice-captain before the 2018 saga. He is paid around INR 2.5 crores per year as a retainers fee. And Pay structure of Cricket Australia is as follows.
| | |
| --- | --- |
| Format | Match Fees (INR) |
| Test | 14 Lakhs |
| ODI | 10 Lakhs |
| T20I | 7 Lakhs |
David Warner's Brand Endorsements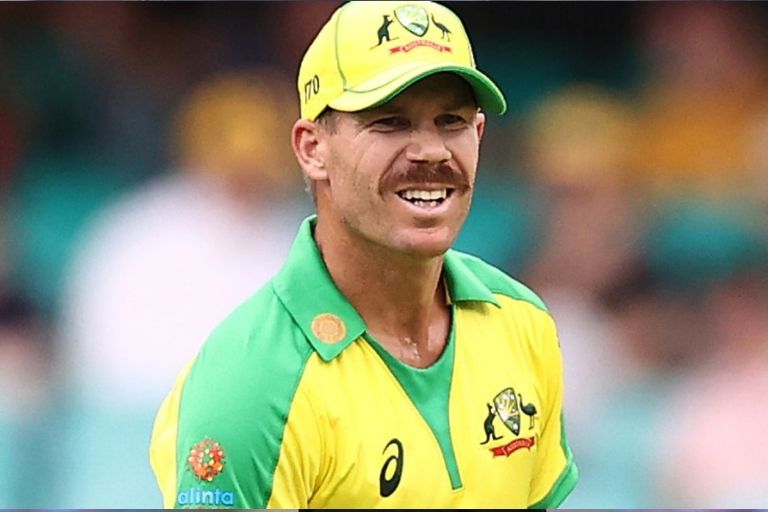 David Warner had a big bad boy image during his initial days in International cricket which might have cost him some deals in the media world. He is a big cricketing figure now and endorses many big brands. Apart from cricket, brand endorsements are his main source of income.
David Warner Social Media Appearance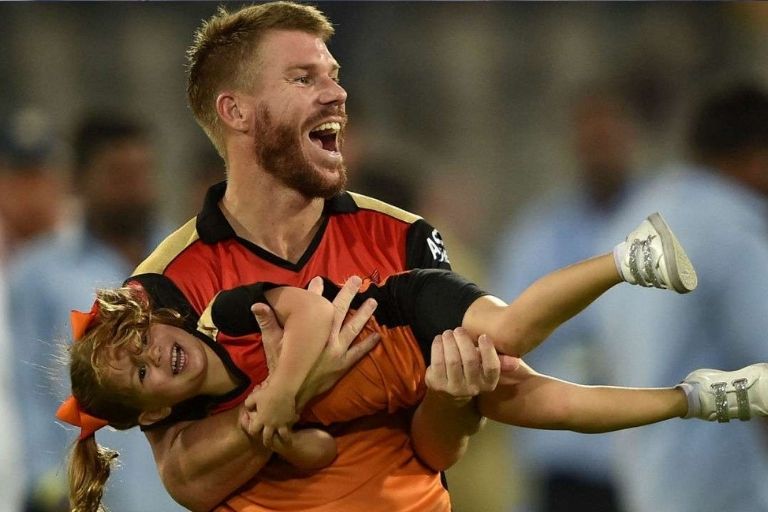 David Warner is a big fan of Bollywood and is very active on Instagram regarding this. He often posts his dubbed videos of Indian movies. He is also a fan of Indian culture and follows almost everything which happens in India. Warner also does various Q&A sessions regularly to stay in touch with his fans.
| | |
| --- | --- |
| Social Media Platform | Followers |
| Instagram | 6.8 million followers |
| Twitter | 2.4 million followers |
| Facebook | 7.55 million followers |
David Warner Cars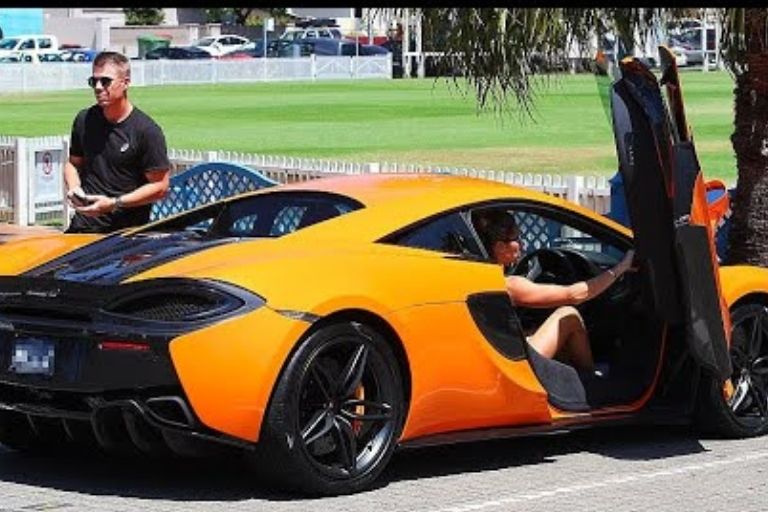 David Warner is known for his fiery batting and there is no surprise behind his luxurious car collection. He is a big fan of fast-end cars and likes to go on long drives in New South Wales with his family during his off-time from cricket.
| | | |
| --- | --- | --- |
| Brand | Model | Value (INR) |
| Lamborghini | Lamborghini Huracan | 4.20 crores + |
| Audi | Unknown | Unknown |
David Warner's Property
David Warner lives in New South Wales with his family. His luxurious mansion is estimated to be up to 18 crores in Indian rupees. On his youtube channel, he has given a short tour of his house which includes a small home gym, pool, and beautiful garden. Warner also owns a penthouse near one of the seashores of New South Wales.
Personal life and Family life of David Warner
1. Family and Personal info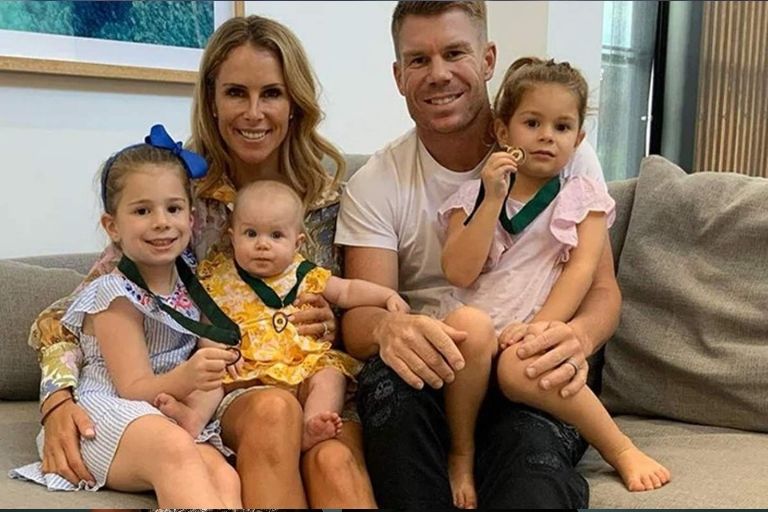 David Warner was born in Paddington, Sydney, on 27th October 1986. He is usually seen as an aggressive player on a cricket field but is a fun-loving character off-field. He is very close to his family and his father has been the biggest pillar behind his cricketing dark days. He once revealed in an interview that during his 2018 ban phase, it was his family who kept motivating him to make a comeback in cricket as Warner was unsure about continuing his career after the ban.
| | |
| --- | --- |
| Full name | David Andrew Warner |
| Date of Birth | 27th October 1986 |
| Birth Place | Paddington, Sydney |
| Father | Howard Warner |
| Mother | Lorraine Warner |
| Wife | Candice Warner |
| Siblings | Steven Warner |
| Daughters | Ivy-Mae, Indi-Rae and Isla Rose |
| Domestic Cricket debut | 2006/07 for New South Wales |
| IPL Debut | 02 May 2009 v CSK |
| TEST Debut | 1 December 2011 v New Zealand |
| ODI Debut | 18 January 2009 v South Africa |
| T20I Debut | 11 January 2009 v South Africa |
2. Favourite Things: Hobbies, Friends, etc
| | |
| --- | --- |
| Best Friend | Aaron Finch |
| Nickname | Buull, Davey |
| Favorite Social media platform | Instagram |
| Favorite food | Chicken Sandwich |
| Favorite Actress | Jennifer Aniston |
| Favorite Actor | Dominic Purcell |
| Favorite Show | Prison Break |
| Favorite Cricketer | Ricky Ponting |
| Favorite Sportsperson | Roger Federer |
| Favorite Game after Cricket | Golf |
| Hobbies | Rugby |
| Favorite Stadium | SCG |
| Favorite Shot | Pull shot |
Affairs and Marriage
David Warner is married to Candice Warner who herself is a big personality in Australia. Candice is a retired professional ironwoman and surf lifesaver. She also has been part of many adventurous reality shows like SAS Australia: Who Dares Wins. David Warner met Candice at a party and at that time Warner was dating someone but instantly liked Candice at first sight. Although Candice thought Warner was a very rude person because of his Public image, she, later on, found out that he is a good guy and started dating. They tied the knot in 2015 and are now blessed with three daughters.
Controversies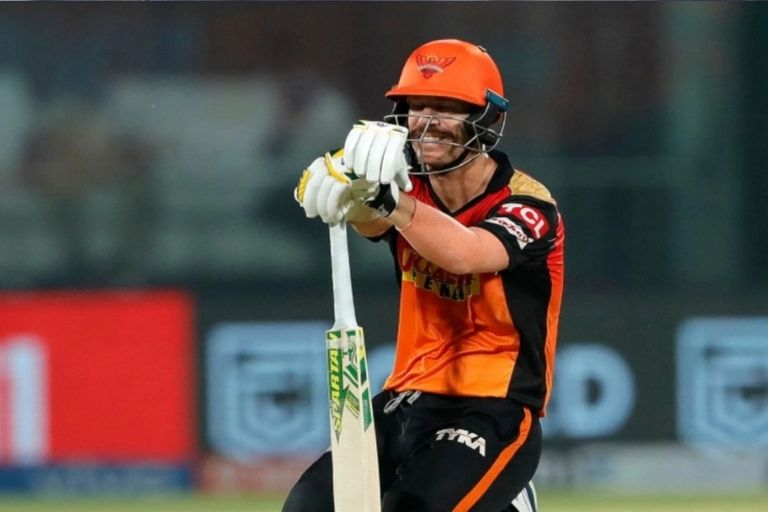 In June 2013, Warner was involved in a pub brawl with English star player Joe Root and Warner reportedly punched Root. Later on Warner defended himself saying that Root was disrespecting Hashim Amla in public which provoked him. Although he was banned by the Australia board for that series and even imposed a big hefty fine.
David Warner reportedly called Moeen Ali "Osama Bin-Laden" during the Ashes series in 2015 which was a big remark as he was a big terrorist. Although these racist remarks were never proved right in front of the media.
In 2018 the biggest controversy arose in Warner's career as he was involved in the Ball-Tampering saga and was reportedly the mastermind behind that scene. He was banned for one year from cricket and was imposed lifetime ban from captaining Australia.
Stats of David Warner career
| | | | | | |
| --- | --- | --- | --- | --- | --- |
| Format | Matches | Runs | Average | 100s | 50s |
| Test | 86 | 7311 | 48.1 | 24 | 30 |
| ODI | 128 | 5455 | 45.08 | 18 | 23 |
| T20I | 81 | 2265 | 31.46 | 1 | 18 |
Achievements of David Warner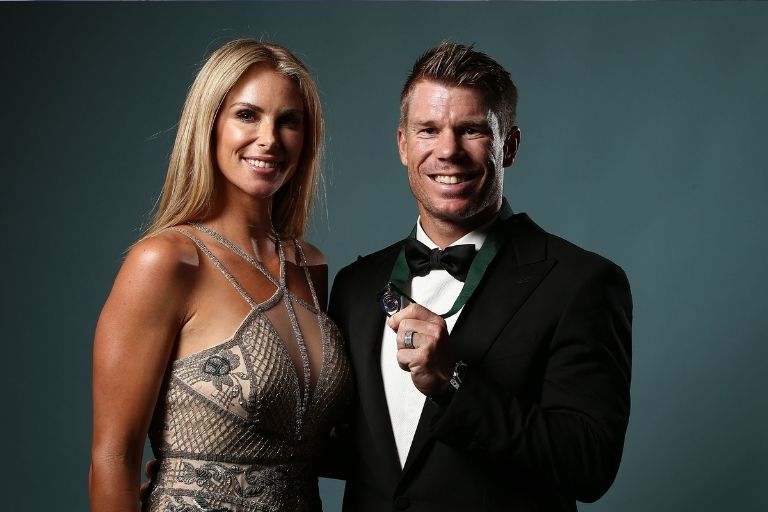 David Warner was named in ICC Test Team of Decade in 2020
He also was named in ICC ODI Team of Decade in 2020
He has won Allan Border Medal in 2016,2017,2020
David Warner is the only player to win three orange caps in IPL.
He is the highest run scorer overseas player in the IPL.
He holds the joint highest individual test score record for Australia.
Unknown Facts about David Warner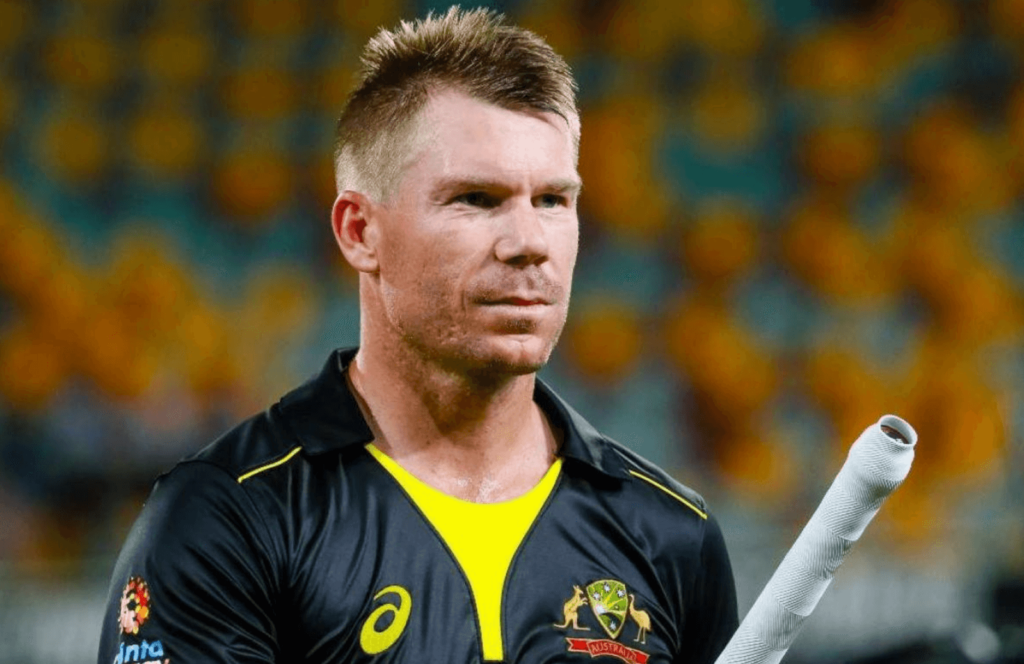 David Warner became the first player in 132 years to make a National Team debut without playing First-Class cricket in 2009.
He used to deliver newspapers at the age of 14 to cover up his expenses.
Warner is a big Beer Drinker.
He messaged Candice on twitter but she didn't reply to him at first.
David Warner is a fan of Tik Tok.
David Warner has also kept wickets for Australia in Tests during Pakistan Tour in 2014.
He also has an International wicket bowling as an Leg-spinner against West Indies in 2011.
Delhi Daredevils was his first IPL franchise.
David Warner revealed Sehwag inspired him to become a successful test cricket as he didn't have belief in his capabilities.
FAQs about David Warner
Q. Is David Warner married?
Yes
Q. Is David Warner's wife also a sportsperson?
No, She is a retired professional ironwoman and surf life saver
Q. Is David Warner Alcoholic?
Yes
Q. Is David Warner Catholic?
Yes.
Q. Is David Warner banned from captaining the Australia Team?
Yes
Q. Is David Warner also bowls Leg-spin?
Yes
Q. What is the age of David Warner?
34
Q. What is the name of David Warner's Youtube Channel?
"David Warner" is the name of his channel and it has 91K subscribers.
Read More:-